Anti-Confederate Vandalism and Protests Continue to Intensify
Filed under: Southeast, White Supremacy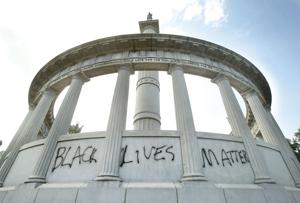 Originally posted to Its Going Down!
Anti-Confederate vandalism across the US South hasn't let up, just as right-wing and racist rallies in support of the Confederate flag have also gained steam. Last week, a monument to Jefferson Davis in Richmond, Virgina, who served as President of the Confederacy during the civil war, was vandalized with "Black Lives Matter." A lone man was also later arrested and charged with painting an "L" (for 'LOSER') on the same statue.
On
July 3rd it was reported that a monument for Confederate soldiers and sailors was also vandalized in Richmond, with graffiti reading, "RBGz," and apparent nod to the Dead Prez album, 'Revolutionary But Gangsta.'
Since we last reported, there have been more actions as well. In early July, a Confederate cemetery was vandalized in Durham, North Carolina. At Winthrop University in South Carolina, someone vandalized a picture of Ben Tillman, former Govenor of the state, writing "violent racist." Tillman was a vehement white supremacist who helped ensure white rule in a post-Civil War south. On the campus of Chapel Hill in North Carolina, a Confederate statue was attacked with graffiti reading, "KKK," and "Black Lives Matter."
In Northern States, groups have held rallies in solidarity, burning both Confederate and US flags. According to the NY Daily News, such rallies have taken place in Denver, New York, and Charleston, SC. In Austin, Texas, the Revolutionary Alliance of Trans-People Against Capitalism, held a 'Fuck the Fourth' event:
Firebreather burning confederate flag @ our benefit show #burnthatflag#BlackLivesMatter#Solidaritypic.twitter.com/VcTTDPi0sq

— ratpac (@ratpac_atx) July 6, 2015
These actions have taken place against a backdrop arson against Black Churches, continued heated protests against the Confederate flag, actions by students, and also planned counter-protests from racist white supremacist groups like the KKK, who are attempting to recruit across the South. In South Carolina, a heated rally broke out in a brawl between pro and anti flag supporters. Many pro-Confederate flag rallies have taken place outside of Wal-Marts, which have moved to stop selling the flag.
These continued actions show a deep rift in the American poor and working-class based on the foundation of white supremacy and colonialism. We can also see in the rallies happening, although veiled as an attempt to preserve Southern "heritage," a very real backlash by white reactionaries to the Black Lives Matter movement that has sprung up in the wake of the Ferguson and Baltimore rebellions. With counter-demonstrations being planned against a KKK rally in South Carolina, lines continue to be drawn.