Fascists Exposed at the University of Houston
Filed under: Action, Anti-fascist, Central, Education
The following report from Houston, Texas outlines various far-Right and neo-Nazi organizers who have been active at the University of Houston.
The Landscape
"One of the students who was targeted by the flyers was seen running and scrambling to tear down any flyers he could find, with a terrified look on his face."
The University of Houston has, especially since Trump's election, been a frequent target for Texas based fascist groups to flyer and recruit at. Additionally, it appears that a number of current students on the campus are involved with a variety of fascist, Alt-Right, or far-Right groups.
Vanguard America, Patriot Front, and the Proud Boys are some of the most notable organizations that students have been involved with so far. Other nearby Texas universities have also seen all kinds of fascist activity, from flyers and banner drops to flash mob demonstrations, and even Richard Spencer speaking at Texas A&M University in December 2016.
A lot of national fascist organizations including Patriot Front and Atomwaffen Division started out here in Texas, and many big name Texas fascists live within or near Houston. These are some of the reasons that have motivated local antifascists to take up action against fascists not only in the state of Texas, but the city of Houston, and specifically the University of Houston.
Going on the Offensive
Hundreds of flyers depicting three University of Houston students who have a variety of ties to fascist groups were posted all over campus on Sunday night. The next morning, pictures of the flyers were posted around Twitter and Instagram by a number of students. One of the students who was targeted by the flyers was seen running and scrambling to tear down any flyers he could find, with a terrified look on his face.
Gabriel Grant and Adam Manley were the subjects of the flyering campaign. Gabriel Grant was a member of Vanguard America before and during the fascist rally in Charlottesville, Virginia last year, which he attended in uniform. He had been pictured at a number of other Vanguard America events prior to that as well, brandishing their flags and shields on some occasions.
Adam Manley was spotted posting Soldiers of Odin propaganda around campus last year and has documented this activity himself on his social media accounts. He also likes a lot of fascist organizations on Twitter and Facebook, including Patriot Front and Identity Evropa. We don't believe he is a member of these organizations at this time, but he clearly shows strong support for them.
We make no exception for right wingers who foolishly mistake themselves as "disavowing fascism" by taking the route of hiding behind the Proud Boys' fratlike culture of toxic masculinity, western nationalism and overt chauvinism. Their movement will not be allowed to take root and poison the well in the most diverse city in the U.S.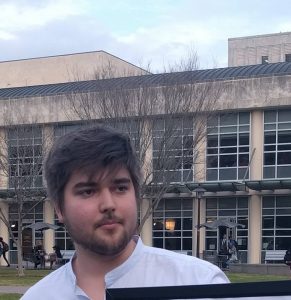 Gabriel Grant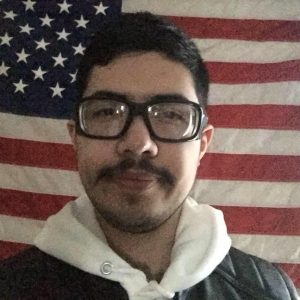 Adam Manley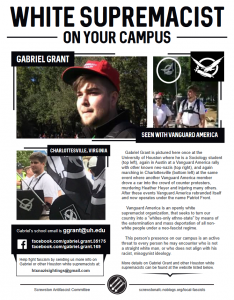 Gabriel Grant's Flyer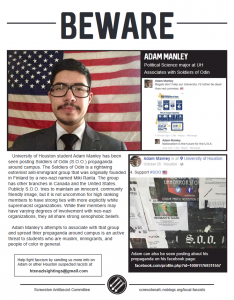 Adam Manley's Flyer
Visit the Screwston Anti-Fascist Committee's page on local fascists for more details about each person.
Notes on Tactics
As proven many times before, doxing can be a very effective and relatively low risk tactic to give neo-Nazis what's coming to them while also discouraging participation in fascist groups. On campus its effectiveness increases even more, because students have more at stake with their college degrees on the line. Moreover, fascist students are sometimes part of other student groups on campus which can become another pressure point for a doxing campaign. Doxing also helps rightfully inform the rest of the student body of individuals who are more likely to commit acts of violence against students over things like skin color, gender, or political affiliations.
Hopefully these actions can help stake out the University of Houston as a place where fascists do not feel comfortable, and lay the groundwork for future anti-fascist activity around the city in general.