Graphic Designer for Conservative Firm Outed as Neo-Nazi, Quickly Fired
Filed under: Action, Anti-fascist, Central
On April 12th, Screwston Antifascist Committee released a well researched and extensive document about Ariel Michelle Gherman. While on the surface Gherman looked like an ordinary 24 year old, in reality she was part of the white supremacist and neo-Nazi Alt-Right movement, and participated in the deadly Unite the Right demonstration along side various neo-Nazi and KKK groups. According to local antifascists, by day, Gherman also worked for a graphic design firm that catered to conservative and right-wing organizations.
From Screwston Antifascist Committee:
Ariel Michelle Gherman is a 24-year-old white supremacist living in Austin, Texas. In August 2017 she participated in the white supremacist "Unite the Right" demonstrations in Charlottesville, Virginia, where fellow white supremacist James Fields murdered anti-racist protester Heather Heyer. She also helped organize logistics for the group of Texas fascists and white supremacists who traveled to the "Unite the Right" demonstrations, and is connected to numerous Texas neo-Nazis and white supremacist organizations on social media. She works at a mainstream conservative graphic design and media strategy firm in Austin called Harris Media LLC.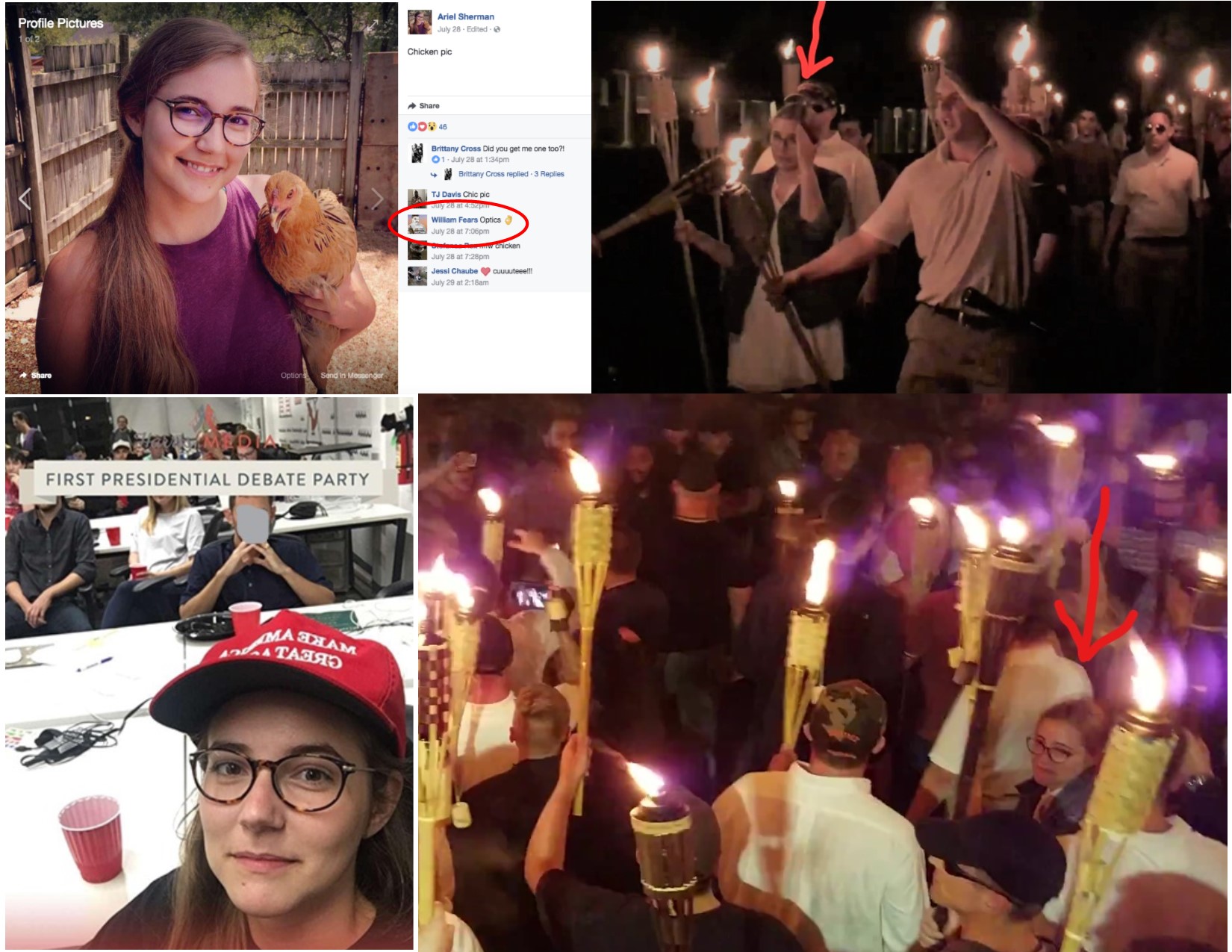 According to antifascists and photo/video evidence, Gherman was part of a larger group of neo-Nazis that attended the Unite the Right rally from the Texas area including well known militants and talking heads like "Azzmador" of The Daily Stormer and William Fears, who was involved in the attempted murder of protesters outside of a Richard Spencer speaking event in Gainesville, Florida:
In August 2017, a group of fascists and white supremacists from Texas organized a caravan of vehicles to travel to the white supremacist "Unite the Right" (UtR) demonstrations in Charlottesville, Virginia. According to inside information, one van picked up people in Austin and Houston, then met two other vehicles from north Texas in Texarkana. The group included notorious Texas neo-Nazis like William Fears (subsequently arrested in October for involvement in a shooting outside a Richard Spencer event in Gainesville, Florida), "Azzmador" (Robert Warren Ray, a contributor to the neo-Nazi website Daily Stormer), and Thomas Rousseau (founder and leader of the white supremacist group "Patriot Front").

The Texas group also included Ariel Gherman. She had RSVP'd as "Going" on the UtR Facebook event page several months prior along with other Texas fascists like Colton Fears (arrested with his brother William in Florida) and Ken Reed. Upon arriving in Charlottesville, they planned to stay at an AirBnb which had been rented under Ariel's AirBnb account and with Ariel's credit card. They over-stuffed the AirBnb house with Texas white supremacists, but wanted to be careful not to draw unnecessary attention and reminded each other to only perform Nazi salutes inside the house, not outside. After all, they were planning to bring a variety of weapons including poles, torches, pepper spray, and concealed handguns.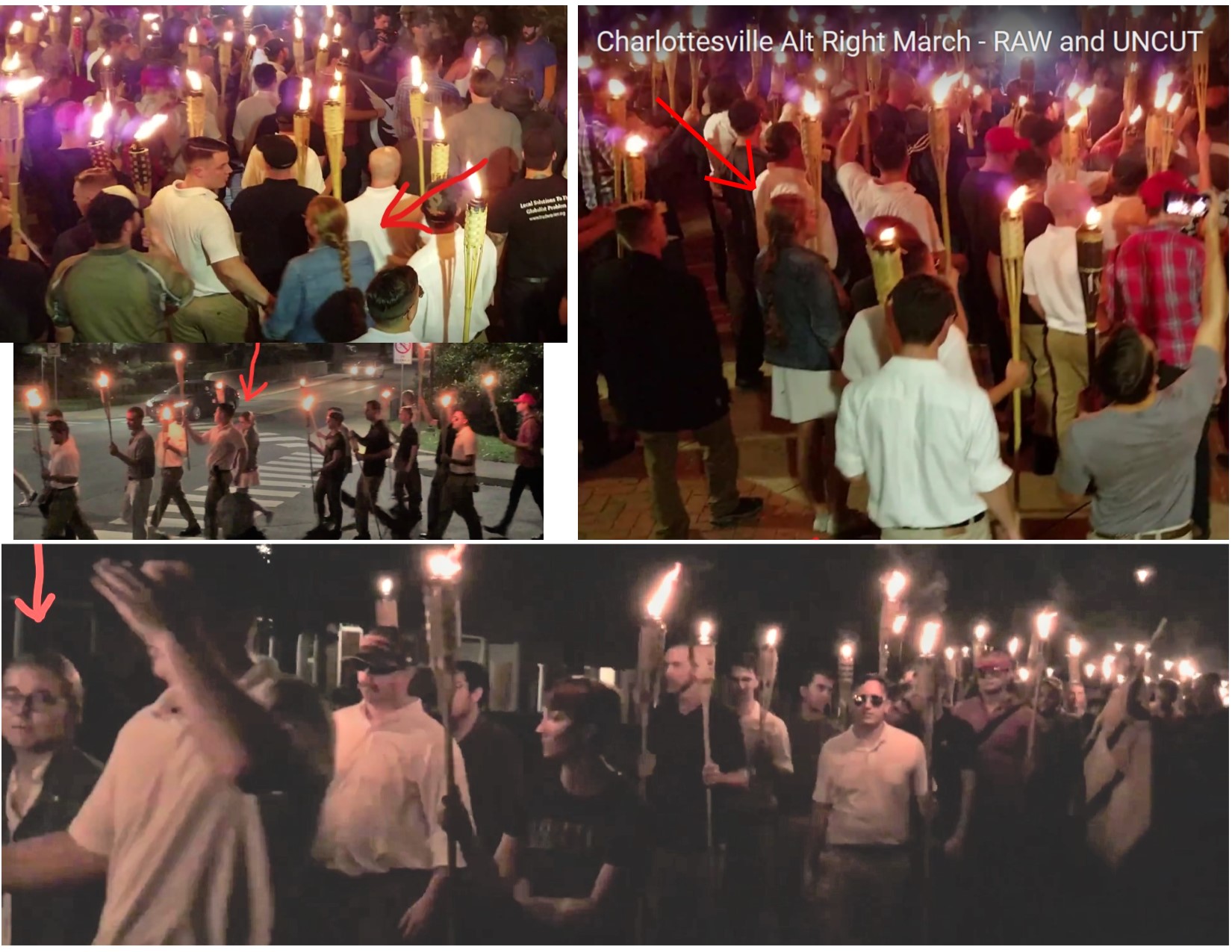 Once in Charlottesville, Ariel participated in Friday night's torch-lit march on the University of Virginia campus. In videos of the event she is seen wearing a white dress that went down to just above her knees, a denim jacket, and white shoes. Her very long dirty-blonde hair was worn in a single braid down her back, and her brown and gold glasses frames are readily apparent. She can be seen carrying a torch for the duration of the march while participants chanted neo-Nazi slogans like "Jews will not replace us" and "Blood and soil." She is also often walking next to and sometimes holding hands with a young man dressed in khakis and a white polo shirt—the uniform of the neo-Nazi group Vanguard America. When the torch march arrived at a Thomas Jefferson statute, the march surrounded a small group of anti-racist counter protesters. The white supremacists then assaulted the anti-racist counter protesters. Ariel was there for all of it.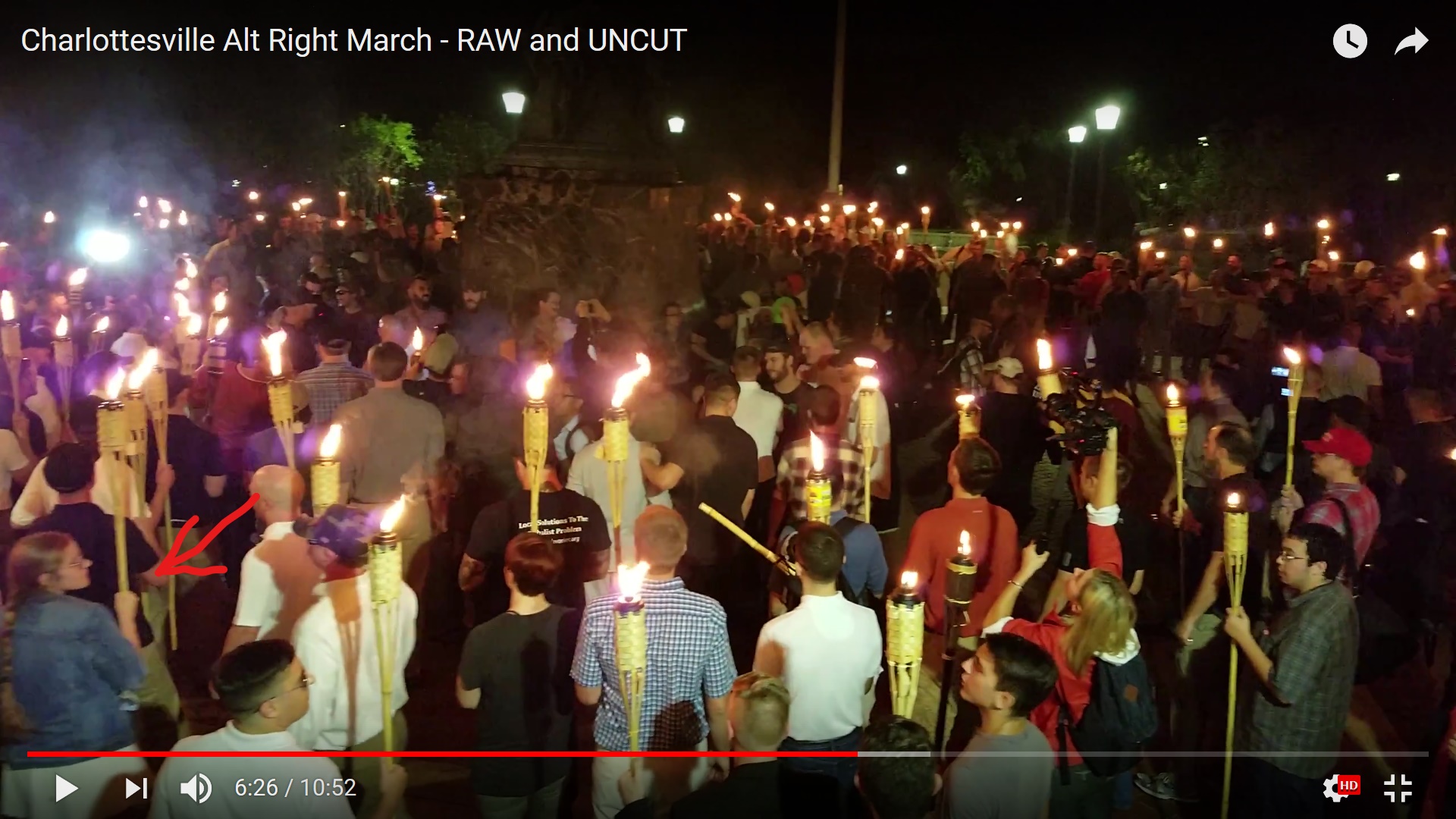 Like many neo-Nazis that attended Unite the Right, Ariel deactivated her social media before the event and left it off for weeks after wards. In the videos seen here, she can also been seen attempting to hide her face from the camera.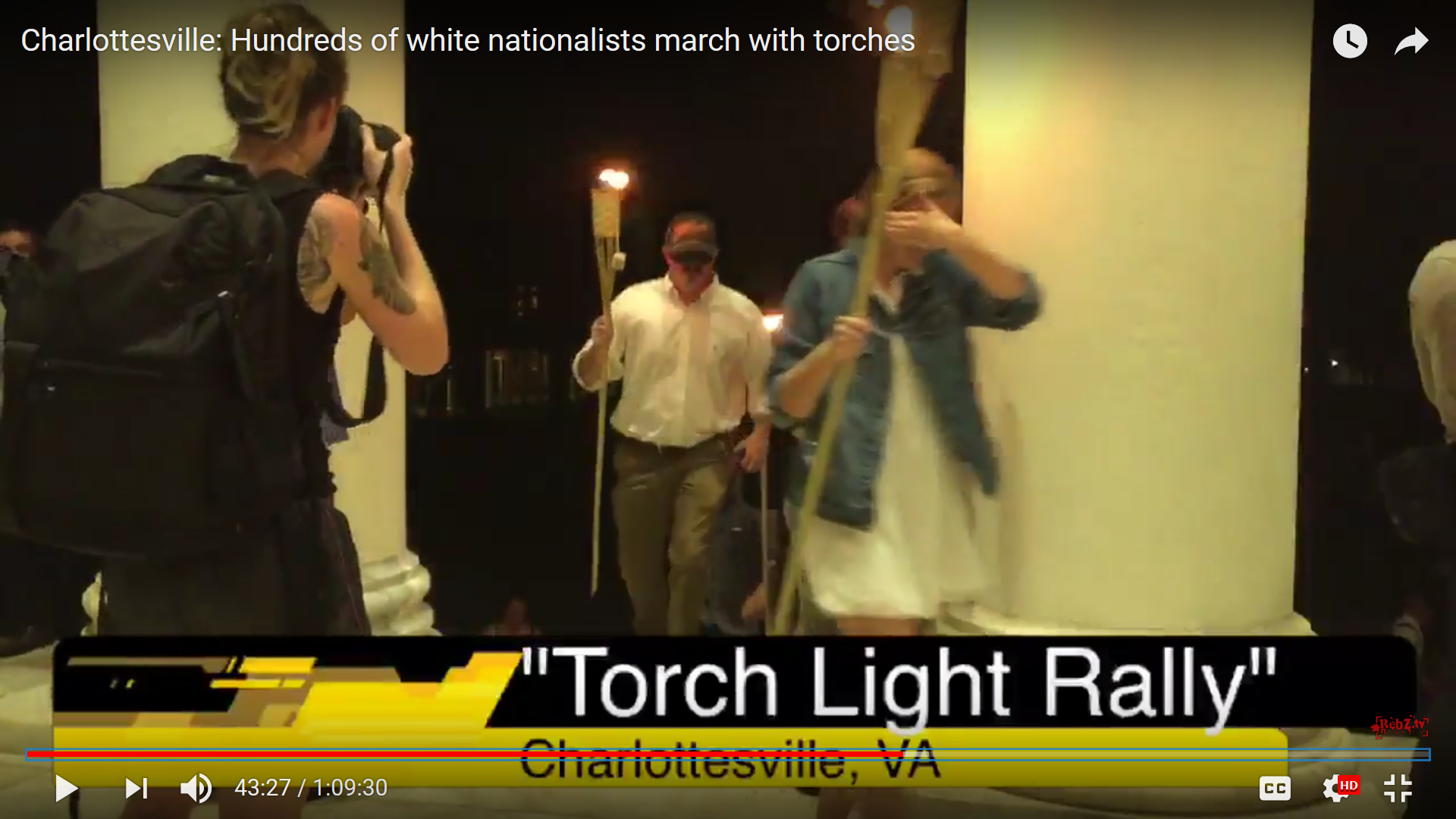 Ariel also had good reason to hide her identity, the conservative design firm that she worked for was contracted to do jobs for high ranking Republican politicians, ironically the Israeli Prime Minster, and pro-fracking groups:
But Harris Media doesn't create media for just anyone, they focus their effort on conservative and right-wing clients. They boast about creating content for the electoral campaigns of candidates like Senators Ted Cruz, Rand Paul, and Mitch McConnell, Lieutenant Governor Dan Patrick, Israeli Prime Minister Benjamin Netanyahu, as well as right-wing advocacy groups like Secure America Now (anti-Iran nuclear deal) and Texans for Natural Gas (pro-fracking).

Harris Media has featured Ariel on their social media as their firm's "biggest Trump supporter," but they should probably change it to say "most active alt-right white supremacist." It's one more example of mainstream right-wing politics creating fertile political territory for insurgent white supremacy. We are really curious how Harris Media's current and past clients feel about their digital media being created by a firm that hires violent white supremacists!
Soon after the information about Ariel Gherman was first released by local antifascists, graffiti was then written on the outside of the Harris Media building. Photos of this graffiti was then quickly posted onto social media.
Nazi participant in the violence of Charlottesville! She lives in Austin and work for @HarrisMedia #austin #fash pic.twitter.com/fHRZL3ViYQ

— Down With Everything (@DownEverything) April 13, 2018
Word on Ariel the Austin Nazi who participated in the violence of Charlottesville #ATX #fash pic.twitter.com/31CIHfYseo

— Down With Everything (@DownEverything) April 17, 2018
Then, it was reported by the Screwston Antifascist Committee that Gherman had been fired and that the firm was already looking to fill her spot. They wrote on their website:
We received word from an employee at a neighboring business that Ariel was quickly fired when Harris Media learned of her Nazi activities. In addition, on Friday, Harris Media posted a job ad on facebook looking to hire a new graphic designer.
A quick look at the @HarrisMedia Twitter account however, still shows Gherman being used to advertise for the agency.