'Identitarian,' 'Daily Stormer' Leader, and Unite the Right Marcher Outed As UCLA PhD Student
Filed under: Action, Anti-fascist, Canada, Southwest
Montreal Antifascists out a Daily Stormer organizer, one of the leading neo-Nazi websites, as a UCLA student.
In May of 2018, Montreal anti-fascists leaked the contents of a private neo-Nazi chat room called "Montreal Storm" (short for Montreal Stormer Book Club*), which was active from August 2016 to January 2018, and included 55 users.
The leak made it possible to identify several members of the chat room, including Shawn Beauvais MacDonald, Vincent Bélanger Mercure and Gabriel Sohier Chaput, alias Zeiger. The latter was revealed by the Montreal Gazette to be a prolific propagandist for the most radical wing of the Alt-Right and a frequent contributor to The Daily Stormer, arguably the most influential Alt-Right/neo-Nazi website in the world in the 2016-2017 period, and to this day.
Partly through their unfortunate (and unplanned) participation in a Vice report on the now infamous white supremacist "Unite The Right" rally, the three activists named above were also shown to have traveled to Charlottesville, Virginia, in August 2017, to join forces with assorted fascists, Nazis and ultra-nationalists to protest the removal of a stupid fucking statue. Tragically, Anti-racist activist Heather Heyer was killed and several more people were gravely injured in the afternoon of August 12th when white supremacist James Alex Fields plowed his car into a group of counter-protestors.
Several more members of the Montreal Storm chat room (and adjacent "Book Club") have been identified by anti-fascists, including its likely initiator and main moderator, Date, aka DateOfLies, aka LateOfDies, real name Athanasse "Athan" Zafirov,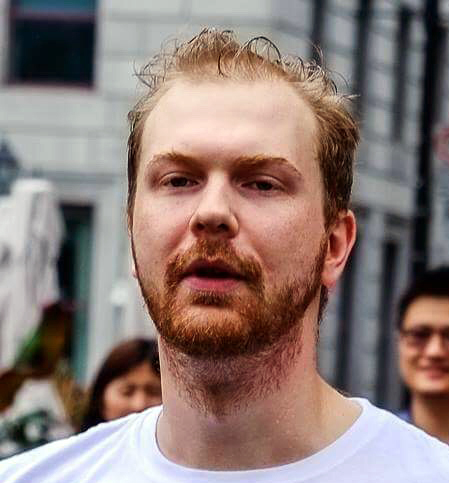 Meet Athan Zafirov, the Montreal Nazi scumbag who thought he could get away with it…
"Date" was featured prominently in a National Post article published on May 14th, 2018, where his role in the Montreal Storm chat room and local Stormer Book Club was detailed. Zafirov's name, however, was never mentioned.
A few months later, in July 2018, as part of a larger callout to identify members of ID Canada (a European-style, neo-fascist, "identitarian" organization trying to get off the ground in Canada), the good folks at Anti-Racist Canada put together a more complete exposé on DateOfLies.
The ARC exposé first establishes that Date is a central figure of ID Canada (formerly Generation Identity Canada), since Date himself bragged about his role in episode #65 of now defunct Alt-Righ/neo-Nazi podcast "This Hour Has 88 Minutes". ARC and their anonymous source go on to show, from some messages posted by Zeiger to the Montreal Storm chat room, that "Athan" (misspelled "Athen") is the organizer of a secret Facebook group called "Alt-Right Montreal".
A subsequent post by Date from July 2017 reveals that he helped organize a Canadian delegation to the "Unite the Right" rally in Charlottesville:

Right after the post above, Date proceeds to list his various Alt-Right credentials and ongoing projects, including organizing an "Alt-Right Canada" event in Ontario with Alt-Right mentor Jared Taylor, and arranging for University of New-Brunswick ultra-conservative professor, Ricardo Duchesne, to speak at Ruby Foo's, in Montréal, in June 2017 (a video of that talk was formerly available on Zeiger's YouTube channel, which has been de-activated since his doxx). He also brags about running the "local bad goy group."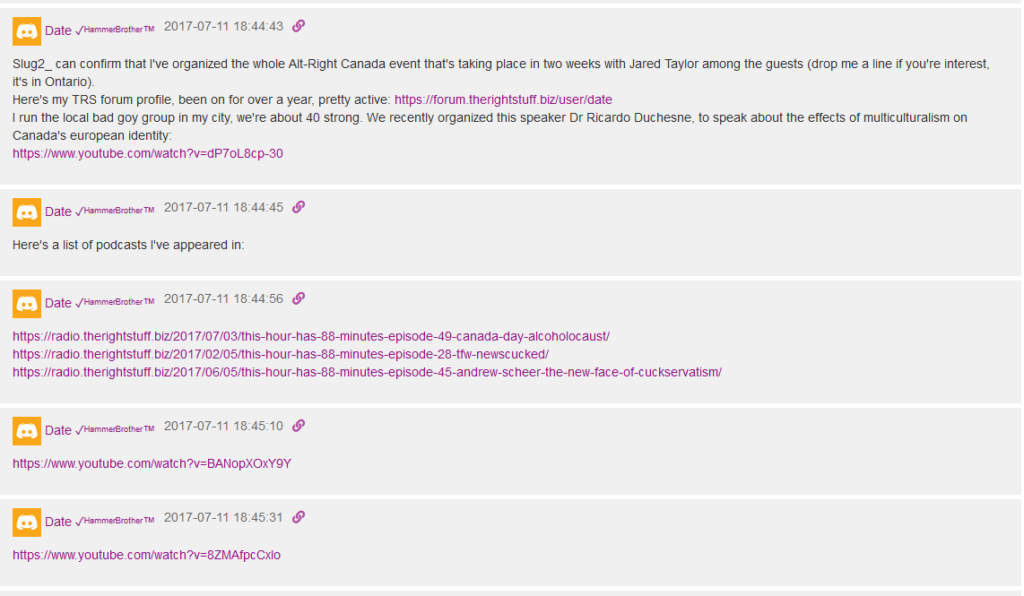 ARC's anonymous source goes on to provide detailed evidence, from Zafirov's own online activity going back several years, that Athanasse Zafirov and Date (and various other aliases) are one and the same.
A key piece of this convincing demonstration is that Athan Zafirov was found to be one of the "manosphere" activists who had arranged a Montreal visit for Roosh V. Valizadeh, a notorious misogynistic scumbag, "pick up artist" guru and rape apologist, back in February 2016. (Amusingly, Zafirov was trapped by local feminists and showed up, befuddled, to a compromised meeting spot shortly before the Roosh V. event. The video below documents the ensuing farce.)
Additionally, Zafirov made the fatal mistake of coming out in real life on July 1st, 2017, to heckle an anti-colonial protest in Old Montréal, alongside other members of the Montreal Book club, including Shawn Beauvais MacDonald, Alex Boucher, Sergej Schmidt and other chuds.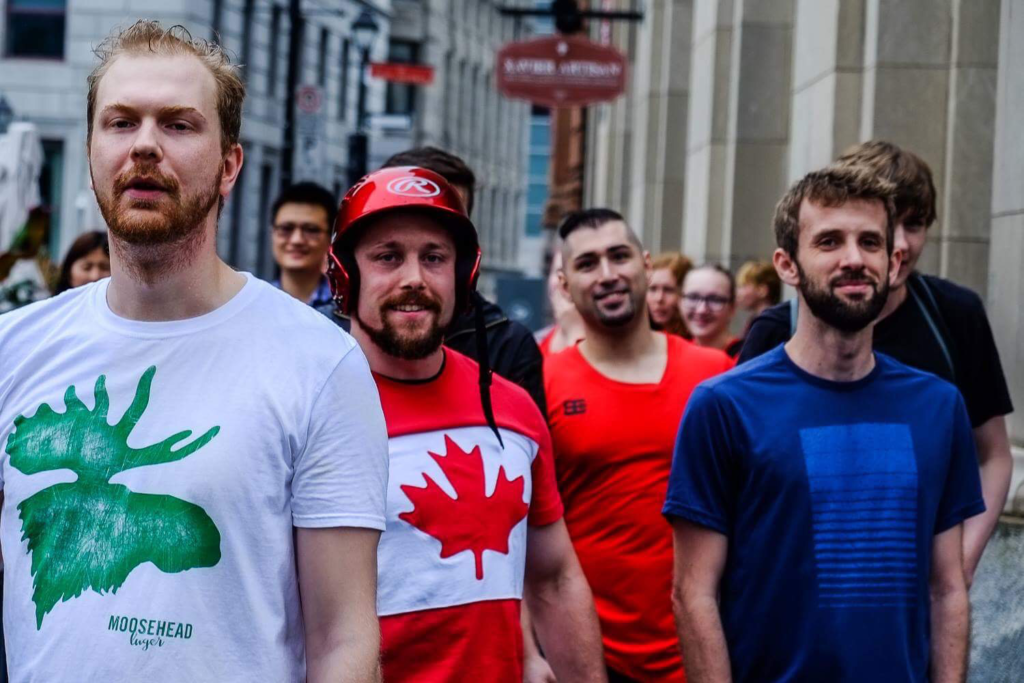 We know from from various sources that Zafirov lived until fairly recently in an apartment building located on Saint-Urbain street, in Montréal, where he hosted at least one Book Club meeting. His whereabouts were unknown following the May 2018 Discord leak.
Until now.
Zafirov has recently re-emerged at the other end of the continent, no doubt hoping that his online presence would escape the gaze of anti-fascists. Quite to the contrary, we believe that his academic comeback is the perfect opportunity to give this little Nazi piece of shit the attention he fully deserves.
Meet the new avatar of Athanasse Zafirov, "Dimitri":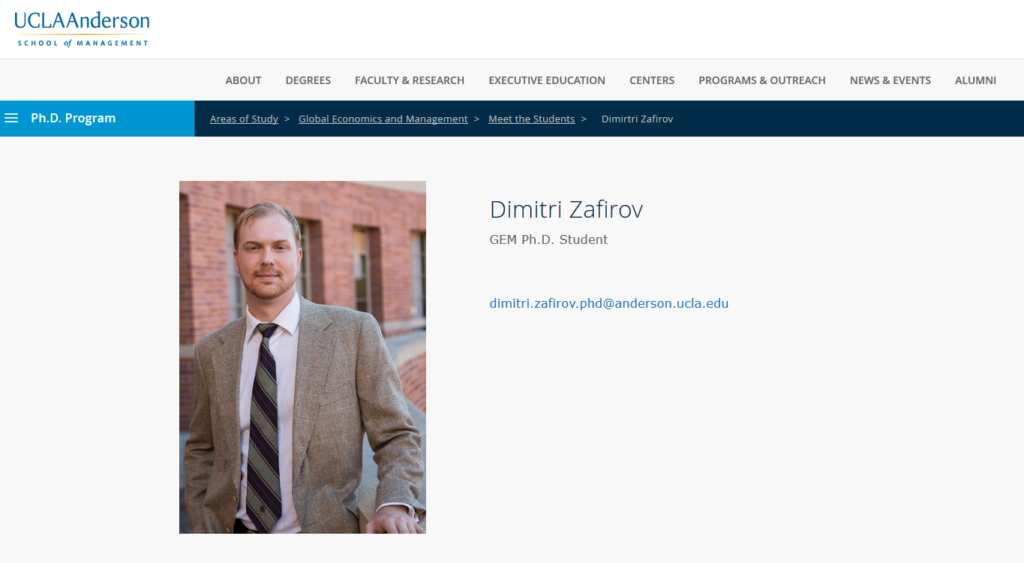 Zafirov, proven white supremacist activist, is now enrolled as a PhD student at UCLA's Anderson School of Management, which is in line with his previous academic course at Montreal's John Molson School of Business (Concordia University).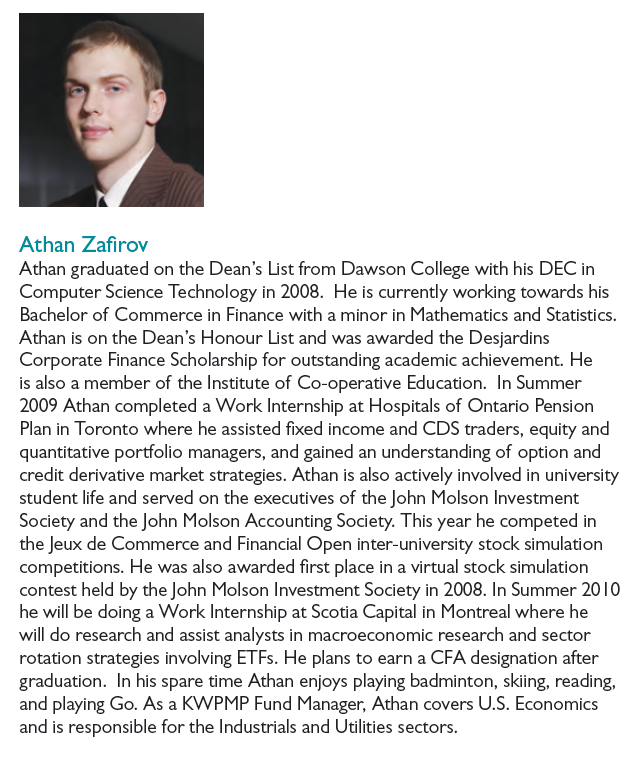 Evidently, his picture was recently removed from the students' roster page on Anderson-UCLA's website. Could it be that Athan is feeling the heat? Unfortunately for him, we made the screen capture above a little while ago, and his smug-ass face still pops up in the Google image search page, as well as UCLA's internal search engine. He also seems to have recently shifted his area of study from Global Economics and Management to Accounting.
If you would like to drop a line at Zafirov's supervisors and flag his (very) recent white supremacist activities, we're sure they will be interested to learn about their clean-cut Canadian student's dubious extracurricular activities. You will find a number of addresses by visiting the School's directory, as well as the Faculty listing and the students' roster page.
ms.phd.admissions @ anderson.ucla.edu (PhD Program)
al.osborne @ anderson.ucla.edu (Interim Dean)
john.mamer @ anderson.ucla.edu (Faculty Chairman)
heather.caruso @ anderson.ucla.edu (Equity, Diversity and Inclusion)
Faculty:
https://www.anderson.ucla.edu/faculty-and-research/accounting/meet-the-faculty
And fellow students in the Accounting Phd program:
https://www.anderson.ucla.edu/faculty-and-research/accounting/meet-the-students
* Stormer Book Clubs are regionally specific "in real life" meetings, sort of like "social clubs" for followers of the hard-line, neo-Nazi wing of the Alt-Right (white males only need apply…) The original idea for Book Clubs came from The Daily Stormer founder, Andrew Anglin, in 2016. You may also have heard about TRS Pool Parties, which are essentially the same thing, but sprung from The Right Stuff, another Alt-Right platform of the same general tendency.