Michigan Identity Evropa: Fraternity of Fascists
Filed under: Analysis, Anti-fascist, Midwest
From Northern California Anti-Racist Action (NoCARA)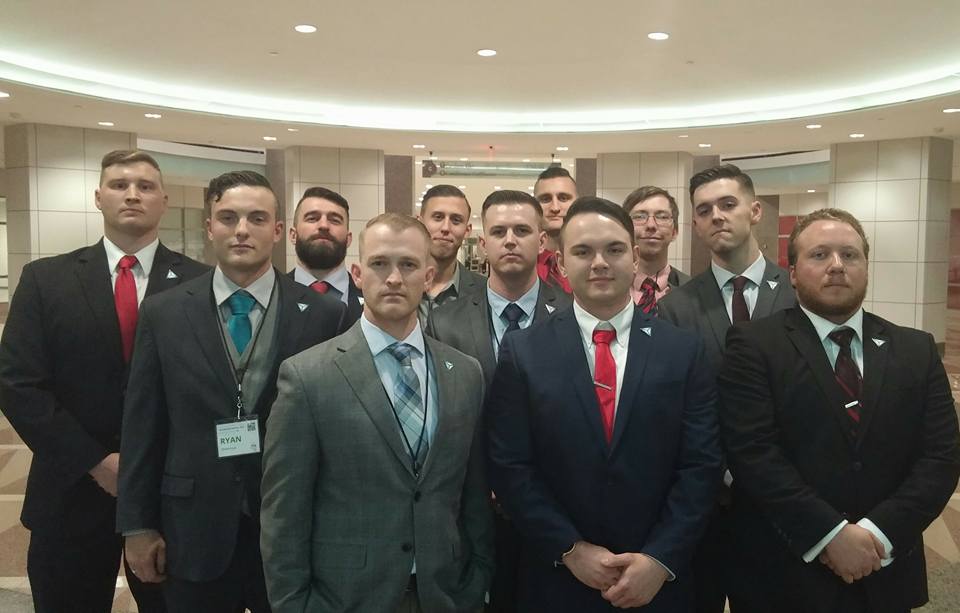 Andrew Ferguson and Kilian Glish, 1st and 3rd from left. Two members of the fascist and white supremacist group, Identity Evropa, and former members of the DKE frat in Michigan. Shawn Mccaffrey is pictured 2nd from the front right, another Michigan resident.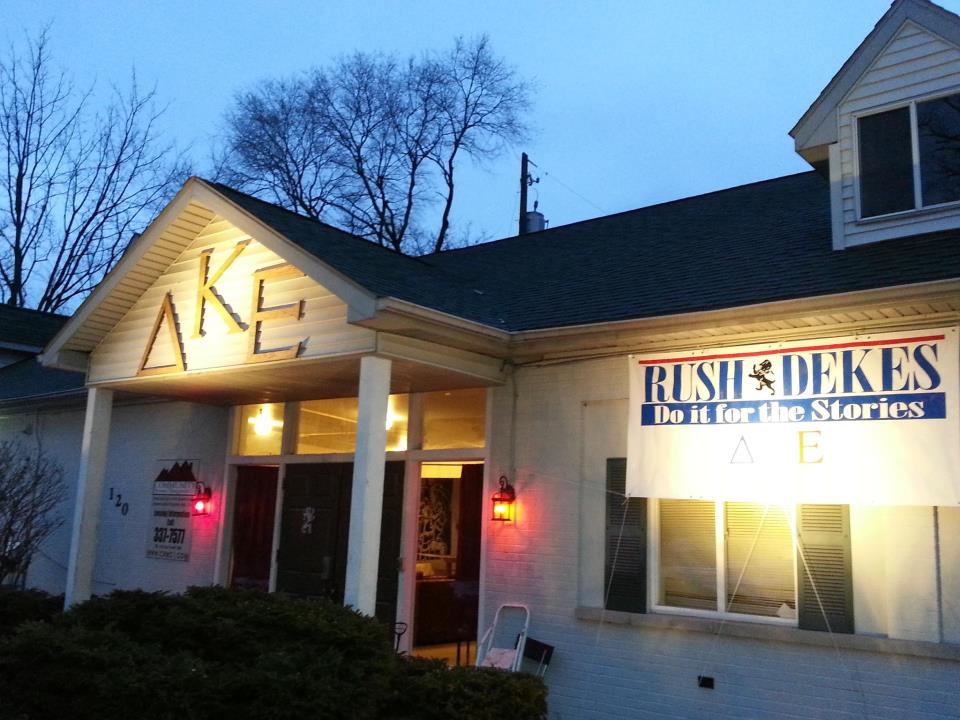 A building for DKE in Michigan. The fraternity included members who are part of Identity Evropa, some even serving in leadership positions.
This report focuses on Identity Evropa members and their alt-right network in Michigan, some of which are former members of the DKE fraternity. Delta Kappa Epsilon for centuries has been a prestigious frat for wealthy, bougie, and well connected spoiled brats, and boasts a total of 5 former members who have gone on to become POUS. For more information on Identity Evropa in general and their membership outside of Michigan, see our last report, Identity Evropa: Mapping the Alt-Right Cadre.
Andrew Ferguson (Royal Oak, Michigan)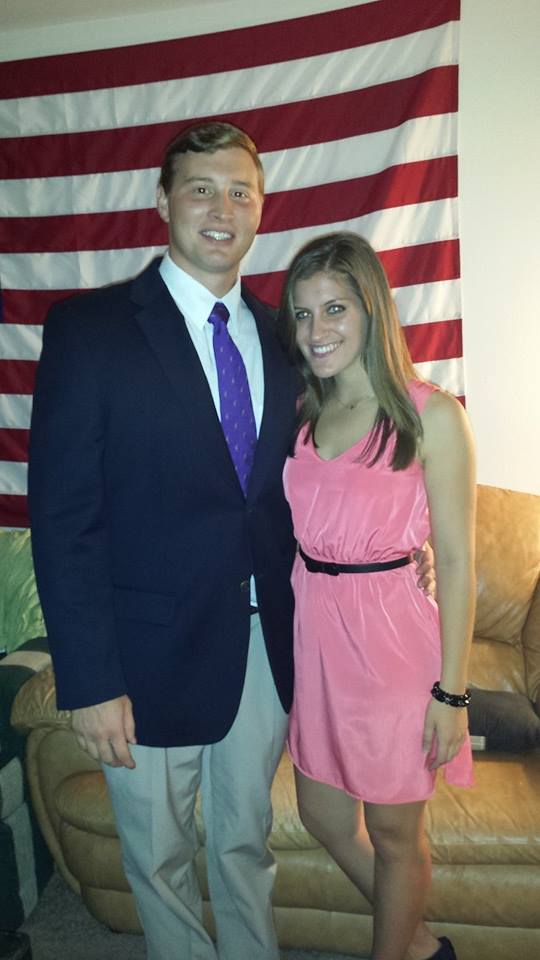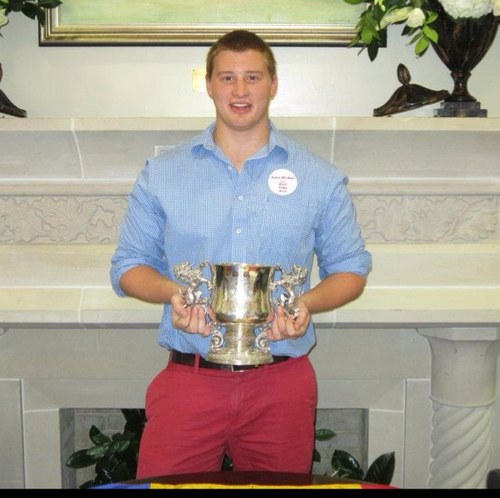 Facebook: https://www.facebook.com/andrew.ferguson.3939
Twitter: https://twitter.com/FergusonAndrew7
Linkedin: https://www.linkedin.com/in/andrew-ferguson-b28b369b

Andrew Ferguson is an IE member based out of Michigan. Ferguson is a MSU grad and was Vice President of the DKE frat (Delta Kappa Epsilon), which Kilian Glish (another IE member, see below) was also a member of, and served as Treasurer. Ferguson and Glish attended NPI's November 2016 conference together. Both are featured in the IE group photo from the conference with Ferguson on the far left and Glish standing next to him (with beard).
Ferguson might live at 2226 Baxter Ave Royal Oak, MI 48067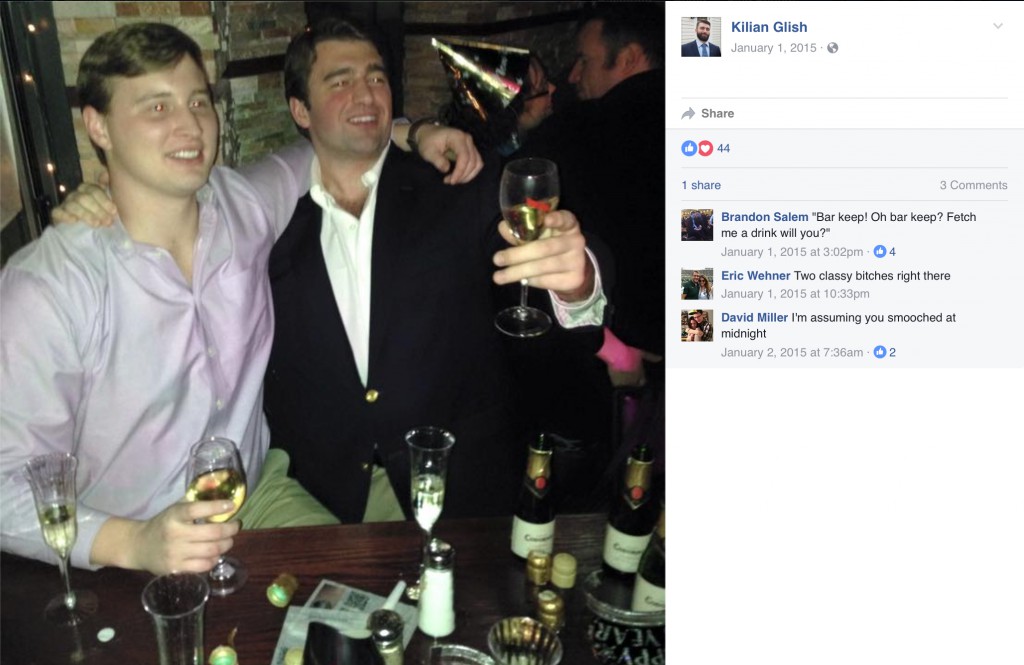 Andrew and Kilian showing a lot of concern for the working class white people that are fetching their drinks

Andrew Ferguson (left) and Kilian Glish (right) at a DKE gathering. Can you smell the bourgie?
Kilian Glish (Troy, Michigan)
Facebook: https://www.facebook.com/kilian.glish
Twitter: https://twitter.com/KilianGlish
Linkedin: https://www.linkedin.com/in/kilianglish
Kilian Glish graduated from Michigan State University in 2014. During Glish's time at the university he majored in economics, played on the rugby team, and even became the treasurer of Delta Kappa Epsilon. During his final summer ahead of his senior year, Glish studied abroad in Germany where he got to practice his German and immerse himself in the culture. Looks like he was about 70 years too late.
Surprisingly, Glish has a profile posted at The Professional Diversity Network, a network aimed at "Connecting Diverse Professionals to Employers That Value Diversity." However in an email from the company, they claim that Glish has not worked there in some time.
According to Glish's Linkedin profile, he currently works for Collaborative Advantage Marketing located at 2021 Hazel St Birmingham, MI 48009. The phone number is (248) 723-0793 and you can find their website here: http://www.camtrade.com. More information on CAM can be found here: https://www.linkedin.com/company/3073495. If Collaborative Advantage Marketing is one of those employers that values diversity, they might like to know that a white supremacist is working for them.
Glish might live at 183 Hampshire Dr Troy, MI 48085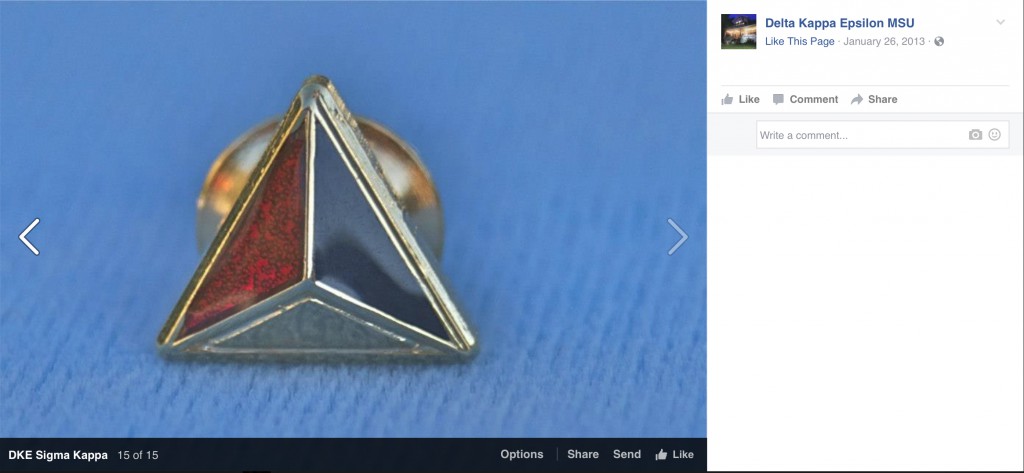 Delta Kappa Epsilon MSU photo with a familiar symbol; the same logo as Identity Evropa. Appears to be some sort of pen.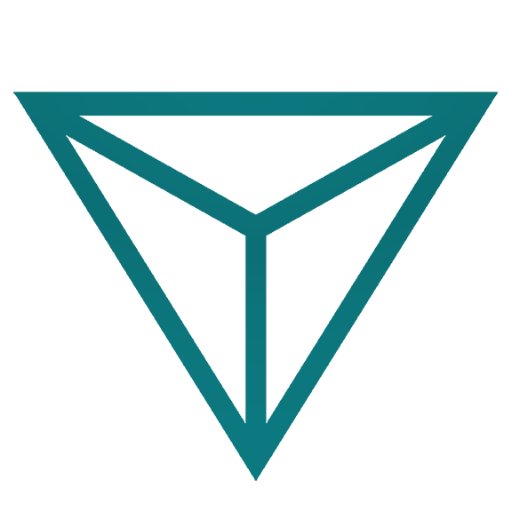 The official Identity Evropa symbol.
DKE frat that Ferguson and Glish were in:
https://www.facebook.com/DKEMSU/
https://twitter.com/dekes_msu
http://www.dke.org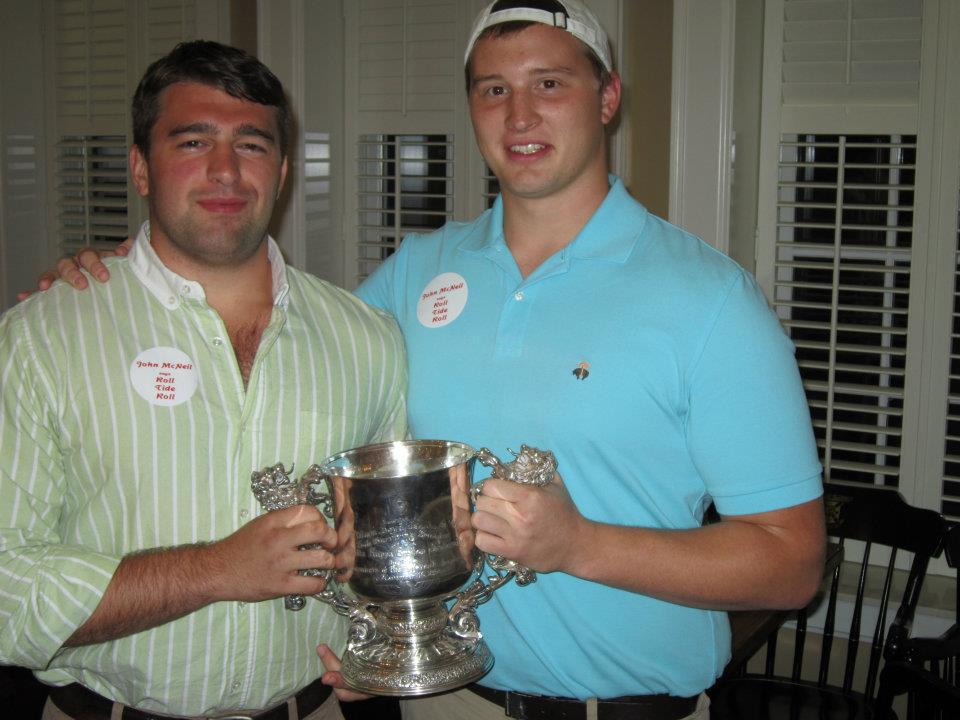 Ferguson and Glish with "Lion's Cup" from DKE facebook page, 2012.
Shawn Mccaffrey aka Shawn Michael (Commerce Township, Michigan)

https://www.facebook.com/shawn.mccaffrey2
https://www.facebook.com/shawn.mccaffrey.12 (older FB account)
https://twitter.com/ShawnMichaelR
https://twitter.com/___shawny (set to private)

Do you think Shawn realizes how dumb he actually looks in this picture, or it's just all of us?
Shawn just remembered that even if this whole Nazi thing doesn't pan out, he's still going to be a white rich kid with a lot of opportunities.
Shawn, 24, seems to be in the inner circle of the inner circle within Identity Evropa, and he has appeared at both the recent NPI Conference, the IE rally in San Francisco, and was seen in photos with William Clark, Damigo, and Chad Turner in joking discussing 'retaking Constantinople.'
Voter records place someone with his name at: 8361 Dickert St Commerce Township, MI.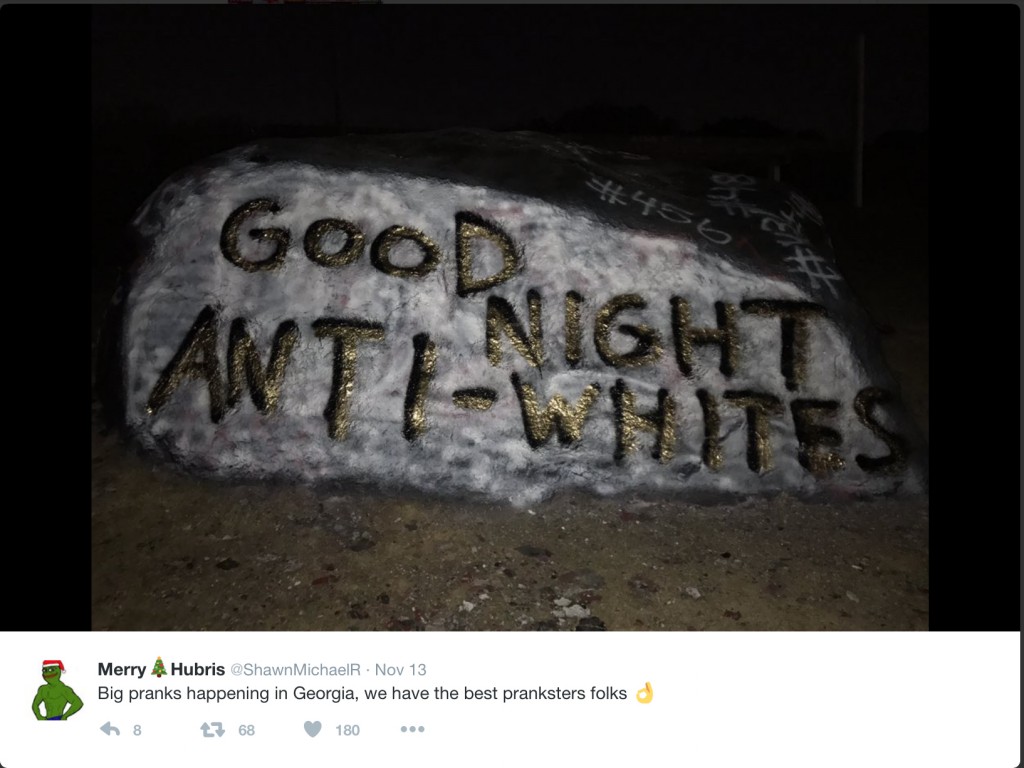 Photo posted by Mccaffrey on Twitter following Trump's election win in Georgia. Alt-Righters hit Georgia State University, Georgia Tech, and Kennesaw State University, where the rock was painted. Participants also put up posters promoting TRS (The Right Stuff), a white nationalist, and Neo-Nazi podcast network. Unclear as to if Shawn was there, but again, shows connections with broader white nationalist, Neo-Nazi, and Alt-Right network.
https://twitter.com/BigButterNutJoe/status/797983567934418944
Evan Thomas (Royal Oak, Michigan)

Facebook: https://www.facebook.com/evan.thomas.7583
Twitter: https://twitter.com/evanthomas1985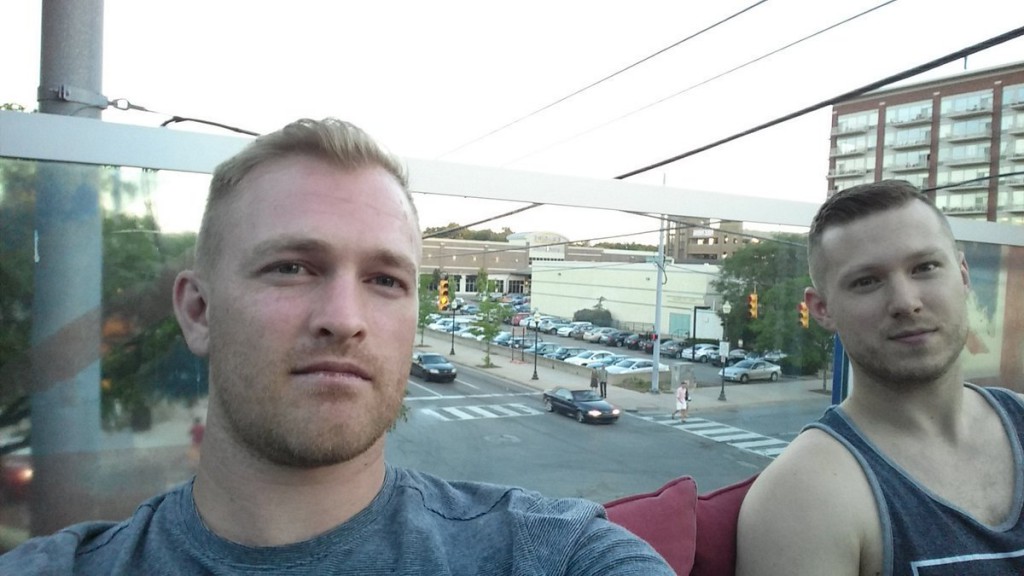 Nathan Damigo and Evan Thomas at Red Fox English Pub in Royal Oak, Michigan
July 22, 2016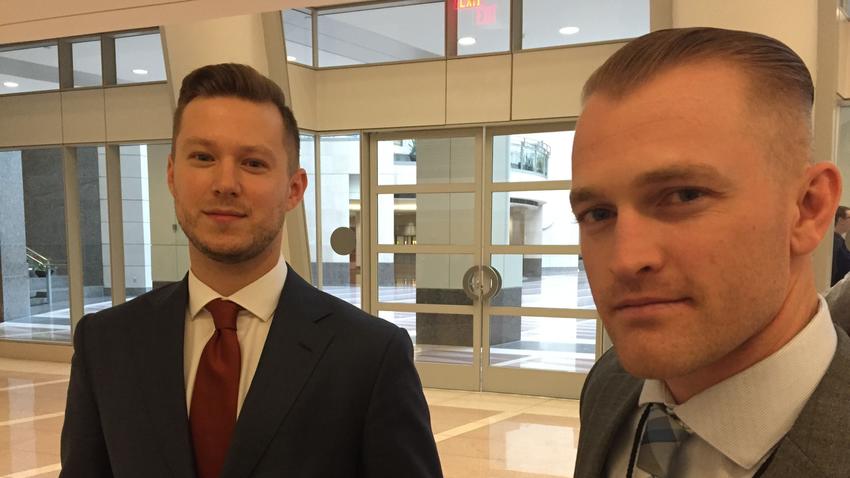 Thomas and Damigo at the National Policy Institute conference November 19, 2016
Evan Thomas centered his activity around organizing state-wide conferences from about 2006-2009, inviting speakers such as Jared Taylor to his events. His experience must have come in handy, as Nathan Damigo captioned the above photo of him and Thomas at the last NPI conference in November 2016 with "Identity Evropa volunteers coordinating the conference." Thomas is active in the so-called identitarian movement and has done reporting on these movements in Europe.
Kyle Bristow (Commerce Township, Michigan)

Facebook: https://www.facebook.com/KJBristow
Twitter: https://twitter.com/KyleBristow
Email: [email protected]
Website: www.KyleBristow.com
Foundation for the Marketplace of Ideas
http://www.freedomfront.org
P.O. Box 381164
Clinton Township, Michigan
(248) 838-9934

Richard Spencer and Kyle Bristow
Also a graduate of MSU where he studied international relations, Kyle Bristow is now an attorney in Michigan and Ohio where he runs the Foundation for the Marketplace of Ideas. Under the Foundation for the Marketplace of Ideas, Bristow organizes alt-right conferences, defends alt-right activists, and seeks to reverse civil rights gains by revisiting Supreme Court judgements. Bristow defended Matthew Heimbach after he assaulted a black woman at a Trump rally in early 2016. According to the Southern Poverty Law Center:
"[R]epresenting Heimbach will be Kyle Bristow, a soft-spoken but viciously opinionated racist activist, a recently minted lawyer who entered the movement while an undergraduate at Michigan State University. Like Heimbach, Bristow in the last couple of years has become one of the white supremacist movement's most visible young activists — and he is doing his best to become even more so."
The Southern Poverty Law Center has a detailed report on Bristow here: https://www.splcenter.org/hatewatch/2016/10/05/law-and-disorder-movement-lawyer-kyle-bristow-takes-larger-role

Robert Frederick Besch (Dearborn, Michigan)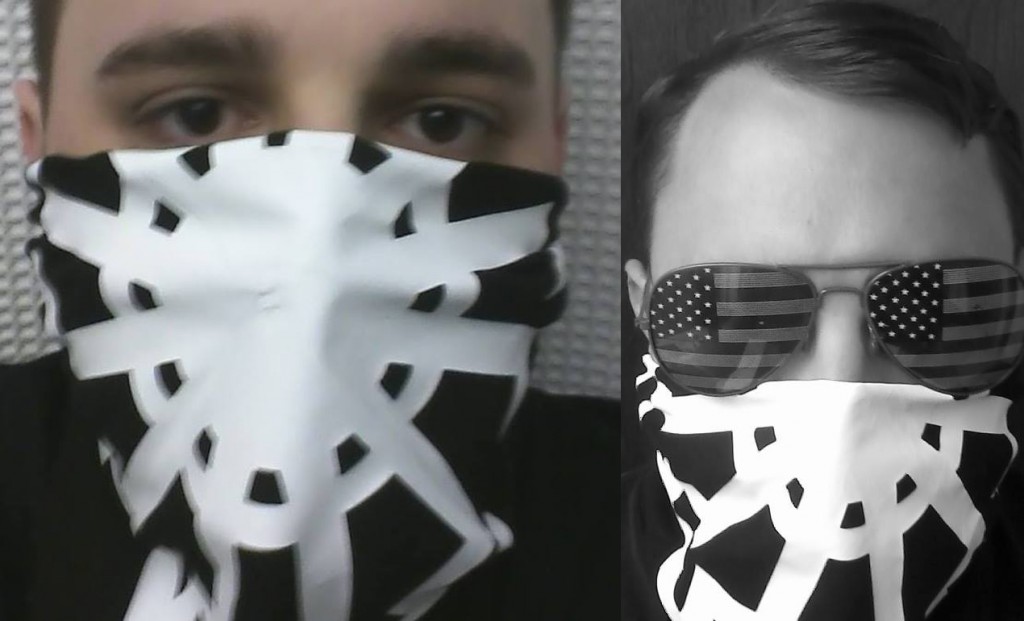 Mask features 'black sun' logo, often used by white supremacists.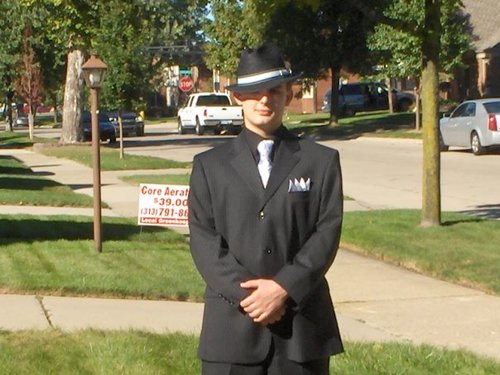 Robert Frederick Besch is a neo-nazi living in Dearborn, Michigan. He attends the University of Michigan-Dearborn and studies biological sciences. Though Besch now regularly shares nazi images and praises Hitler on his various social media, his older Twitter account followed accounts like Barack Obama, Stephen Colbert, and Nick Cannon.
He may live at 1805 N Highland St Dearborn, MI 48128
Beach's email address is [email protected]
Besch's various social media accounts:
Facebook: https://www.facebook.com/emil.henry.566
https://www.facebook.com/profile.php?id=100013571612927
https://www.facebook.com/profile.php?id=100013044074458
https://www.facebook.com/profile.php?id=100014281356091
Twitter: https://twitter.com/nuskyndrummer
VK: https://vk.com/robertbesch
Iron Mitten – The Michigan 'The Right Stuff' (TRS) Crew
Twitter: https://twitter.com/Iron_Mitten
Iron Mitten is the name of a group that some of these alt-right fascists are participating in to spread their message on local university campuses.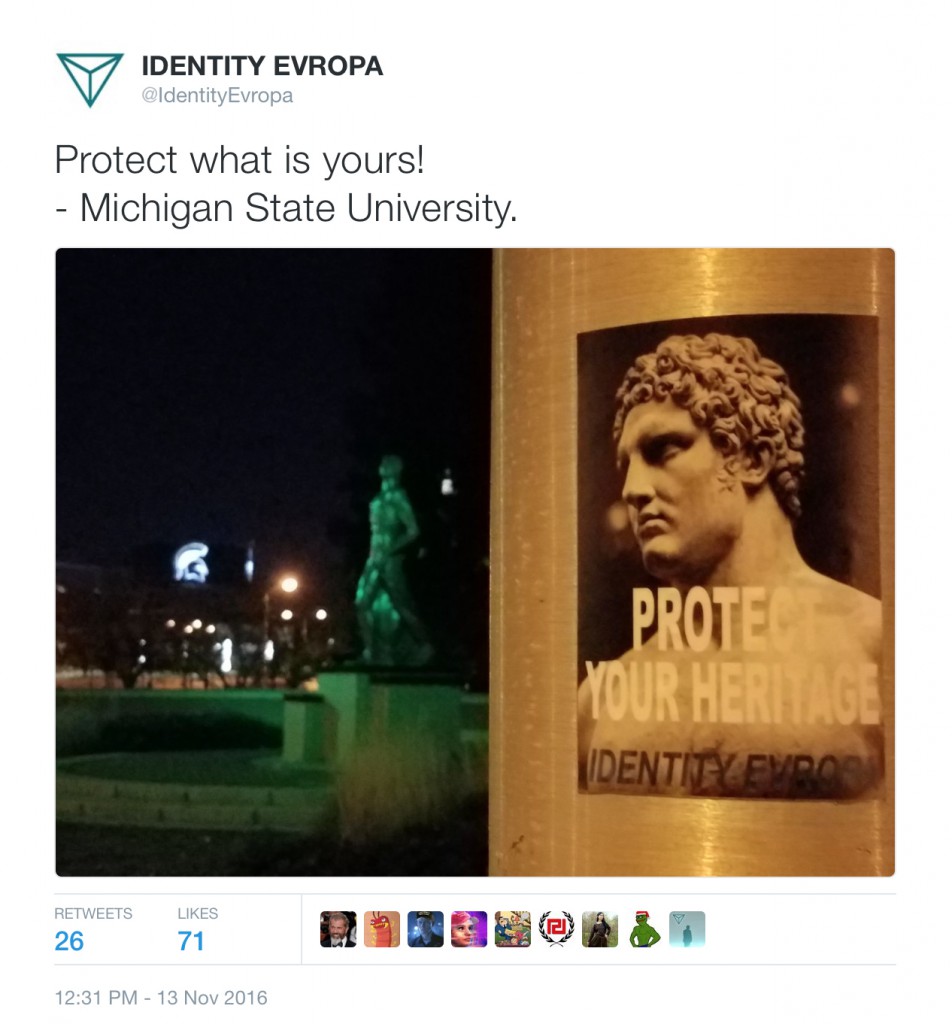 Michigan appears to be a major site of activity for Identity Evropa and the greater alt-right, with propaganda appearing around both the Michigan State University and the University of Michigan campuses. They appear to be well networked into institutions that only the wealthy and powerful have access to, however these are organizations who's image can be shattered with this information.
Flyers such as this one can be distributed at places like MSU and UM to spread the word about Identity Evropa and what they're about.