Mr. and Mrs. Maci: The Atomwaffen Division Implodes
"Timothy McVeigh was a good man who followed his conscience until the moment of his death. I pray I have his conviction."

-Matthew James Carroll, Atomwaffen Division member, Washington cell
The Atomwaffen Division (AWD) is an extremely violent, destruction oriented, nihilistic, neo-Nazi organization that operates in autonomous and quasi anonymous cells throughout the United States of America. The group formed around 2013, and on October 12, 2015, Florida resident, National Guard soldier, and AWD co-founder Brandon Russell set up an "Atomwaffen Central Topic" discussion thread on the now defunct neo-Nazi website Iron March under the alias of "Odin." Through this website forum, Russell recruited members from 23 U.S. states and Canada. After the May 19, 2017, Florida murders of his two, short term roommates from the Massachusetts' cell (Andrew Oneschuk and Jeremy Himmelman) by AWD co-founder Devon Arthurs (also a roommate), Russell was apprehended while driving towards the Keys with an unidentified individual in a vehicle stocked with rifles, magazines, and hundreds of rounds of ammo. Russell was subsequently incarcerated on May 21, 2017, for possessing bomb making materials which were found in his home. Several months following Russell's arrest, a Washington cell member, Kaleb James Cole, known by the alias of "Khimaere," created an updated "Atomwaffen Division New Central Thread" post on September 17, 2017, on the Iron March website, to pick up where Russell left off. However, the effort did not last through the year as the neo-Nazi website was taken offline by creator Alexander "Slavros" Mukhitdinov.
In the Pacific Northwest, the sole AWD operating cell is located in Washington. Recently, investigative journalists at Pro Publica released the identities of five Atomwaffen Division members, including Washington cell member and Blaine, Washington resident Kaleb James Cole. Read their compelling report here. Soon after, Rose City Antifa released their detailed report on Wade Mendisabal: another Atomwaffen Division member living in Seattle, Washington. Read the results of Rose City Antifa's in-depth research on Mendisabal here. In collaboration with research obtained by Pacific Northwest antifascists, we introduce to you another Washington cell Atomwaffen member and his neo-Nazi wife: Matthew James Carroll and Rosalee (Rosie) Lorraine (Forsythe) Carroll, popularly known as "Mr. and Mrs. Maci" in online neo-Nazi circles.
Matthew James Carroll was born on June 28, 1988, is a felon, a recovering drug addict, and grew up in Port Orchard, Washington, in a conservative family. He is the son of Mike Carroll and Kathy Scrivner Carroll. Mike Carroll is a Vietnam veteran, a chaplain, a supporter of the militia group the Oath Keepers, and a rabid Facebook user with an affinity for fake news and right-wing memes. Kathy is a surrogate mother for Matthew's wife Rosalee and is the person who Rosalee credits with making her a Christian. While Matthew is a fervent practicing Christian, his Nazi ideology dominates and his online posts are comprised almost entirely of racist, anti-gay, anti-abortion, misogynist, misanthropic, white supremacy and violence promoting messaging.
Matthew James Carroll, who uses the moniker "Popthereal," first shows up online in 2005, where he was a frequent poster on the Bluelight.org forums: A harm-reduction forum whose mission is "Helping Drug Users Help Themselves." Around this time in his life, Matthew appears to have had fairly normal interests. In 2010, he started a blog and a LiveJournal. His Myspace page is still publicly viewable. Matthew started a record label called POW Records where he produced electronic music using the name "Billy the Kids." Despite being married, Matthew continues to maintain a dating profile on a site called Redhead Passions which shows a last log in by him five weeks ago. Matthew appears to became more heavily involved in drugs and was arrested on December 11, 2012, and ultimately convicted of a Class B felony for the manufacturing and distributing of a controlled substance. On February 27, 2015, Matthew was charged for another drug-related offense. Matthew participated in inpatient treatment and escaped another conviction by completing two years of drug court and eventually graduated from drug court on January 27, 2017. Shortly thereafter, Matthew found a job and relocated to the Seattle area.
In January 2017, Atomwaffen Division put up flyers at the University of Washington (UW). Mainstream media did not pick up the story, but the Daily Stormer (a neo-Nazi website) did after Rosie Carroll (using the handle @tradtablier on Twitter at the time) tweeted out a Facebook post from a professor at the University of Washington. Atomwaffen Division came to the attention of the Seattle public when, on February 15, 2017, during a production of Shakespeare's As You Like It, flyers were affixed to the front door of UW's Glenn Hughes Theatre. The Stranger reported that cast and crew members, "caught a whiff of something that smelled like spray paint backstage." It turns out, this smell was actually spray adhesive. Additional flyers were found on UW campus the following morning. A few days later, AWD posted a video of the flyering which included the group sieg heiling with the AWD flag outside of Sieg Hall.
Antifascists had been monitoring Matthew Carroll's Twitter accounts long before this incident. The following morning, Matthew's Twitter account posted a picture that would be used in the Atomwaffen Division video originally uploaded on February 17th.
In June 2017, Evergreen State College was still dealing with controversy after professor Bret Weinstein questioned a "Day of Absence" in which White students were asked to leave campus amid activities on and off the college grounds to discuss racism and equity. This controversy resulted in campus being closed due to death threats, national coverage by right-wing shucksters like Joe Rogan and Fox News, and several protests and rallies. The same week, bigots like the Proud Boys and neo-nazi magnet Joey Gibson (Patriot Prayer) were planning to rally at Evergreen, Atomwaffen descended on the campus in the middle to the night to put up more flyers. At the 1:09 mark of this video, a man dressed similarly to how Matthew was dressed in the UW video is seen putting up this flyer.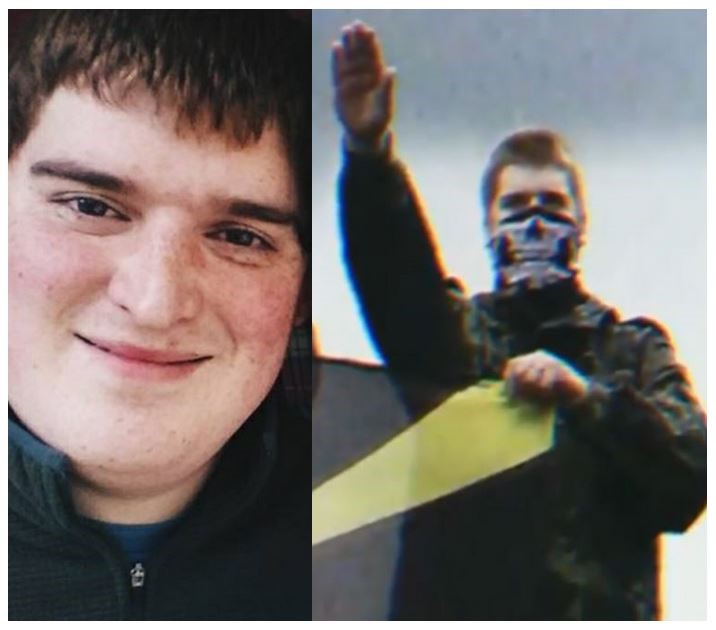 "Hitler was a man of honor." – Matthew Carroll
The Atomwaffen Division's mentions in main stream media increased following the brutal murders committed by Nicholas Giampa in Virginia and Samuel Woodward in California. Both young men were active in AWD and both corresponded with Matthew Carroll over Twitter. Giampa is a 17 year old neo-Nazi who shot his girlfriend's parents to death after concerns were raised about his Nazi ideology. Woodward is a 20 year old who stabbed a former high school classmate to death presumably because the victim was both Jewish and gay. Matthew Carroll relishes in his self contrived philosophy of "Maciism," which mirrors Nazi ideology but positions himself, instead of Hitler, as a focal, cult-like figure. Through the self promotion of "Maciism," Matthew Carroll serves as a mentor to younger people: Many of whom are teenagers in highschool, or young adults still living at home with their parents. Matthew Carroll preys on youth, online, with an aim of converting and endorsing Nazi ideology.
Matthew Carroll's neo-Nazi network includes the Washington AWD cell, his contacts with national and Canadian AWD members, and a variety of neo-Nazis nationally and internationally. In December, Pacific Northwest antifascists gained access to a leaked Discord server called the Cascadian Coffee Company. Matthew Carroll participated in this server which included approximately thirty users including Jimmy Marr from Springfield, Oregon; David Woods and Andrew Oswalt from Corvallis, Oregon; Matthew Lee Combs and Austin Wilkison from Eugene, Oregon; and Justin Marbury from Medford, Oregon. The Discord server also included several Washington Atomwaffen members including Wade Mendisabal from Seattle, Washington and Kaleb James Cole from Blaine, Washington.
Matthew Carroll is very active on Twitter and participated in a Twitter chat group with other white supremacists living in the Pacific Northwest. Other participants included members from American Front, True Cascadia, PDX Stormers, and the Atomwaffen Division. Antifascists in the Pacific Northwest have gained access to these private, Twitter chats which reveal their organizing collaborations, personal relationships with each other, critiques of other white supremacist groups, and identifying information.
Matthew Carroll's wife, Rosalee (Rosie) Lorraine Forsythe Carroll, was born on March 9, 1993, is a drop out from Thomas Jefferson High School (located in Auburn, Washington), and is an unemployed, stay at home wife. She spends most of her days sleeping in late, doing housework, watching television, playing with their cat Heinrich (named after Heinrich Himmler: a leading member of the Nazi Party and one of the people most directly responsible for the Holocaust), wishing she were pregnant so she could contribute to the White Race, and posting racist and bigoted messages on Twitter. Rosie Carroll has busied herself making neo-Nazi propaganda and supporting her husband's activities with Atomwaffen Division. Both Matthew and Rosie cloak their Nazi ideology with a strict, outwardly Christian presentation. At the same time they are flaunting their love for God and animals, Rosie and Matthew call for the death of gays and abortion doctors, Jews and people of color.
After Rosie Carroll became estranged from her own mother, Rosie became more and more emotionally dependent on Matthew Carroll and his family. As Rosie shares in her tweets, it was Matthew's mother who converted her into an obsessive Christian. Matthew's father and mother exhibit racist traits themselves and also cloak that hate with their religion. While it may come to a surprise for Rosie and Matthew's neighbors, fellow church goers and co-workers that they are neo-Nazis, it will come to no surprise to Matthew's father, mother, or brother. The family's ideology has served to foster these extreme beliefs in their son and daughter-in-law.
The activities we have tracked the Washington cell of Atomwaffen Divison participating in include: flyering, banner drops, firearms shooting, hiking trips and "urban adventures," and propaganda creation. There have been some isolated incidences of direct targeting of individuals by members of the Washington cell, and we continue to research the remaining members and their activities.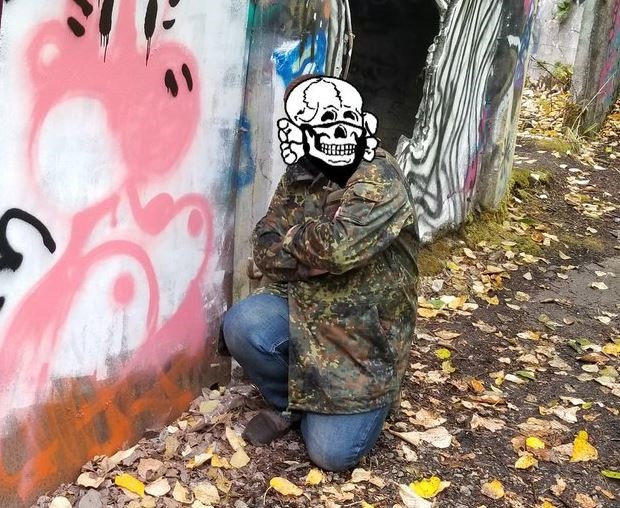 To read the full article with more photos, screenshots, and details,

go here

.