Patriot Prayer's Anti-Immigrant Hate Rally Brings out the Fascists in Droves
Filed under: Action, Anti-fascist, Northwest
Since Joey Gibson began organizing rallies in the Pacific Northwest, he's sought to create a united front on the far-Right which has offered space to neo-Nazis, the Alt-Right, and white nationalists. During the recent demonstrations that took place in a handful of US cities on December 9th against sanctuary cities including in Portland, Rose City Antifa documents how this trend is not only continuing, but seemingly growing.
On Saturday December 9th, Joey Gibson's far right Patriot Prayer organization held a racist anti-immigrant rally in Terry Schrunk Plaza in the heart of Downtown Portland. Gibson and his followers wanted to cynically exploit the tragic and accidental shooting death of Kate Steinle to promote their bigoted and violent anti-immigrant rhetoric and agenda. By acting as if they were speaking out for a woman who was tragically killed in what was ruled an accidental death by a jury, far-right groups have been encouraging and supporting violence against immigrants.
Joey Gibson has not held a single rally that has not welcomed the participation of fascists, white nationalists, and neo-nazis. Explicitly anti-immigrant rallies such as this are frequent staples of fascist movements and often successfully incite violence against vulnerable populations. The fact that, like usual, neo-nazis signaled their intention to participate in this hate rally with absolutely no pushback Patriot Prayer creates a dangerous situation.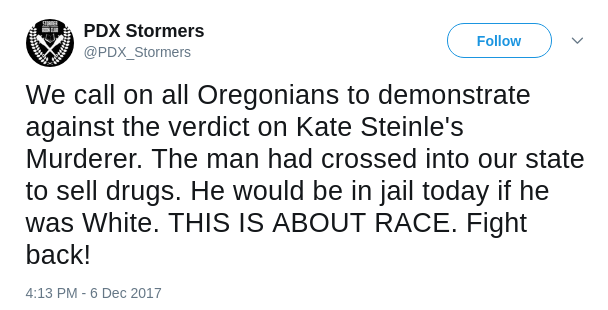 PDX Stormers, a group of neo-Nazis who enjoy posting on the nazi Daily Stormer website, declare their intent to rally.
Saturday December 9th was no different. And in fact, this rally saw perhaps the greatest ratio of fascists to willfully ignorant far-Right patriots yet.
True to their call, the nazis from the Daily Stormer were there, as were members of Identity Evropa. Violent white nationalist street preachers were in attendance, as were the "western chauvinist" Proud Boys. When anti-fascist activists confronted the rally, Joey Gibson's event fell apart into an orgy of threats, aggression, and violent attacks against anti-fascist activists and allies. Here are a few of the known fascists and other racist bullies who Gibson invited into Portland's streets this past weekend.
Stormers
The Daily Stormer is a nazi commentary site run by Andrew Aglin. It's forums are one of the larger hubs for white supremacist activity online, and even though the website has been continuously kicked off of hosting all around the world in the last few months, it still exists on the dark web. For some time now, forum members have been meeting in groups in public, which they call Stormer Book Clubs. In March, the Portland Stormer Book Club was kicked out of the Lucky Lab pub.
Members of the Portland Stormer Book Club often show up at Joey Gibson's and other far-Right events. Here are a few of them.
"Germany"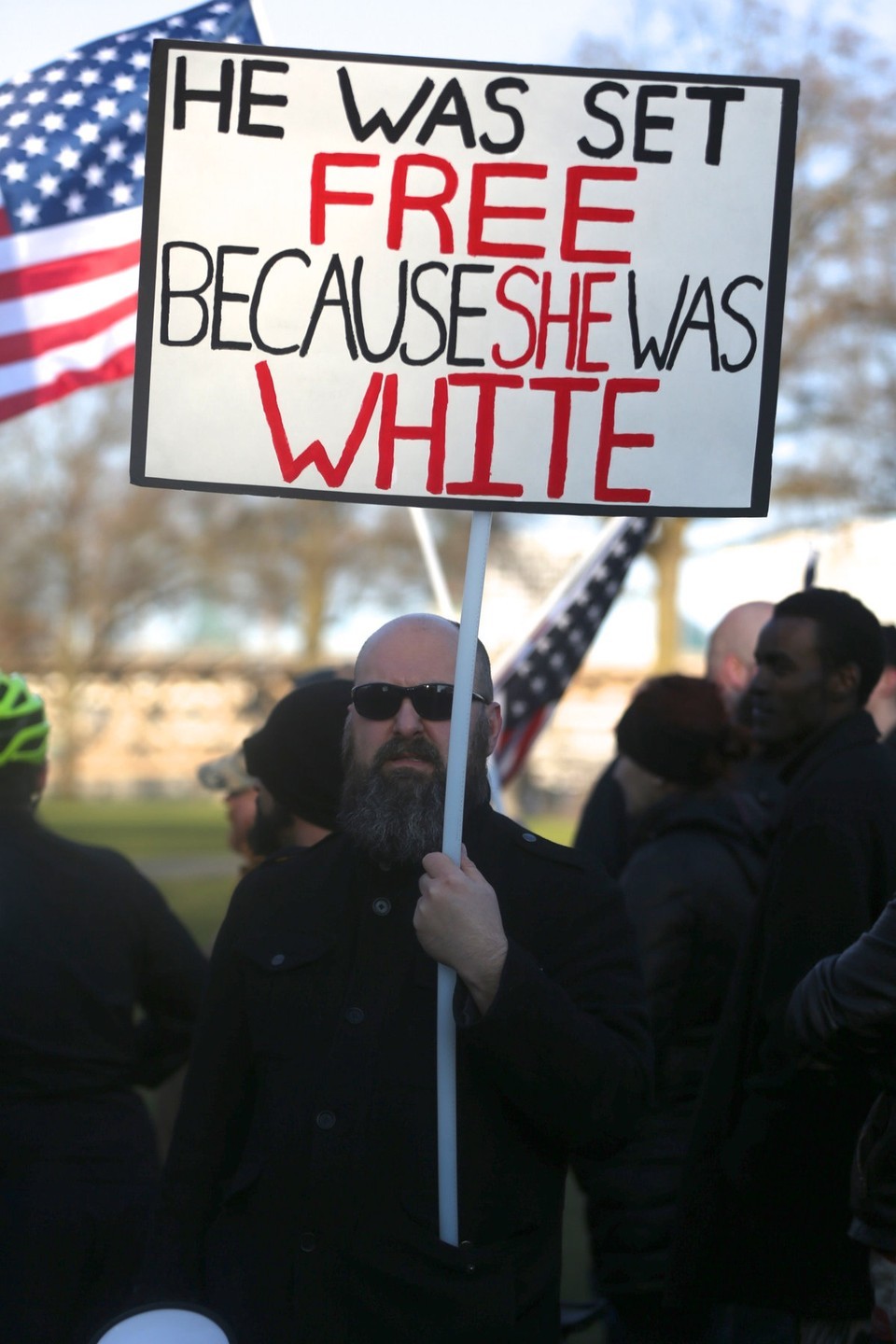 "Germany" was first seen at Gibson's 82nd Avenue march, where he was heard making racists statements. He has been seen at a number of Gibson's events since then, including June 4th, August 6th, as well as on December 9th.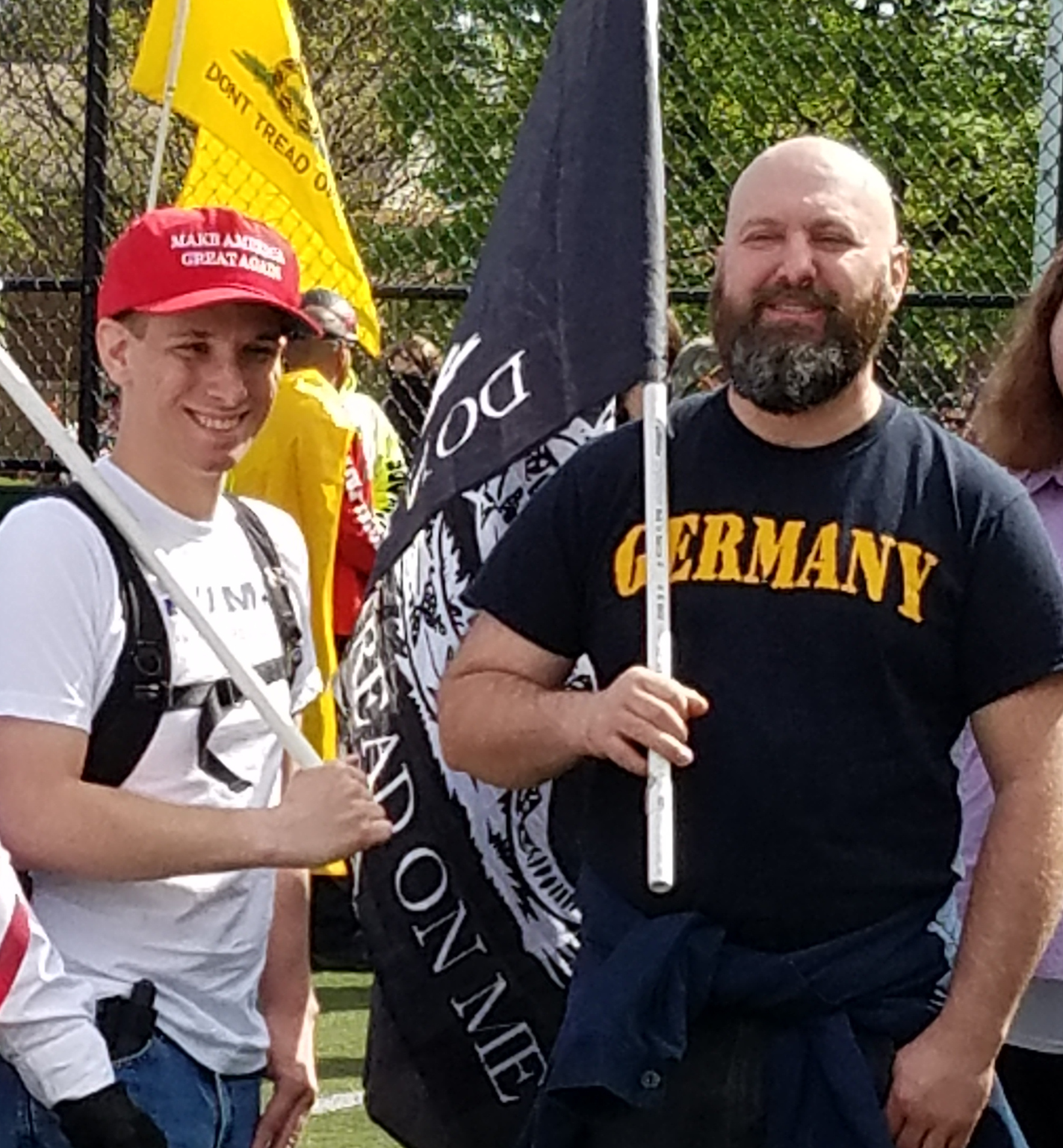 "Mike Gainer" (left) and "Germany" (right) at Joey Gibson's 82nd Avenue march.
"Might is Right"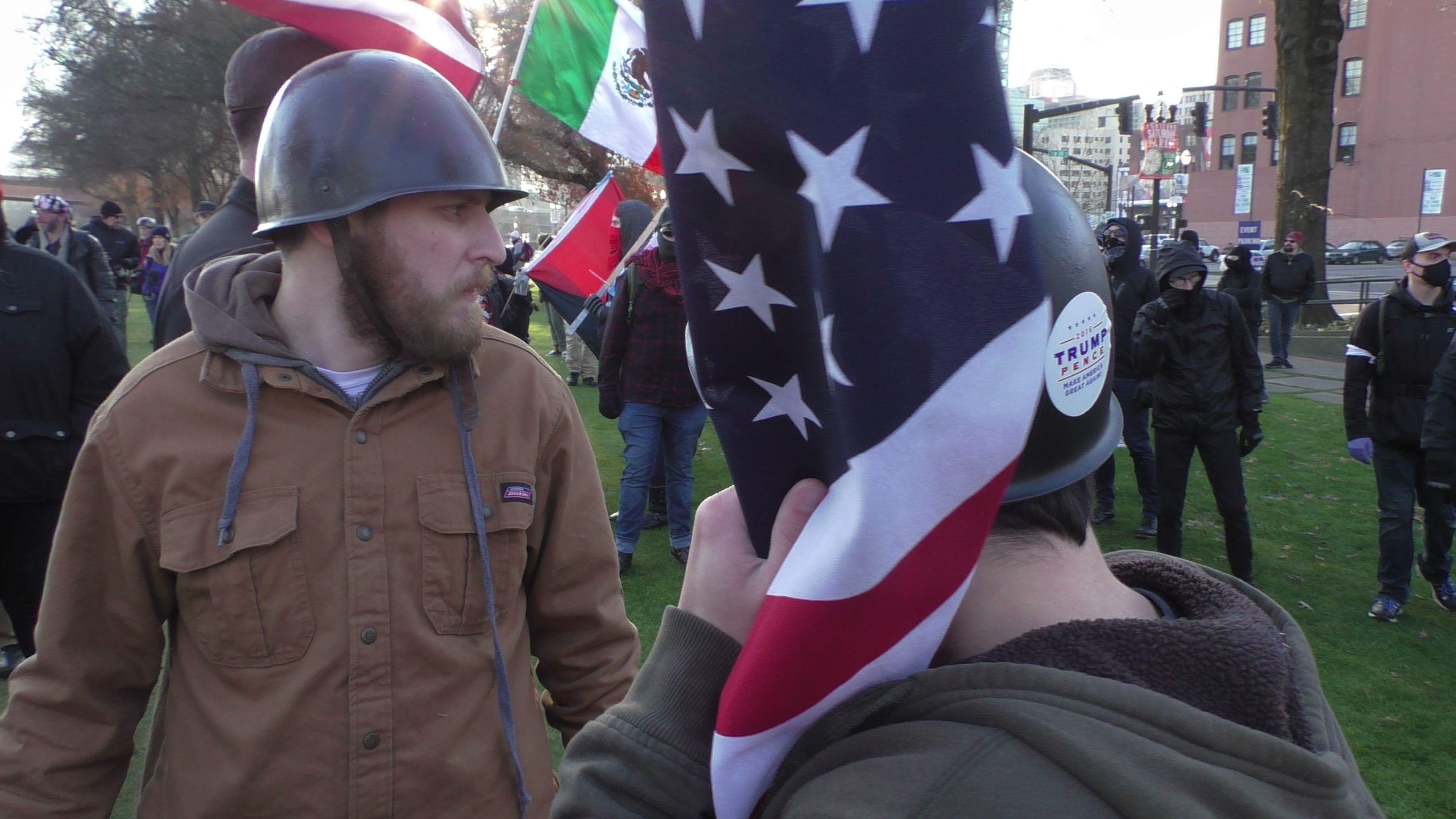 "Might is Right" has been seen at a number of Gibson's events, such as at the Vancouver event on September 10th, and his Salem event on October 15th.
"Mike Gainer"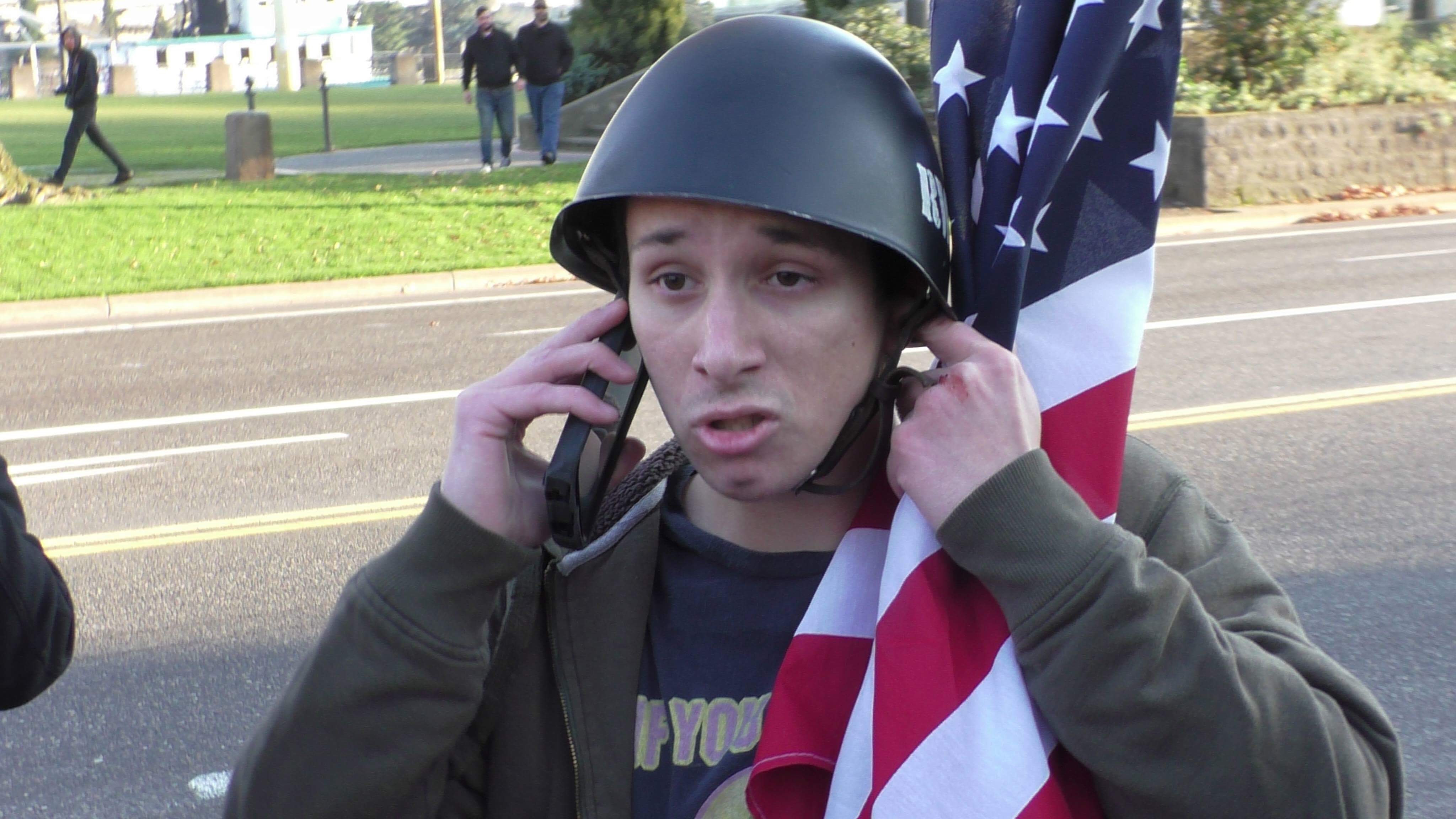 "Mike Gainer" (a pseudonym) has been at many Gibson events. He's frequently attacked anti-fascist activists. Yesterday, he was participating in an "It's Okay to be White" chant.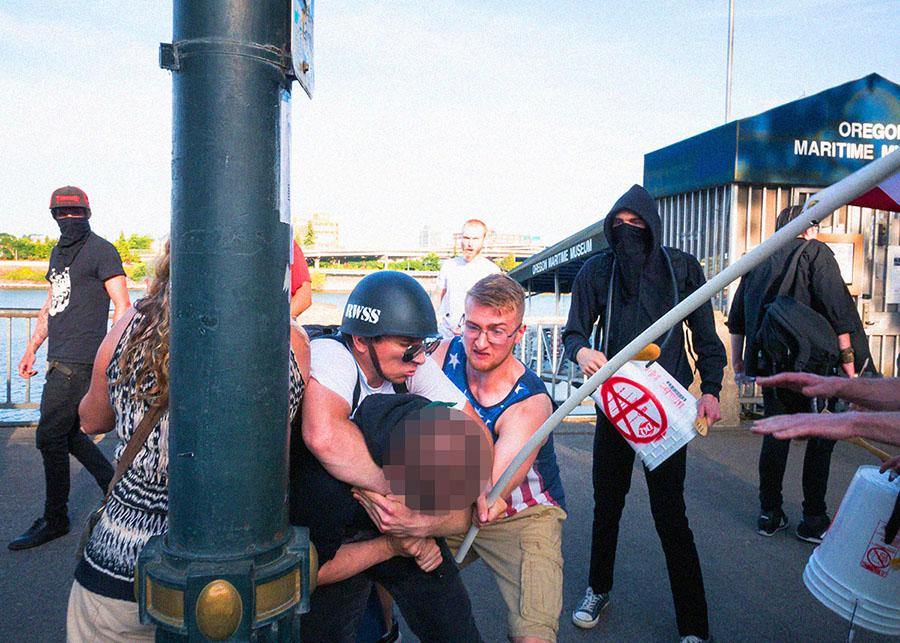 "Mike Gainer" and "Gary Lee" attack a person at one of Gibson's summer rallies along the Portland waterfront.
Mike Gainer also wears a helmet reading "RWSS," which crypto-fascists such as himself, when talking to "normies," will say stands for "Right Wing Safety Squad;" but sloppy "backchannel" communications on de facto nazi websites such as 4chan's /pol/ board reveal the construction of the dog-whistle.

An example of the planning that went into "Mike Gainer's" neo-nazi dog-whistle helmet.
Jarl Rockhill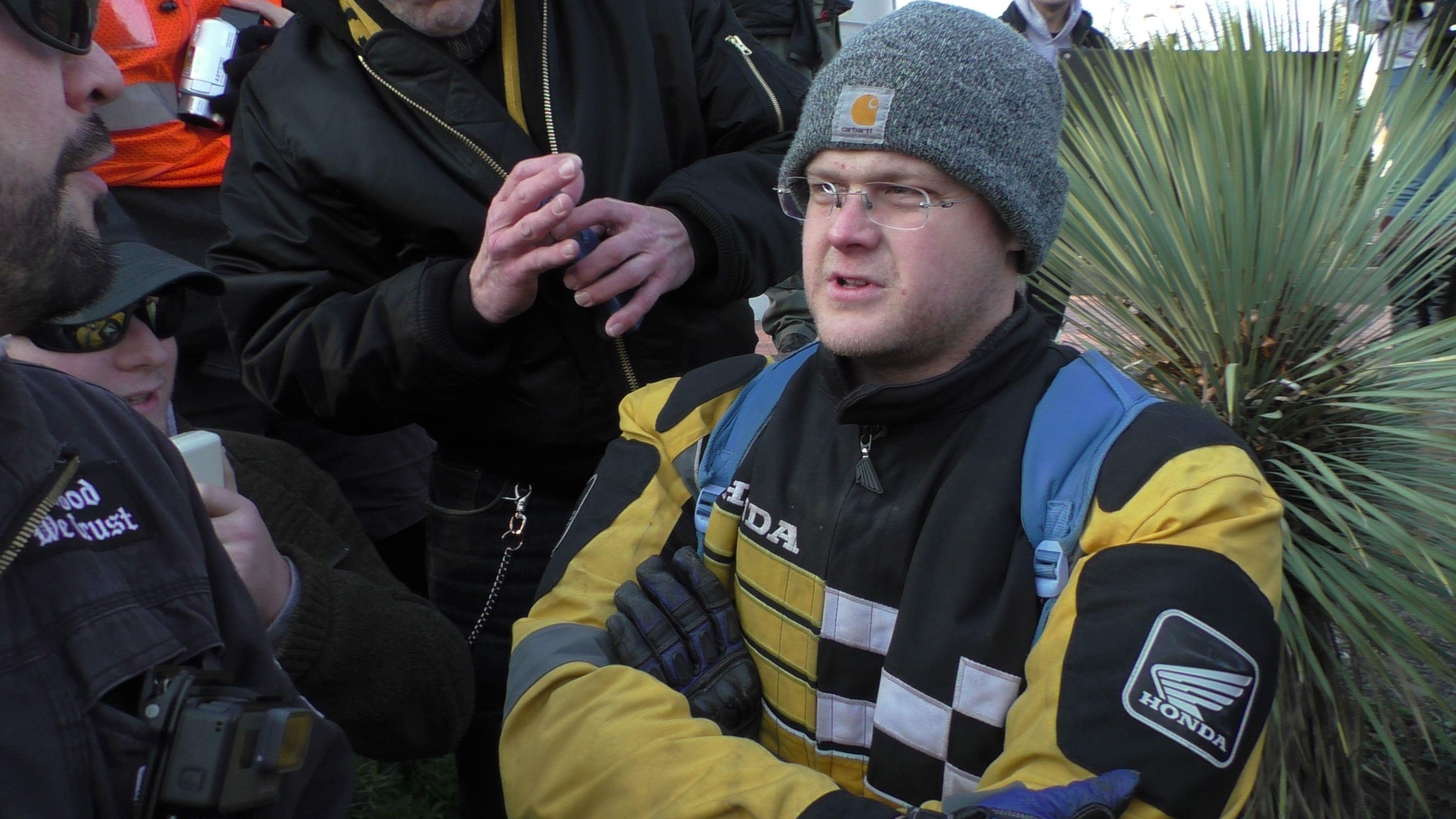 Jarl Rockhill is not only a nazi, he is a convicted pedophile. He has been at a number of Joey Gibson's events in the past. On December 9th, after being shown incontrovertible evidence of Rockhill's sex offender status, Gibson finally decided to kick him out of the rally. This is hardly the only instance of Gibson's rallies drawing sexual predators. Deme Cooper, a part of Common Sense Conservative Media, has also attended numerous Gibson events. Recently, evidence uncovered by Rose City Antifa showed that Cooper has been charged with two counts of sodomy of a minor under the age of 13. Cooper is invited to all of Gibson's events. Tyler Smith, who accompanying Joey Gibson and others to an anti-Muslim protest in May 2017, molested a 14-year old girl in 2009.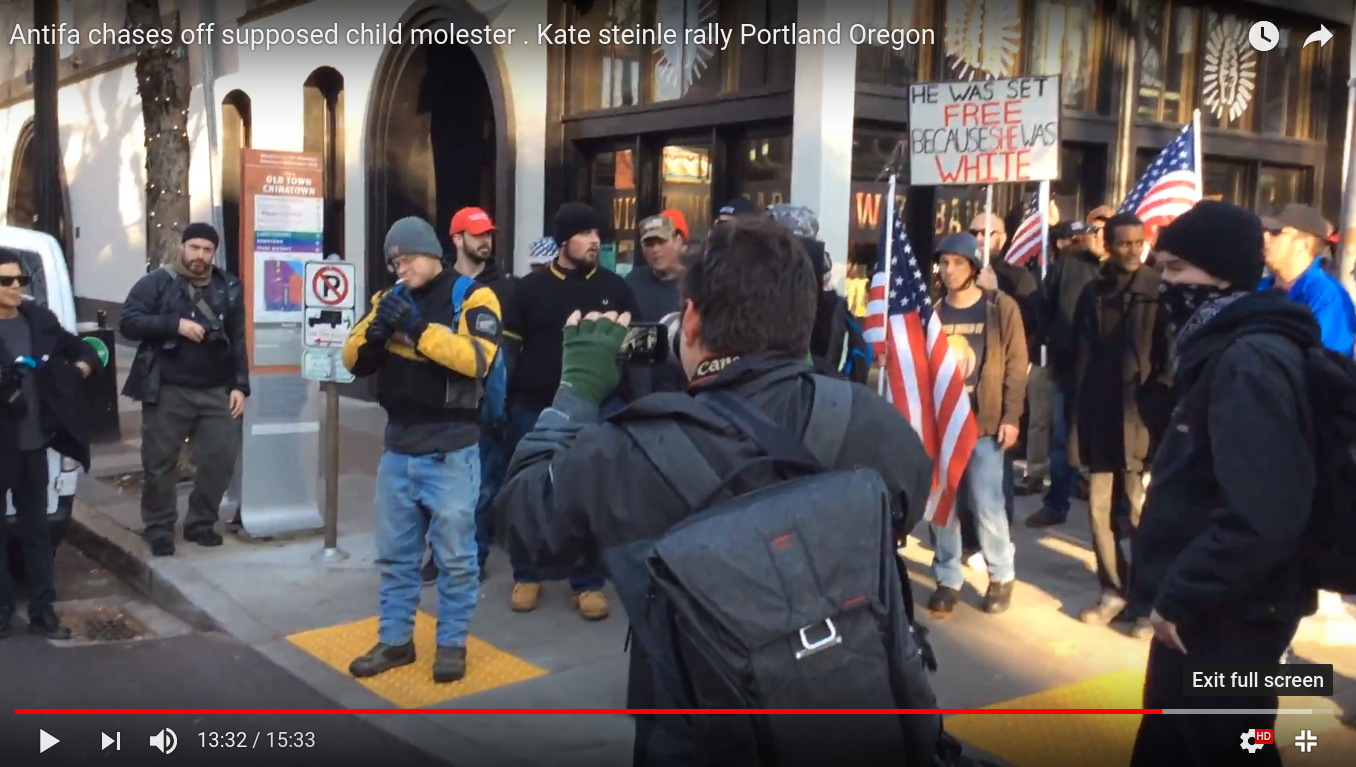 Jarl Rockhill, after being expelled from the event by Gibson.
Identity Evropa
Identity Evropa is a white nationalist organization. Until recently, the Oregon coordinator for the group was Jacob Ott, a virulent racist and anti-semite. Ott and his cronies first attended one of Gibson's events on April 29th, on 82nd Avenue. After their presence was exposed by Rose City Antifa, Joey Gibson nominally banned Ott and his followers from coming into Terry Schrunk park on June 4th. Ott and pals felt free to roam about the outside of Gibson's rally, and recite white supremacist slogans with Gibson's invited speaker, Tim Gionet (aka Baked Alaska).
However, it seems that with Ott gone, Gibson is allowing Identity Evropa members to participate in his events without hesitation. At every one of Gibson's Portland rallies since June 4th, Identity Evropa members have been present and participated. On December 9th, Joey Gibson even screamed, "there is no Identity Evropa here!" Gibson must have a short memory, because here are a number of Identity Evropa supporters who were at his rally that day, a number of which he specifically banned from entering Terry Shrunk on June 4th. He knew they were supporters of Identity Evropa then, but seems to have conveniently forgotten.
These Identity Evropa members were heard at Saturday's anti-immigrant rally leading other Patriot Prayer followers in the chant "You can't run / You can't hide / You get helicopter rides" in reference to fascist dictator Augusto Pinochet's famous method of executing political dissidents.
"Gary Lee"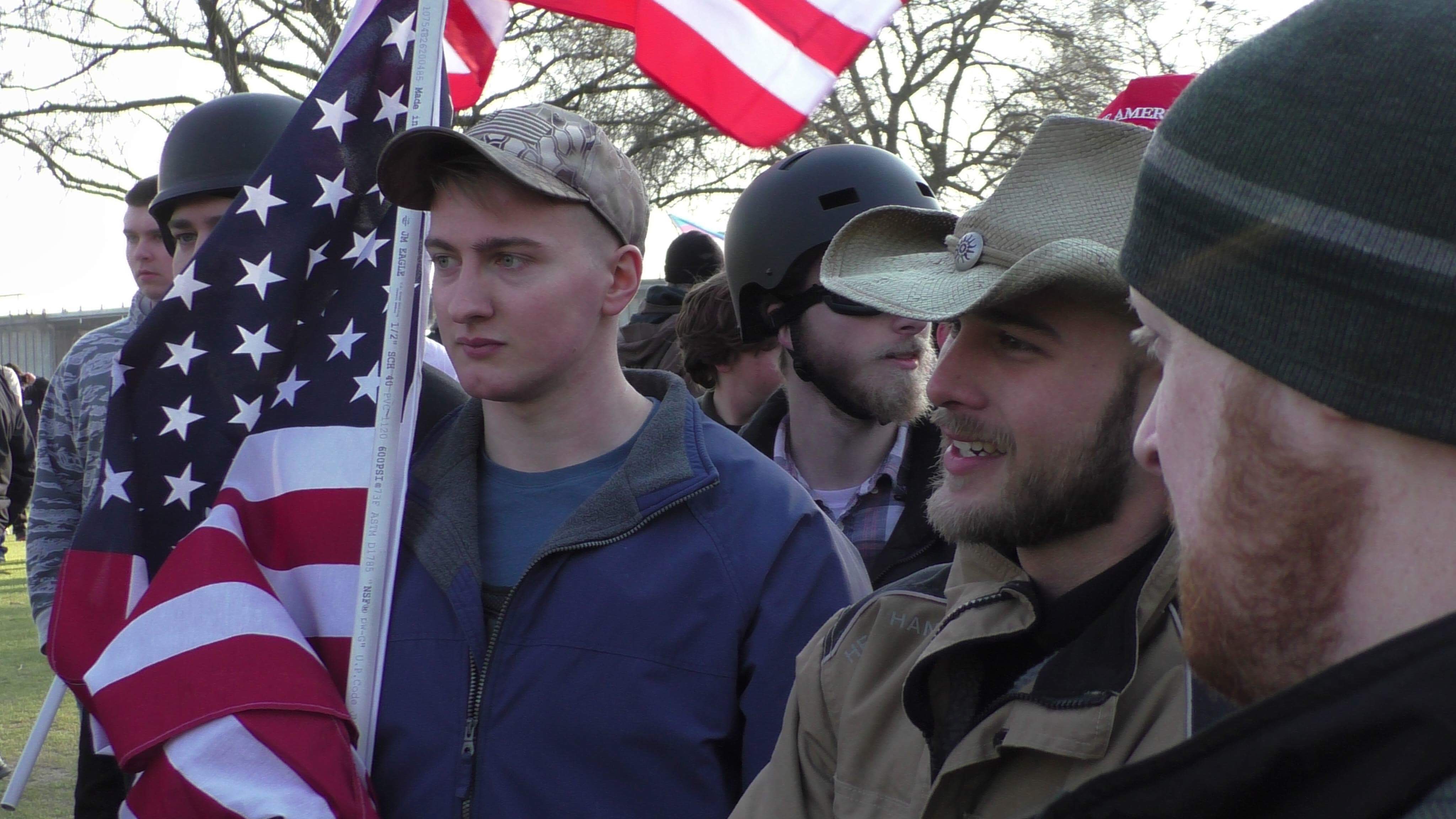 "Gary Lee" (pseudonym) has been at many of Gibson's events. He often attacks people, and yesterday was no exception, as he involved himself in many of the brawls that started. He is also an anti-semite and fascist, as previously documented by Rose City Antifa.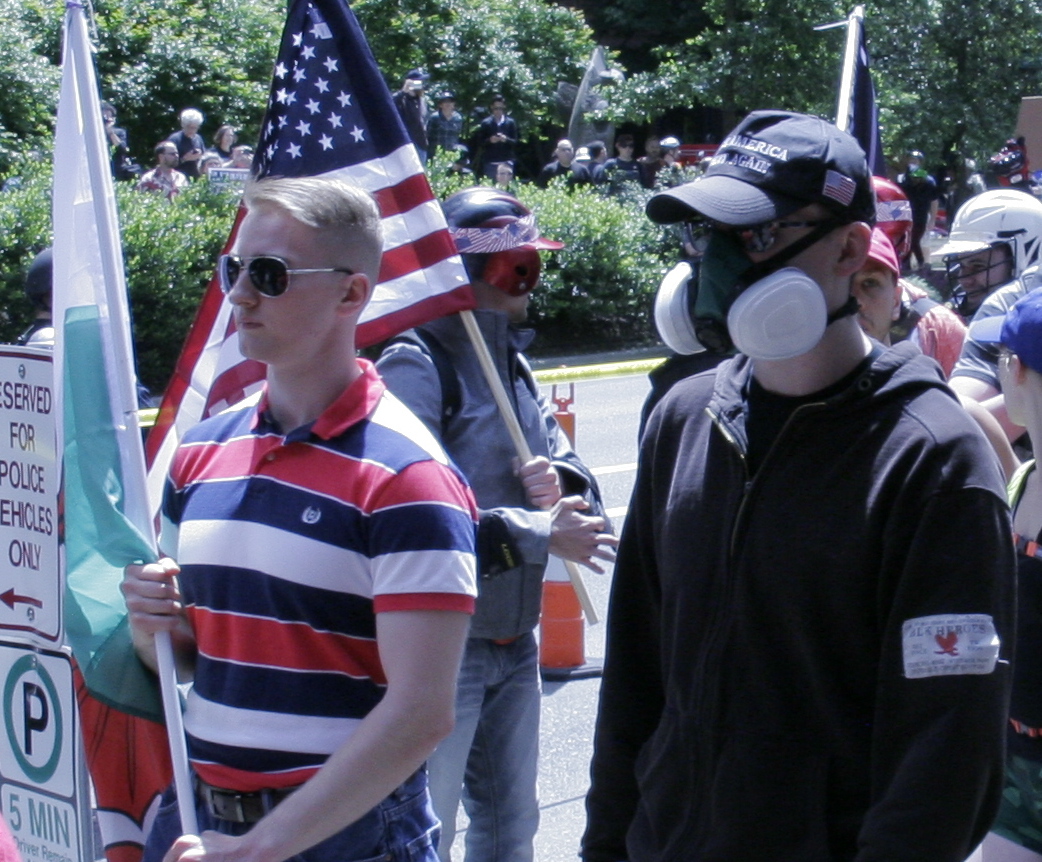 "Gary Lee" (left) and Thorsson Snyder (right) after being denied entry to Gibson's rally on June 4th.
Ethan Devries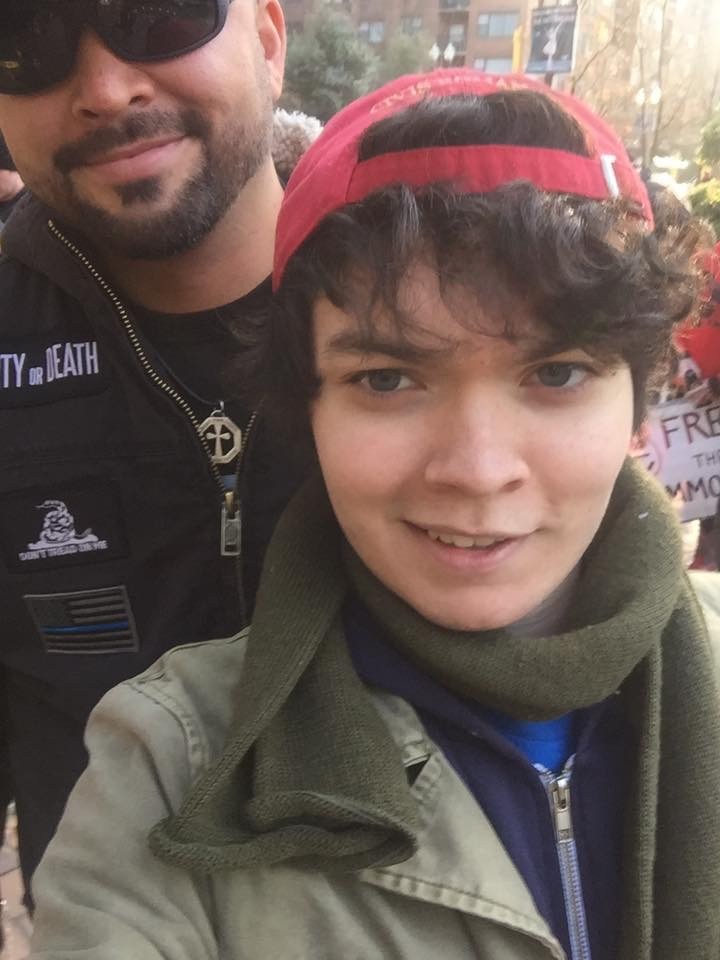 Ethan Devries takes a selfie with Joey Gibson.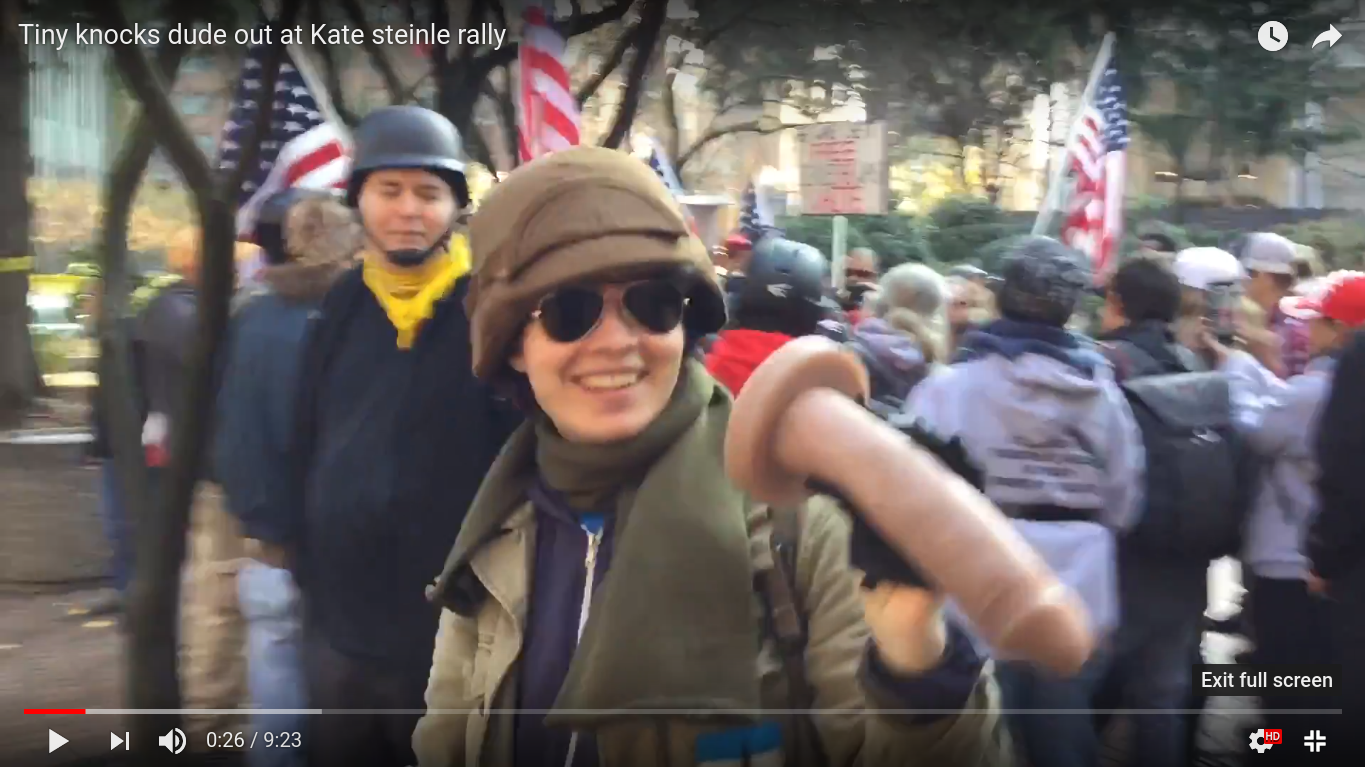 Ethan Devries (left) and giant rubber phallus (right)
Cody Bussard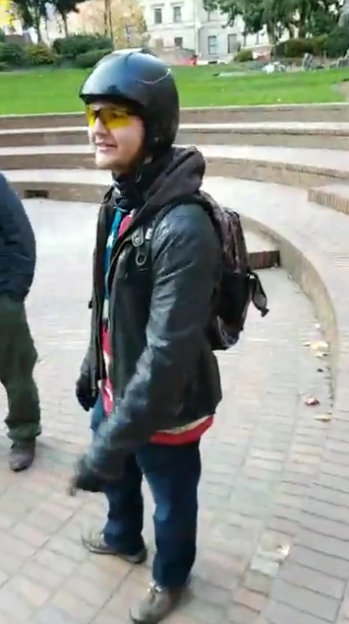 Cody Bussard, pictured at the rally on December 9th.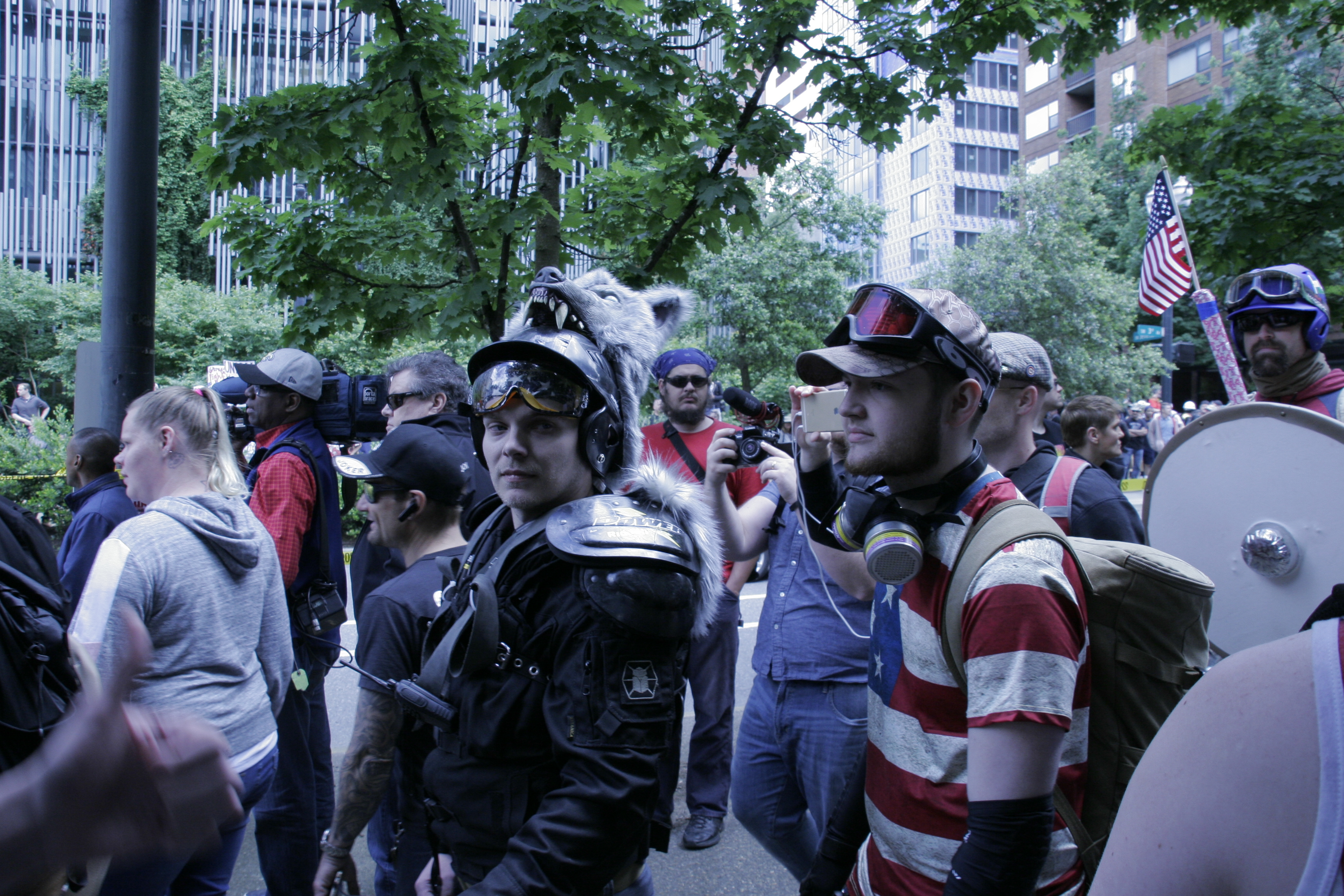 Cody Bussard, marching with Identity Europa at Joey Gibson's rally on June 4th.
Thorsson Snyder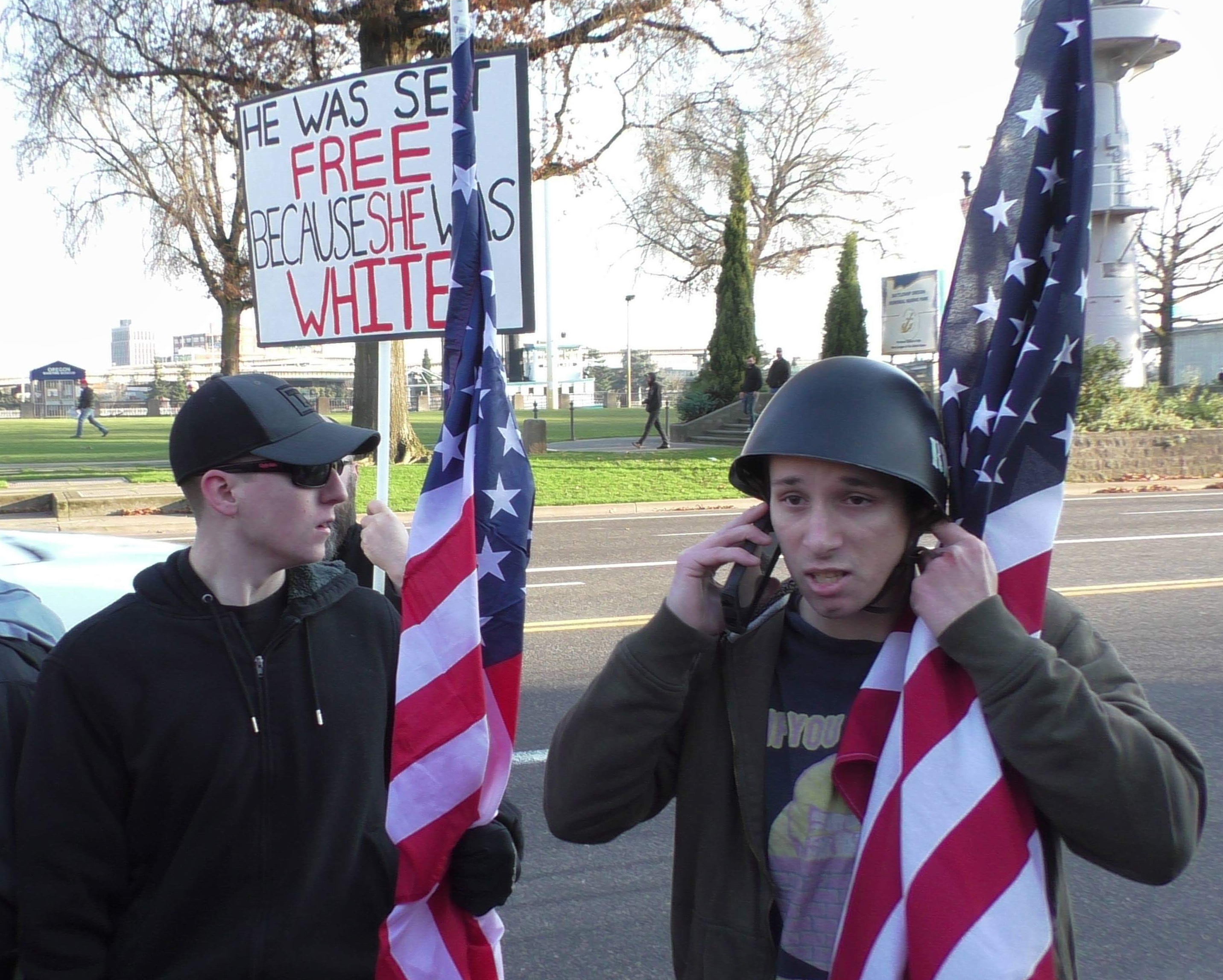 Thorsson Snyder (left) and "Mike Gainer" (right) on his cell phone, at Gibson's rally on December 9th.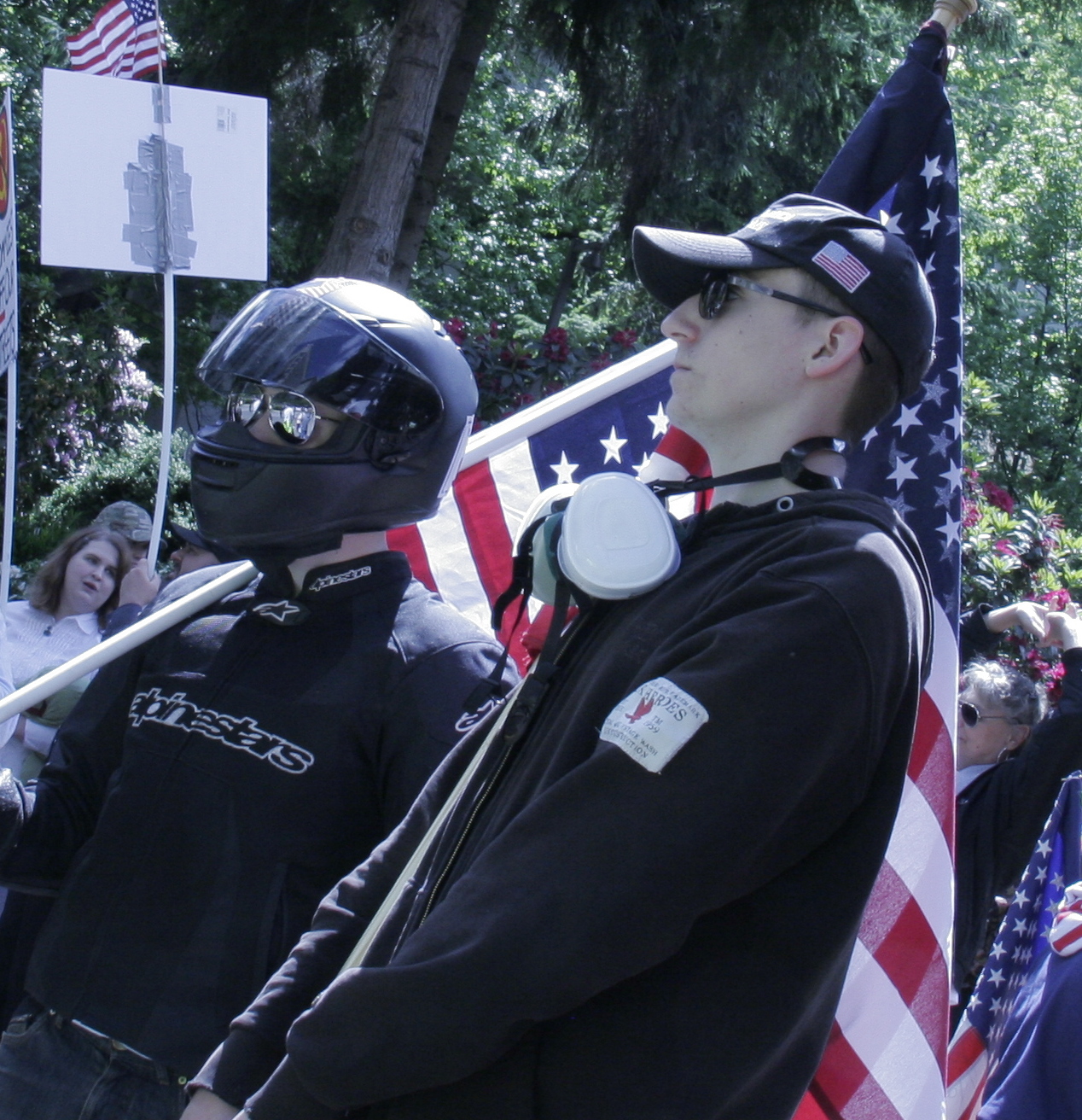 Snyder (right) with unidentified Identity Evropa member at Gibson's rally on June 4th.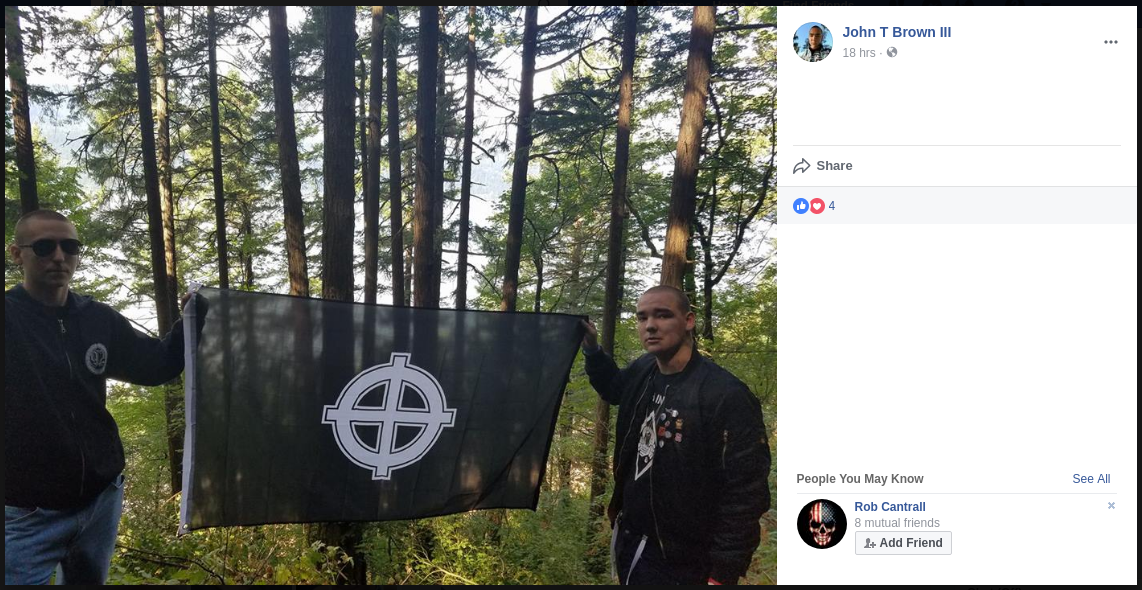 Snyder (left) wears "92" Operation Wearwolf fascist hoodie, standing with racist skinhead John T. Brown (right), holding white power flag.
Matt Duffy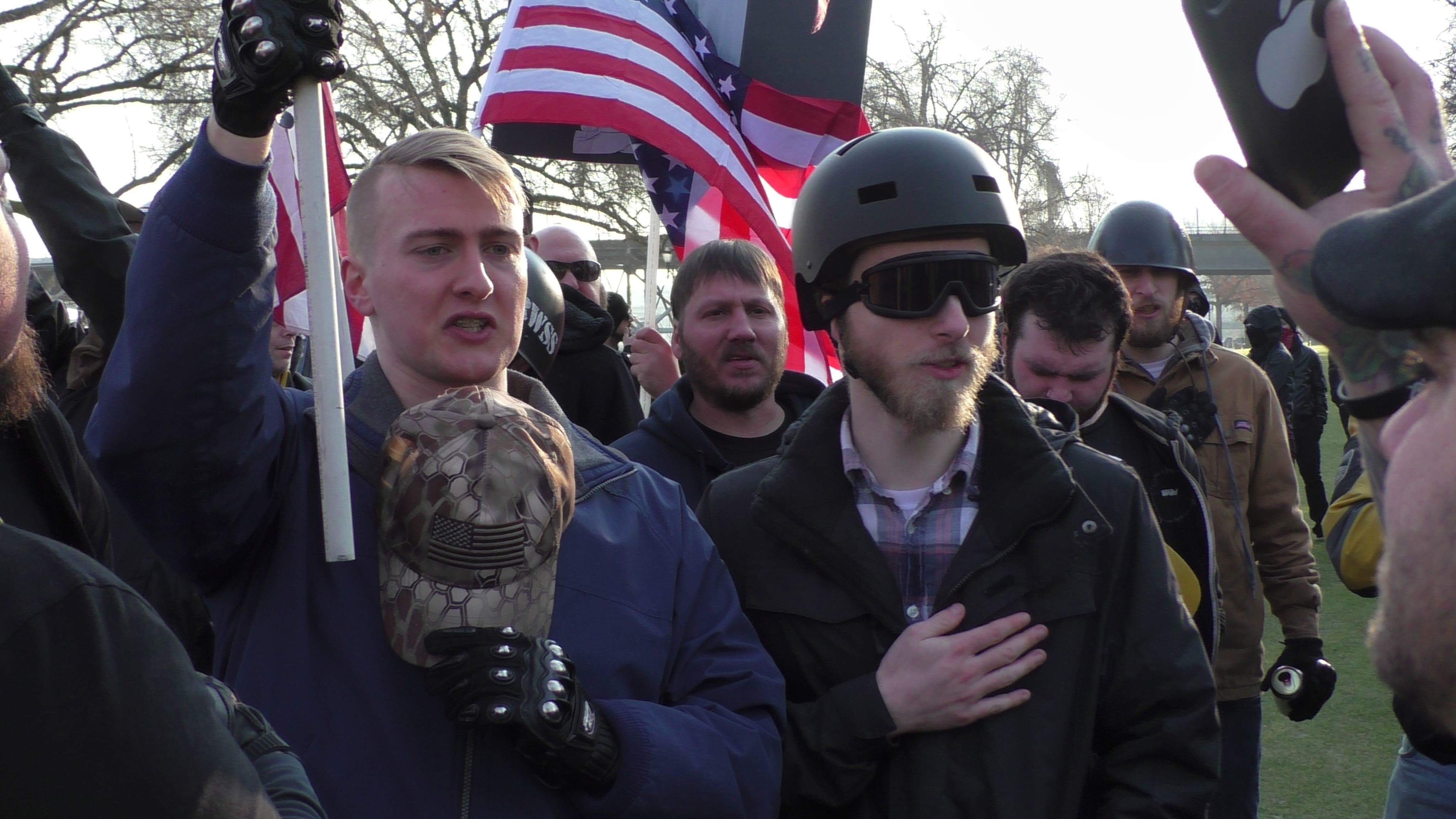 Matt Duffy (right) with "Gary Lee" (left)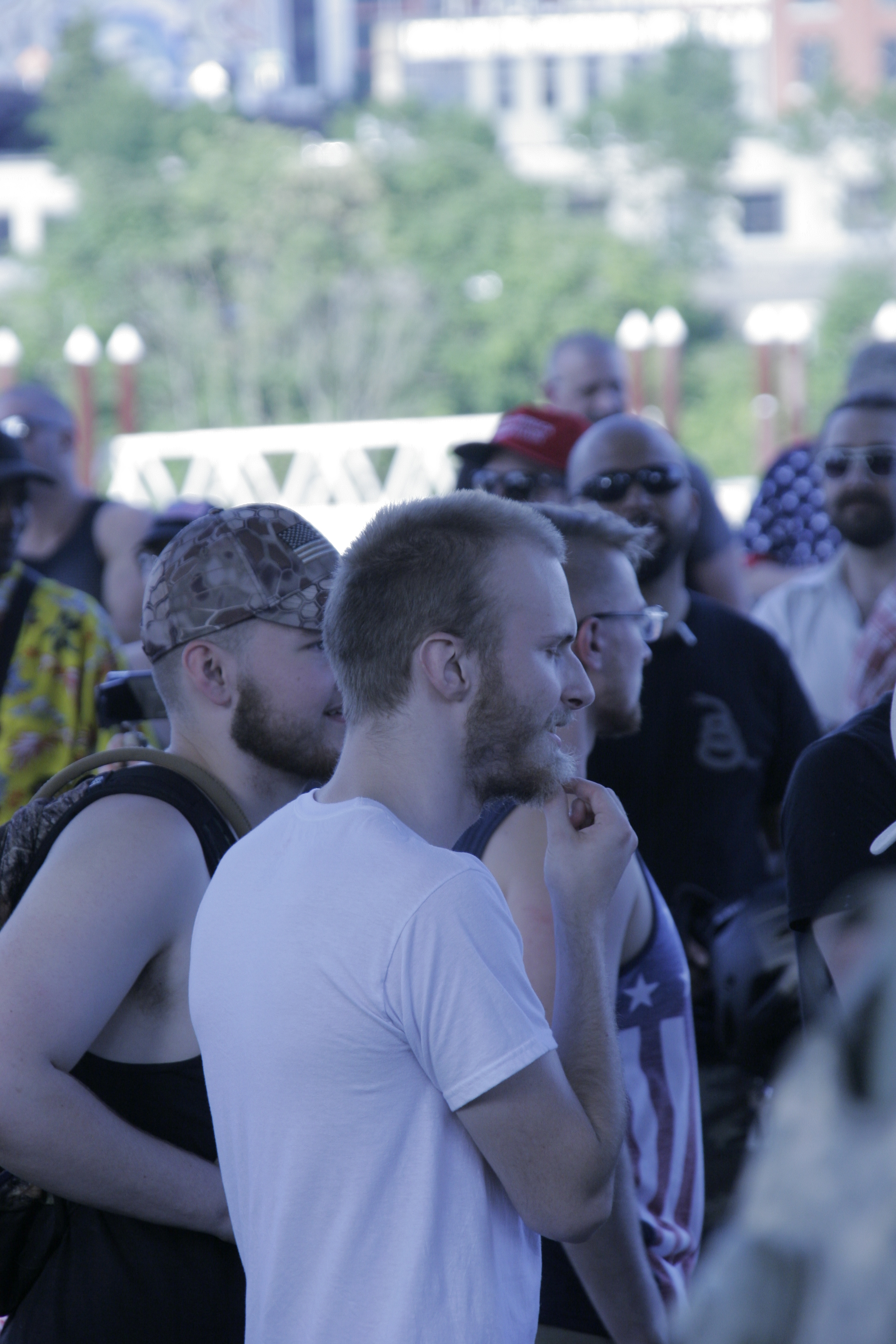 Matt Duffy, with other members of Identity Europa behind him, on August 6th.
Stephen Johnston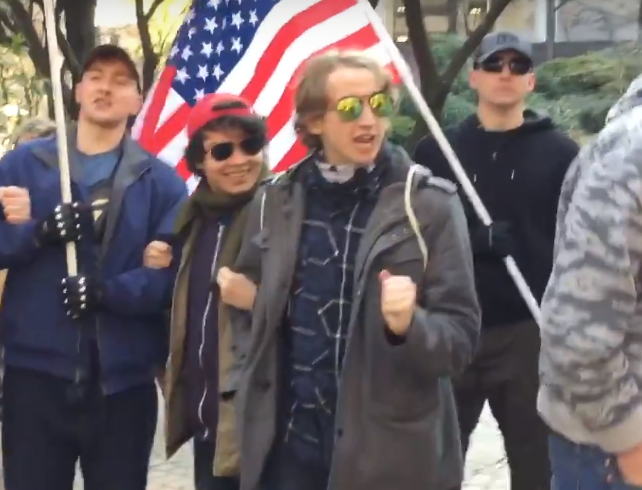 From left to right, "Gary Lee," Ethan Devries, Stephen Johnston, and Thorsson Snyder
"It's Okay to be White" Teens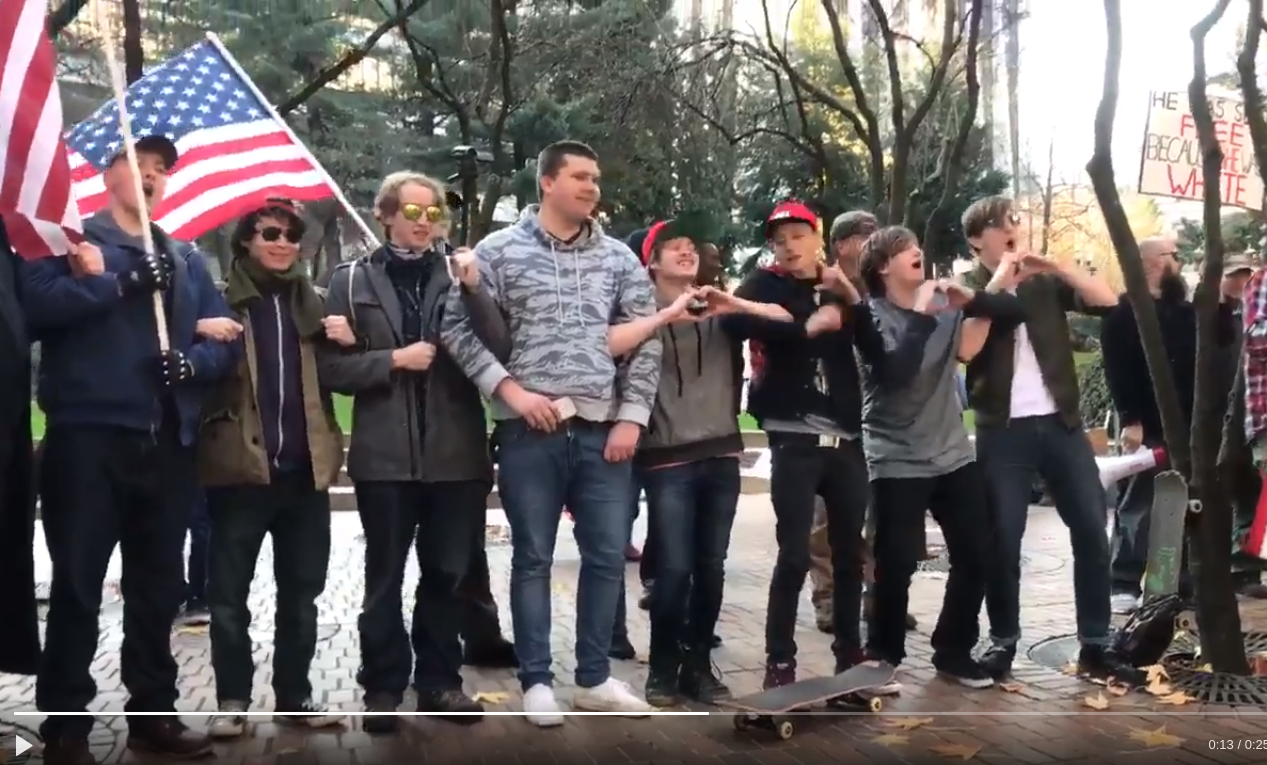 The teens handing out "It's Okay to Be White" neo-Nazi propaganda fliers stand arm in arm with Identity Evropa supporters.
Proud Boys
The Proud Boys are a groups of self-described "western chauvinists," but not only are many of the members racists or fascists, whenever they attend Patriot Prayer or other far-Right events, they spend most of their time shouting misogynistic and racist taunts, threatening activists, and physically protecting the white supremacists in attendance.
Donovon Flippo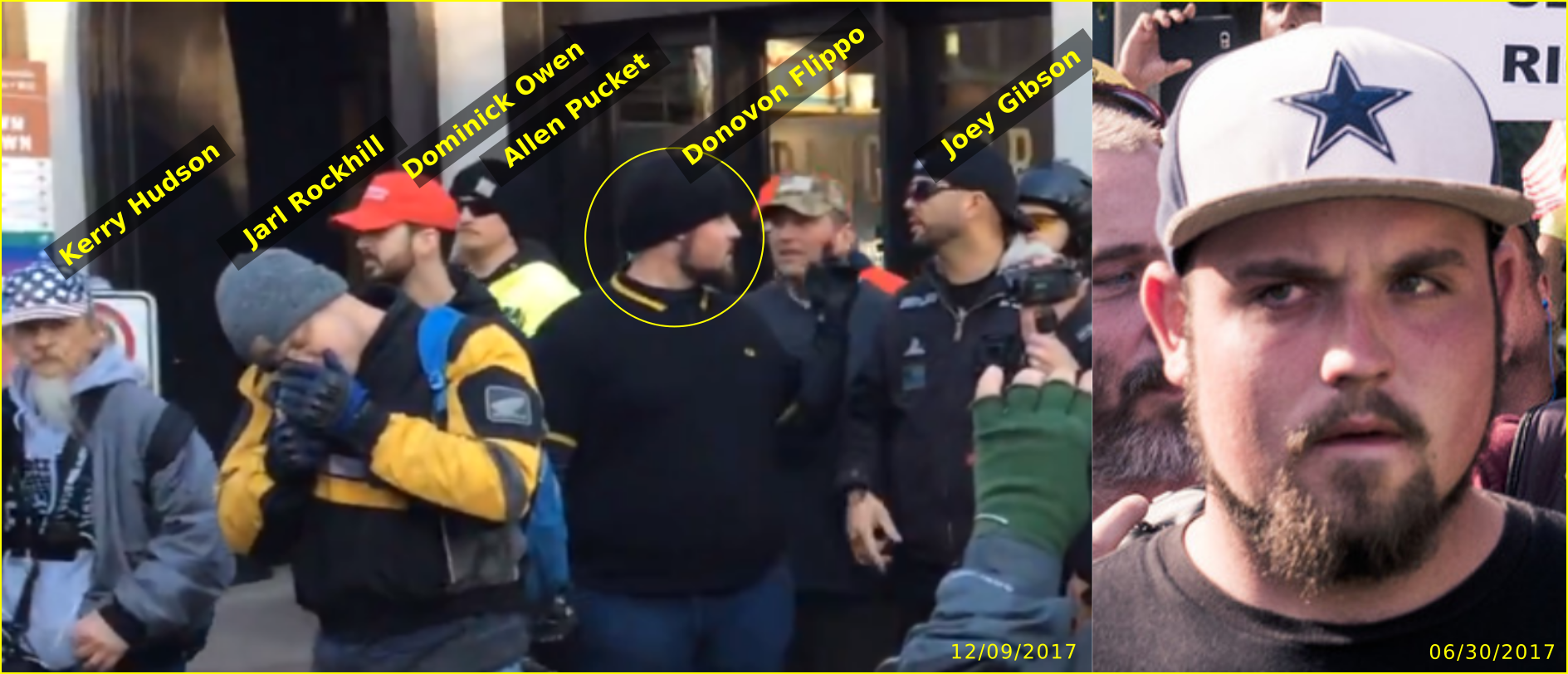 Donovon Flippo is a Vancouver, WA "proud boy."
Anthony Edward Bell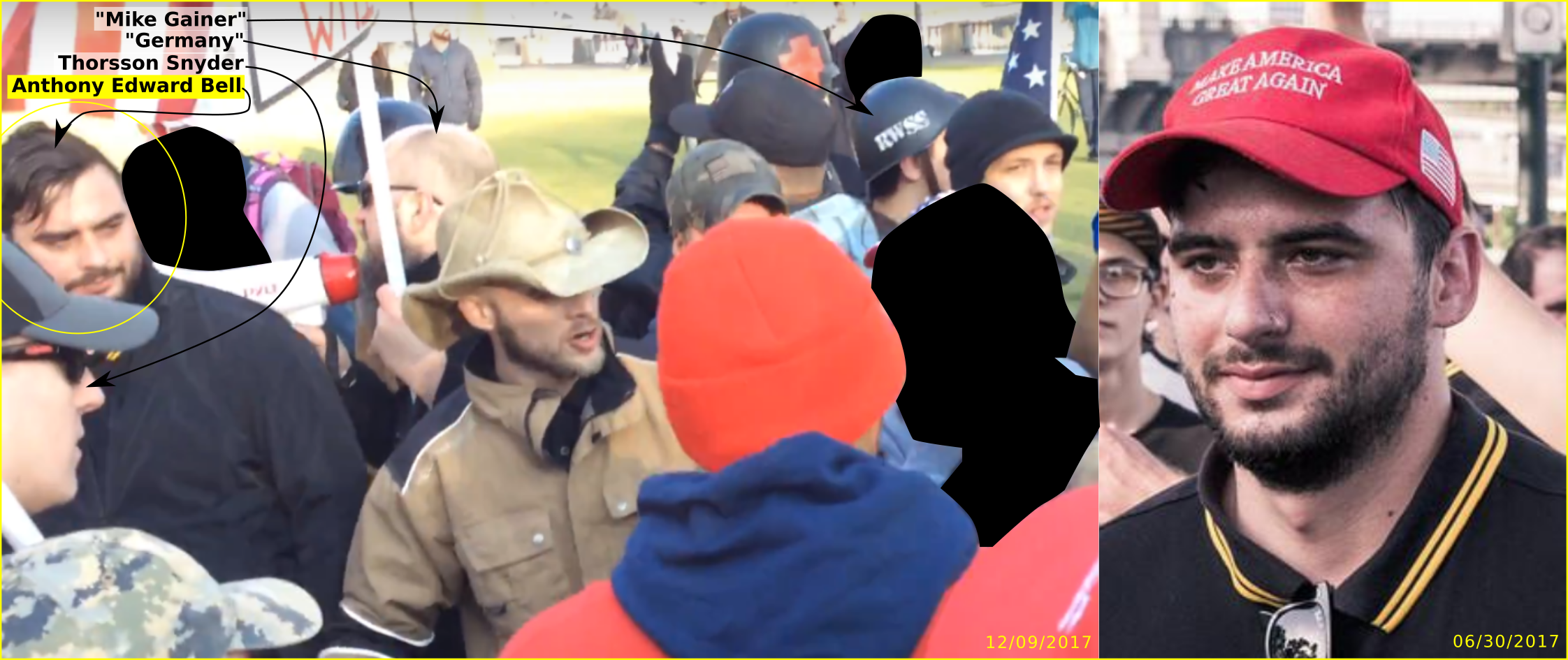 Anthony Edward Bell is a Bellingham, WA "proud boy."
Matteo Dagradi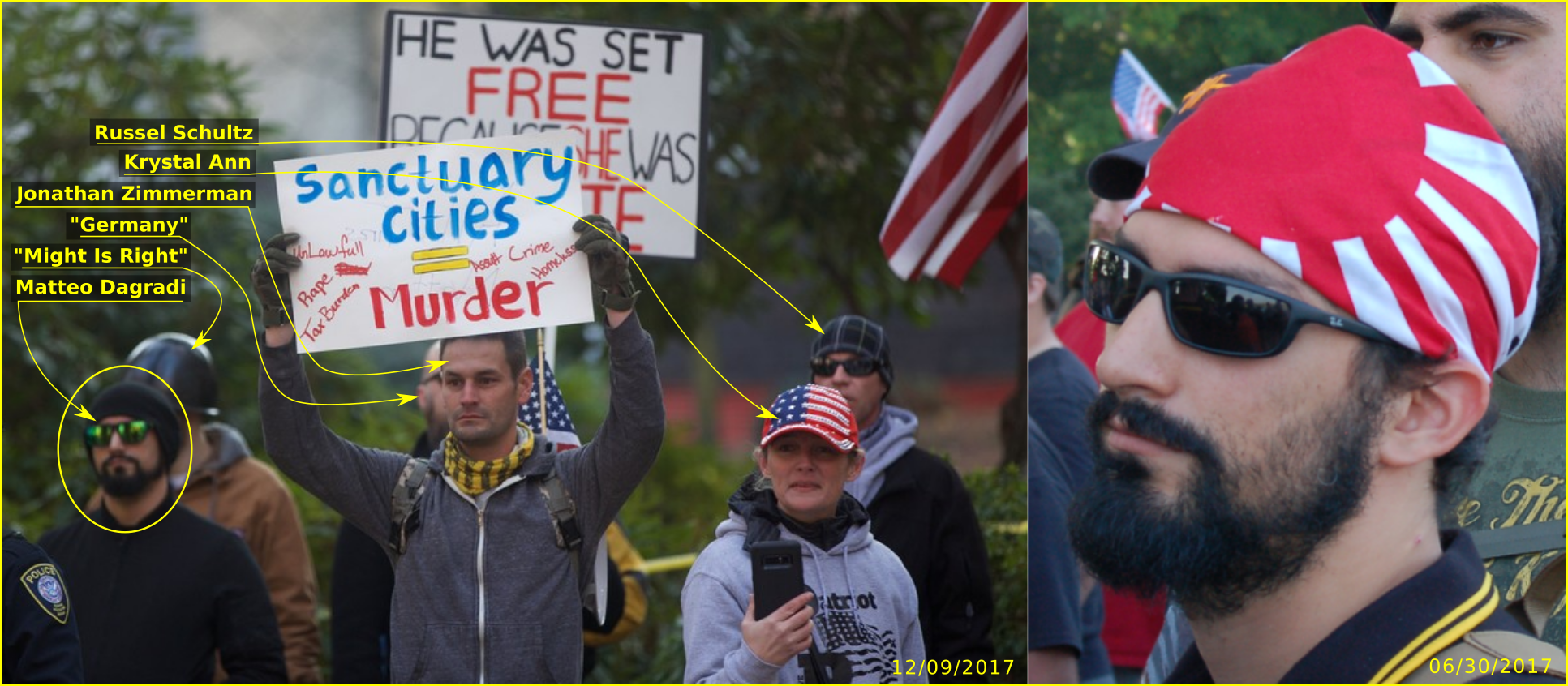 Matteo Dagradi, aka Matt William Judy, is a Portland, OR "proud boy" who has fascist tattoos.
Jake Farmer

Jake Farmer is a Vancouver, WA "proud boy" who posts openly racist and antisemitic content online.
"Tiny" Tusitala John Toese
Tiny has long been a core member of Joey Gibson's "Patriot Prayer" crew and is often egged on in committing violence against community members who oppose the neo-Nazi organizing which takes place under the aegis of Patriot Prayer events. In recent months he has taken to identifying as a "proud boy." At Patriot Prayer's racist anti-immigrant rally, Tiny immediately began indiscriminately attacking people when he arrived and was arrested in short order.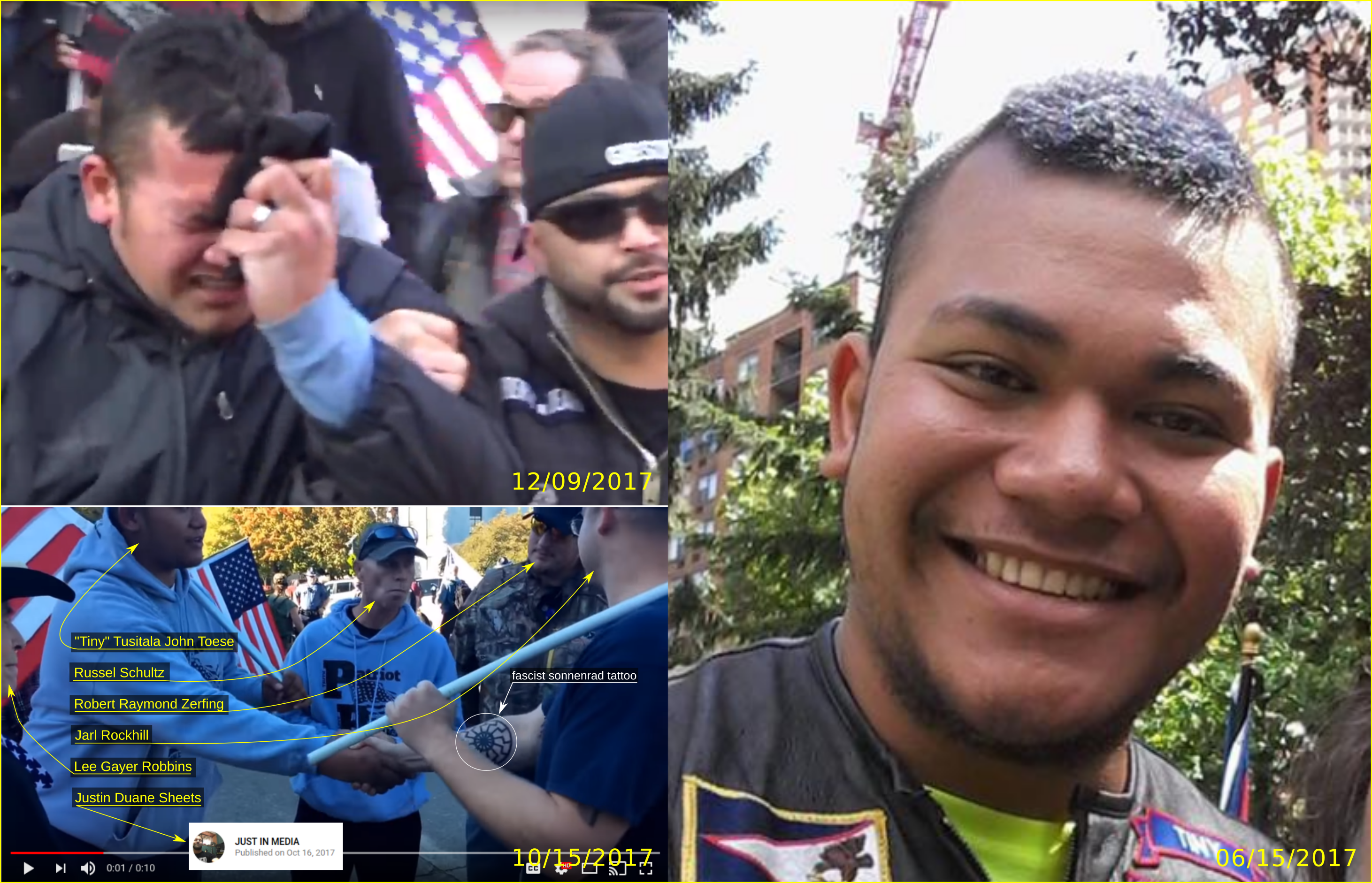 Tiny Toese is an extremely violent Vancouver, WA "proud boy."
Tiny seems to have little awareness or concern for the fact that he is contributing violence and material support toward a politic whose adherents treat him with racist derision.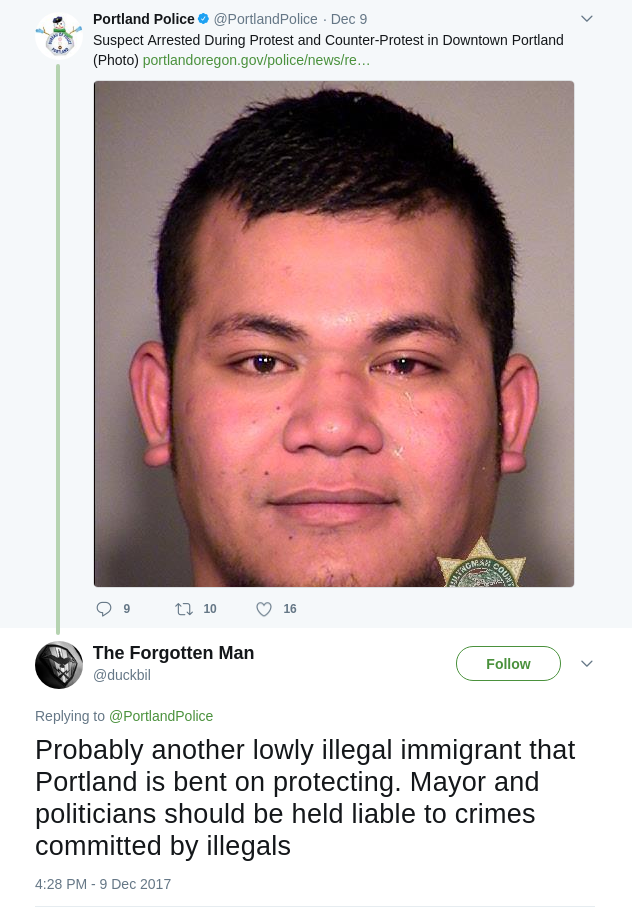 A right wing twitter user subjects Tiny to the same racist rhetoric slung by Patriot Prayer at their hateful anti-immigrant rally.
Kory Bentley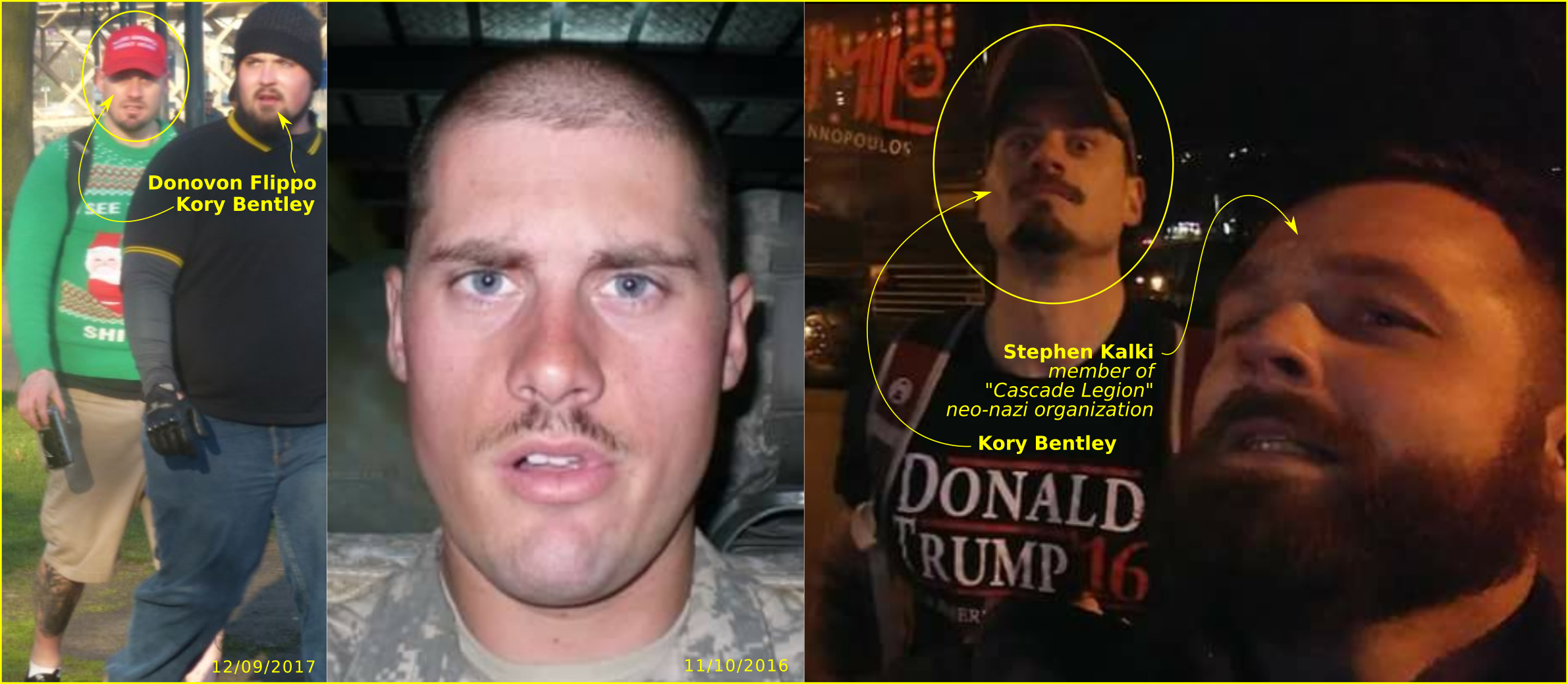 Kory Bentley is a Seattle, WA "proud boy" who hangs out with nazis at Patriot Prayer rallies as well as with members of the "Cascade Legion" fascist organization.
Gabriel Bowman

Gabriel Bowman is a Tacoma, WA "proud boy."
Dominick Owen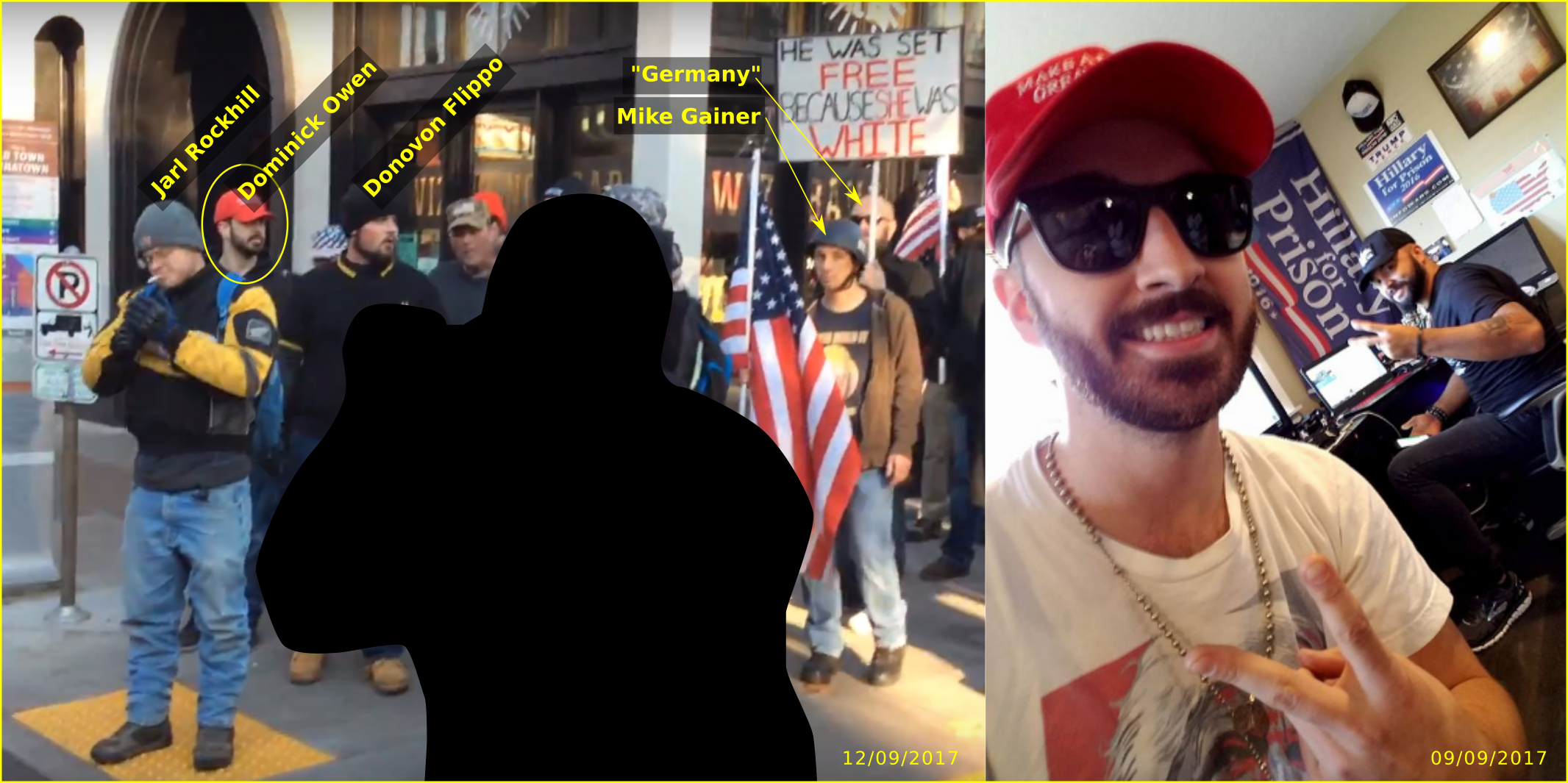 Dominick Owen is a Seattle, WA "proud boy" who hangs out with nazis at Patriot Prayer rallies and who desperately craves the attention and approval of Joey Gibson.
Cameron Heugly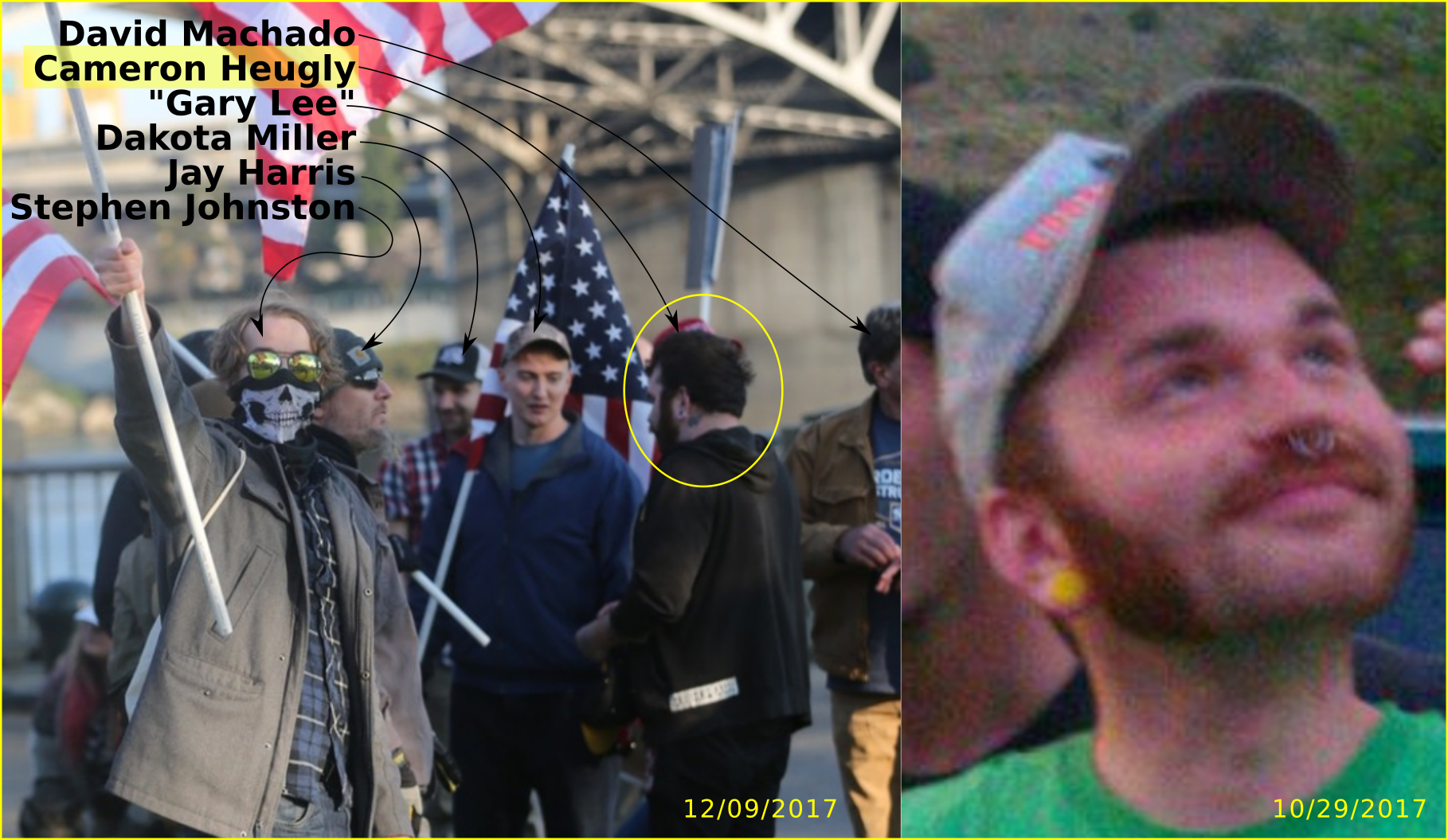 Cameron Heugly is an Olympia, WA "proud boy."
Caleb Sketi

Caleb Sketi is a Portland, OR "proud boy." Sketi bragged on Facebook about having been hired for a new job with Siemens at the end of October.
No matter how much Gibson and his followers attempt to deny that there are fascists in their midsts, the truth stands plain. Portland will not tolerate these groups gathering in our communities, and any place they gather, activists will organize to oppose them.
If you have more information about these or any other fascists and white supremacists, please contact us at [email protected].