Proud Boys Call For a Violent Return to Portland; Mobilization Planned in Defense
Filed under: Announcement, Anti-fascist, Northwest, White Supremacy
Members of the Proud Boys and Patriot Prayer are planning a violent return to Portland, Oregon while antifascist groups are mobilizing in defense. The following is a call from Rose City Antifa for a mobilization.
On Saturday, June 29, the Proud Boys hate group is planning to invade downtown Portland, looking for targets for violent attacks. This incursion is being set up as "The Battle of Portland Part Two," occurring nearly one year after the June 30, 2018 Patriot Prayer / "Joey Gibson for U.S. Senate" rally that brought white nationalists and fascists from across the country to assault anti-fascists.
Rose City Antifa and allied groups are calling the community to come out to the streets of Portland on June 29, 2019, to defend our city against this attack. We are asking that people show up at Chapman Square at 12:00PM that day.
One might ask, why should we go out to meet a gang of violent white nationalists looking for a fight? If we don't show up, won't they just go home disappointed?
The fact is, when white nationalists and fascists seek violence, they will not go home without it. Their social media posts make it clear that they want a fight. Their history here in Portland shows that when they want to find a target, they will find one.
This can mean assaulting random pedestrians, like when Proud Boys Tiny Toese, Donovan Flippo, and Russell Schultz assaulted a man on NE Broadway on June 8, 2018, or May 11, 2018, when the same Proud Boys assaulted teenagers at the Vancouver Mall after taunting them with racist rhetoric.
It can mean looking for progressive/left-wing activists to attack, such as on July 20, 2018 when far-right brawlers attacked an anti-ICE protest, or when Proud Boy Russell Schultz sprayed liquid feces at the same protesters.
It can mean seeking out community events and meetings to target, such as on January 19, 2019 when Joey Gibson and Proud Boys shouted hate speech through a megaphone outside of a Democratic Socialists of America meeting, or when on May 1, 2019 when Patriot Prayer and other associated white nationalists attacked a party at local bar, Cider Riot. And it is clear that the city and the Portland Police Bureau will allow and facilitate this violence, as they have in the past at any number of Patriot Prayer and Proud Boy events, despite their hollow words to the contrary.
Anti-fascists must draw a firm line, and defend their community against this incursion of racist, political violence. Below is a small sampling of the sort of propaganda that the Proud Boys and their supporters are disseminating in the lead up to June 29. Our city must stand united against this wave of homophobic, anti-Semitic violence, and tell the Proud Boys that they will never win here in Portland. We must defend those who the Proud Boys would target, and stop them from using our city as a hunting grounds for their fascist impulses.
Violent and Racist Proud Boy Propaganda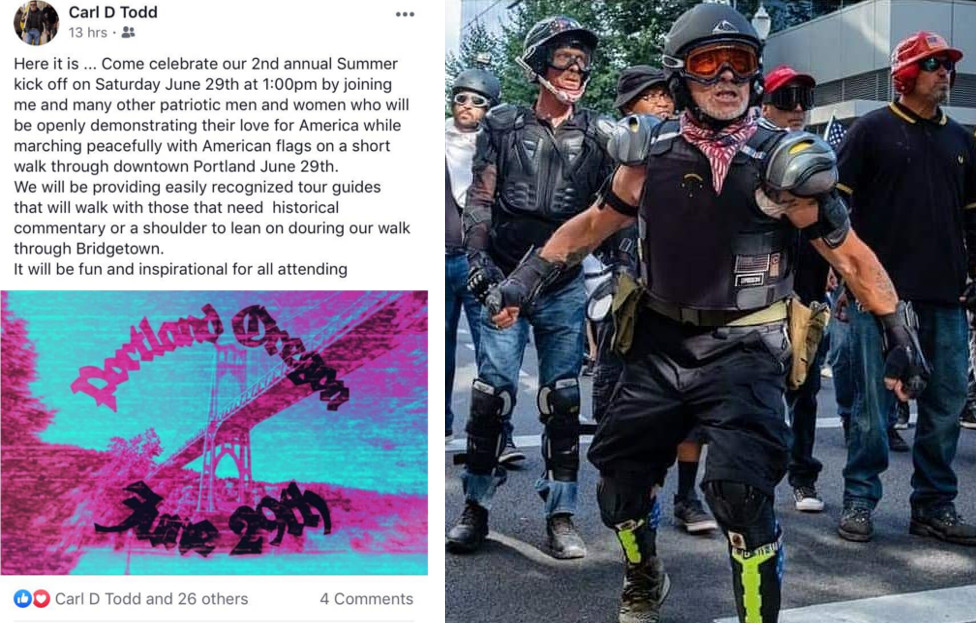 On left, Carl D Todd posts to Facebook calling people out to the Proud Boy event on June 29. On right, is an image of Todd on June 30, 2018, showing exactly what sort of a "peaceful march" he is planning.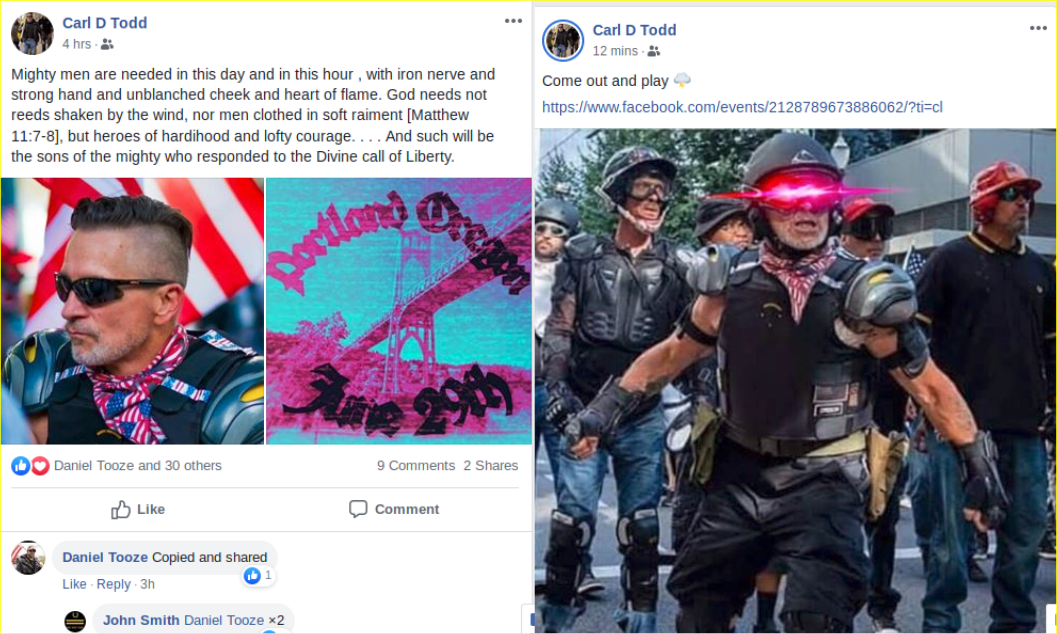 Further posts by Patriot Prayer member and Proud Boy Carl D Todd show that he is eagerly anticipating engaging in violent assaults with fellow members of the Proud Boys hate group. Also seen responding are fellow Proud Boys Daniel Tooze and Gordon Cronk aka John Smith, a Proud Boy who posts explicitly fascist content and symbolism on social media.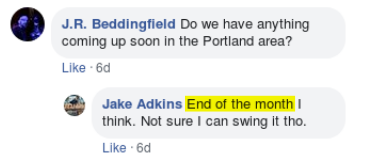 Proud Boy Jake Adkins– who attacked Cider Riot on May 1 with Patriot Prayer members and who was recently exposed in leaks from a private chat where he and other Proud Boys were planning for deadly violence– advises far-right activist Jonathan Beddingfield that there will be a Proud Boys event at the end of June.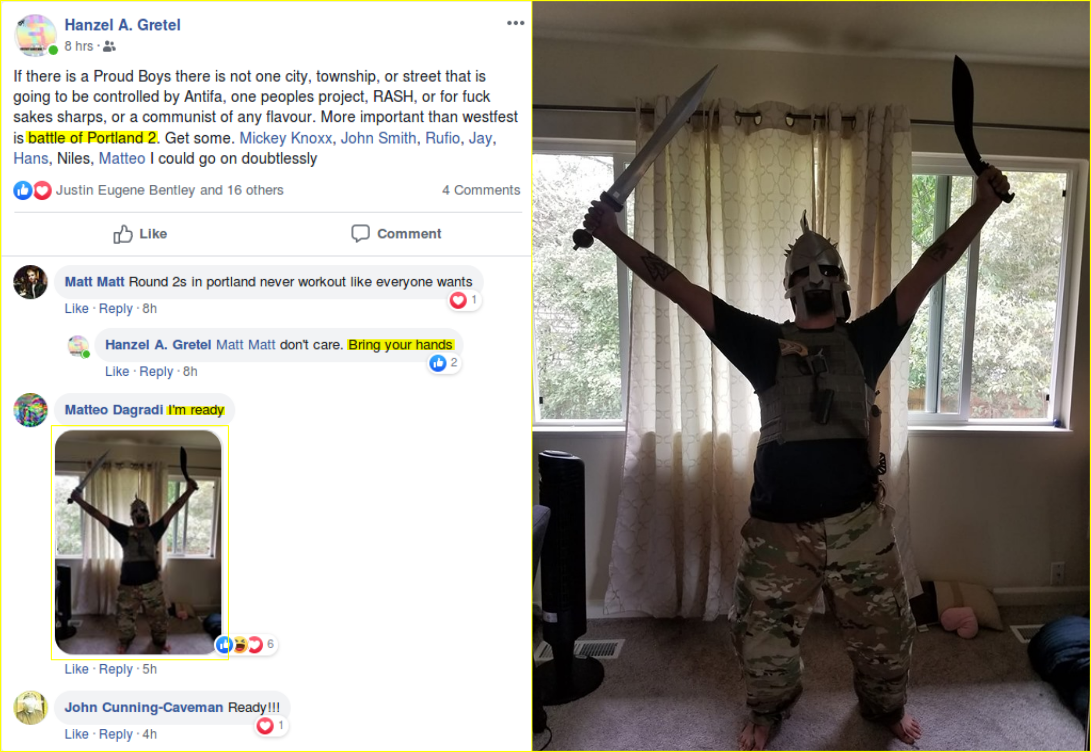 Seattle area Proud Boy Steven Lane Lamb aka Hanzel A. Gretel posts a call-out to other members of the Proud Boys hate group to attend what he is calling the "battle of Portland 2." Matt Stewart aka Matt Matt responds fearfully, but Lamb tells him to "bring hands," obviously referencing an urge to assault people. Proud Boy Matteo Dagradi posts a photograph of himself wearing armor with a gun while holding a machete and a sword.
Both Patriot Prayer and the Proud Boys hate group have repeatedly targeted the Portland chapter of the Democratic Socialists of America due to their public opposition to fascist organizing and good track record of showing up to oppose Joey Gibson's de facto neo-Nazi rallies. Proud Boys have already put them on their target list for the June 29, 2019 rally.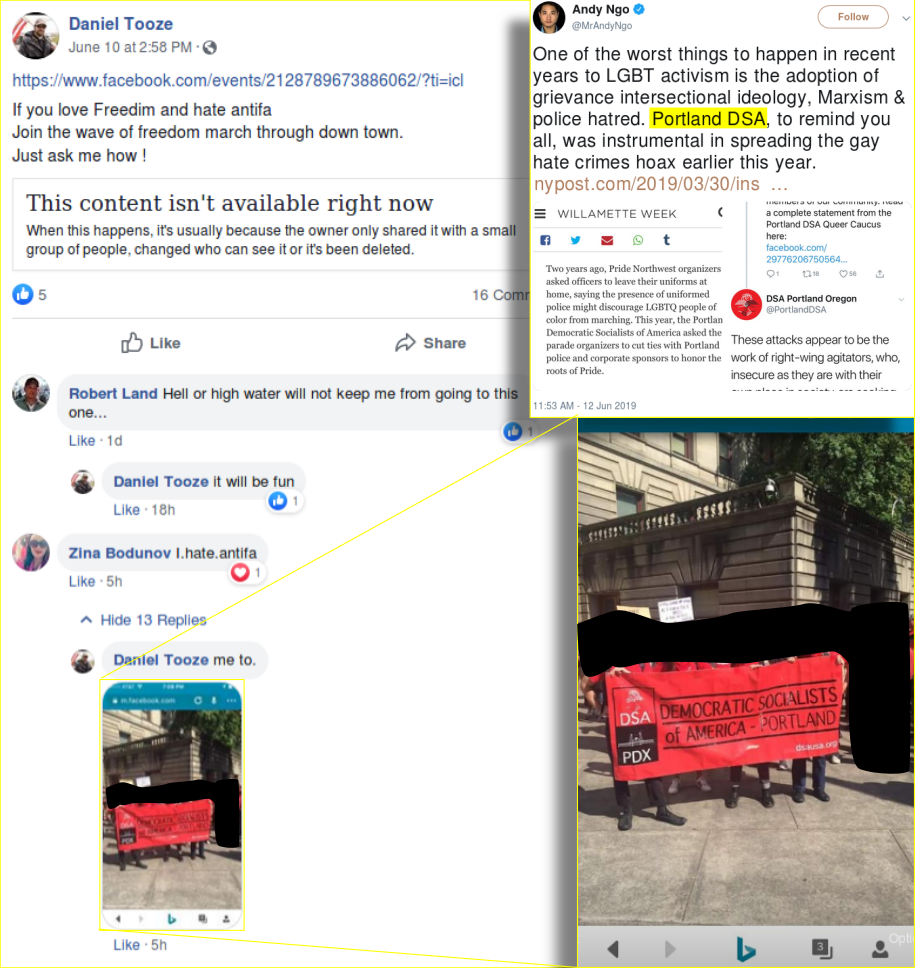 Oregon City Proud Boy Daniel Tooze targets the Portland DSA in a Facebook thread encouraging other members of the hate group to participate in the June 29 assault on Portland. Local far-right Islamophobic journalist Andy Ngo– who participated in the Patriot Prayer and Proud Boys attack on Cider Riot on May 1, 2019 and who was the first to publicly promote the June 29 Proud Boys event– also targets the DSA while dismissing as hoaxes a series of assaults against the Portland LGBTQ community, some of which were gloated about by far-right activists.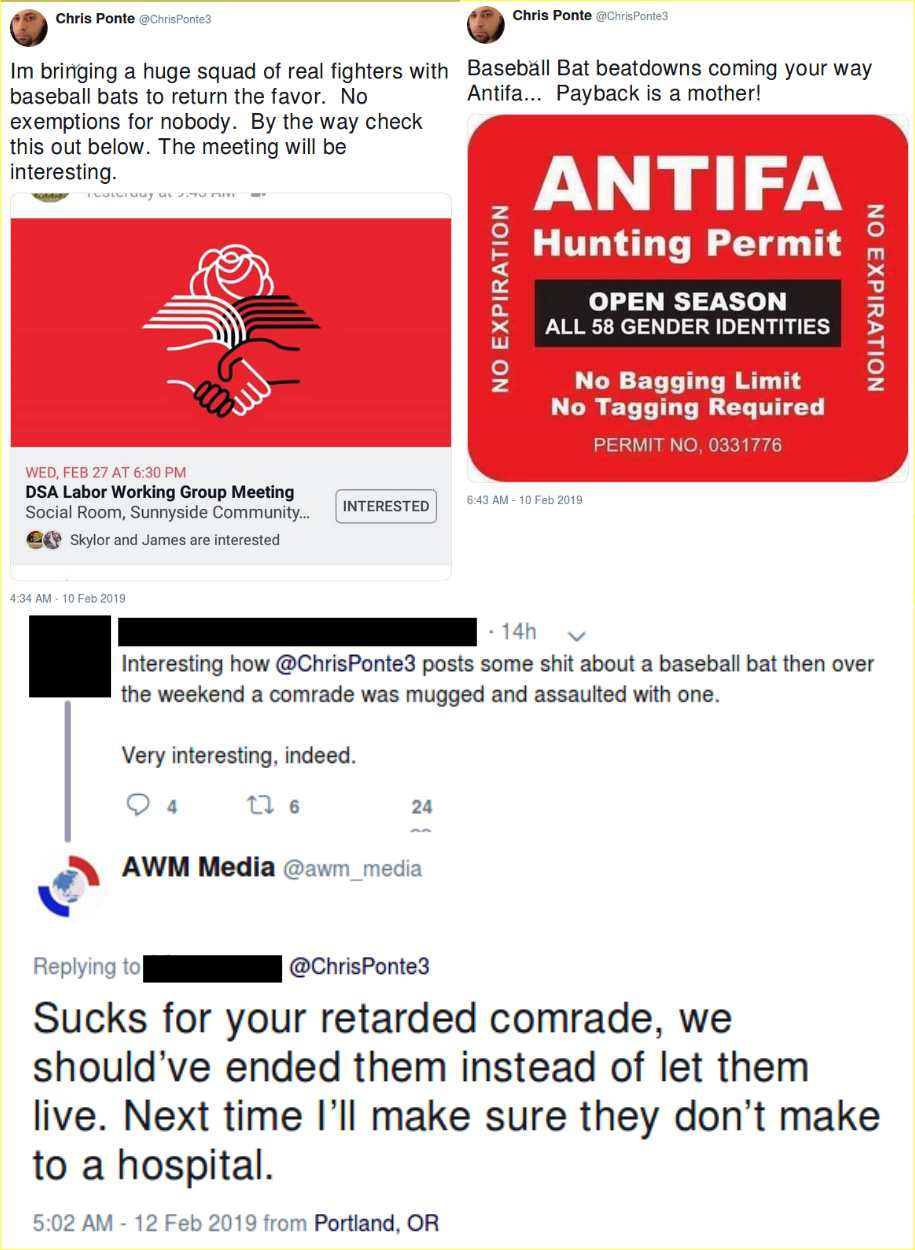 Violent Patriot Prayer member and Proud Boy wannabe Chris Ponte threatens the DSA and anti-fascists with baseball bat attacks on the same weekend that a person in Portland was attacked from behind with a bat. Violent Patriot Prayer member and pedophile Matthew "Deme" Cooper aka AWM Media also claims credit for the assault and threatens to murder people.
In the tweets pictured below, homophobes and other violent members of the far-right respond to Andy Ngo's PR work for the Proud Boys. Ngo announced the Proud Boy event for the hate group on June 12th.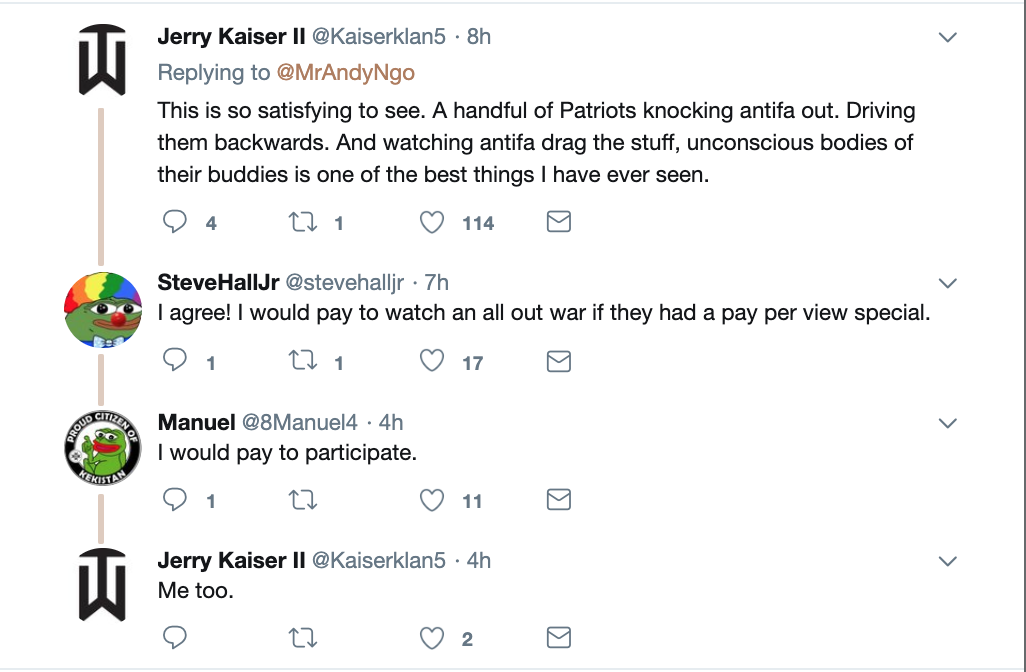 David Willis, one of the people named in a lawsuit along with Joey Gibson for his role in assaulting Cider Riot, has played a large role in encouraging violence on June 29. Below, are a selection of the racist and violent propaganda he has been spewing.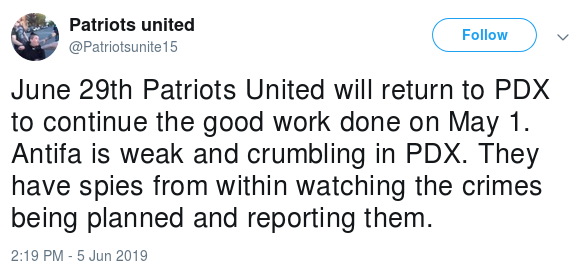 David Willis states that he considers June 29 as a continuation of the attack he was involved with on May 1, and shows that he and the Proud Boys will find a target, one way or another.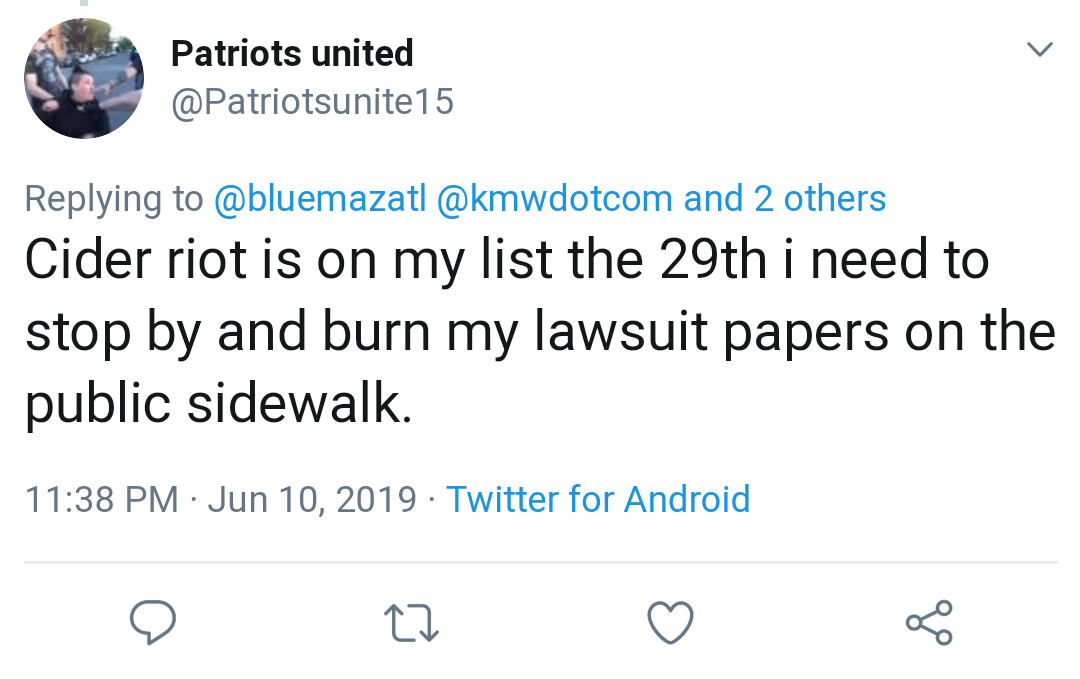 David Willis refers to Cider Riot as being "on his list" for June 29, and plans revenge for the lawsuit against him.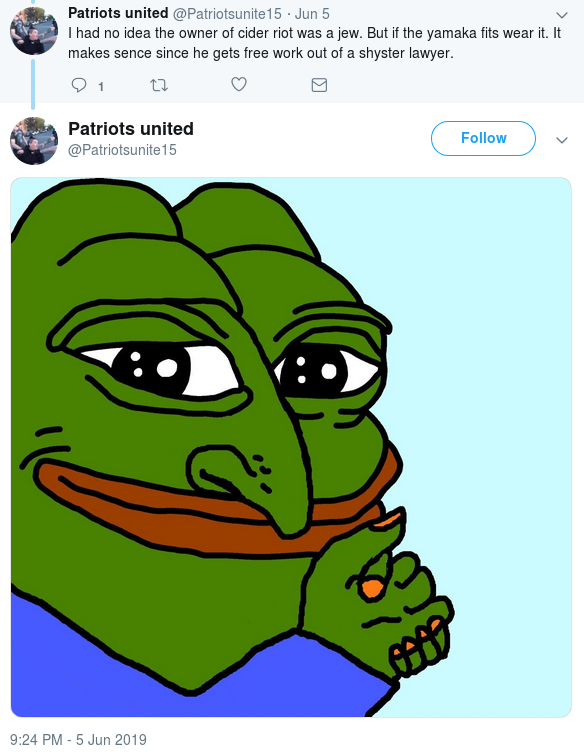 David Willis posts an anti-Semitic threat against the owner of Cider Riot.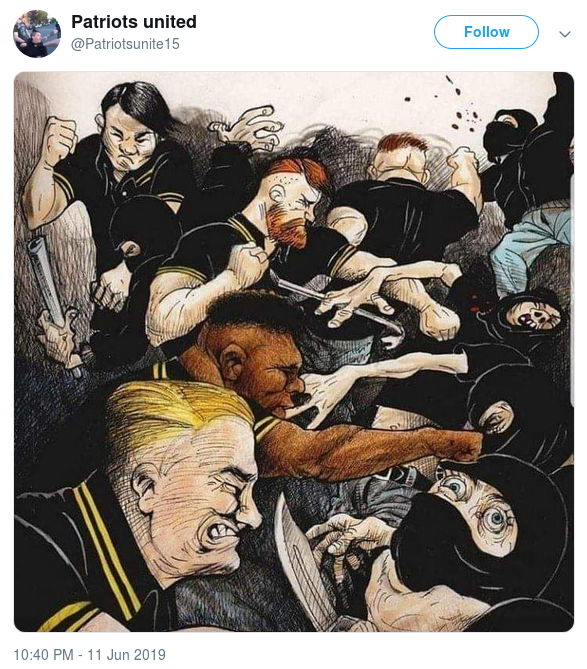 David Willis shows his enthusiasm for Proud Boy street violence.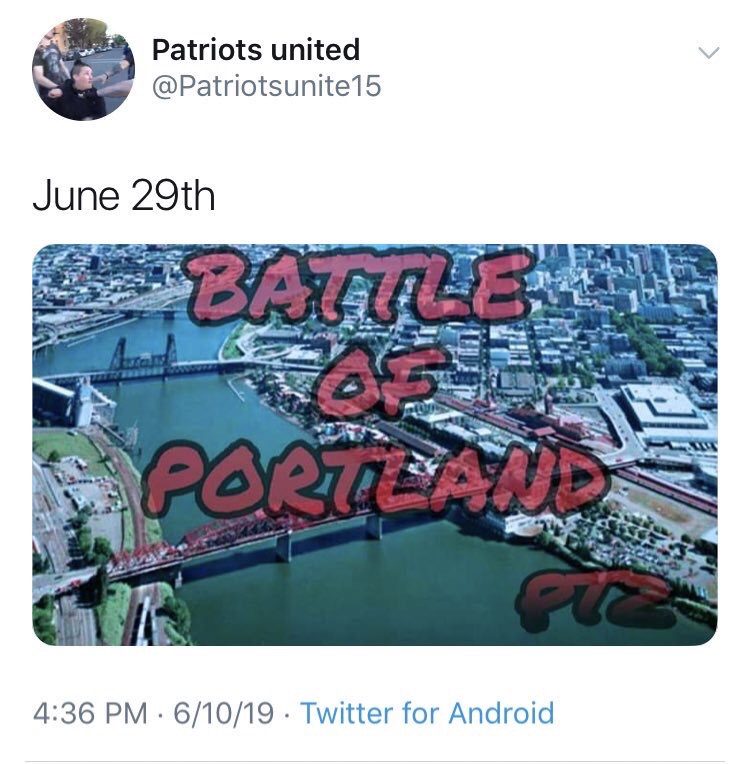 Willis also uses the name, "Battle of Portland Part 2" to refer to June 29.
St. Paul Principles
We realize there are many valid reasons why people cannot engage in physical confrontation. There are plenty of other ways to help. Be a medic, stand together with others to create a shield that people can duck behind, create a distraction, cop watch. Use your imagination, there are any number of creative things that can be done to help. But we all must work together. To defeat the rising tide of fascism in the U.S. it is important that leftists of all stripes stand in solidarity. We encourage people to come out and show their opposition in whatever capacity they are able. We will abide by the St. Paul Principles:
Our solidarity will be based on respect for a diversity of tactics and the plans of other groups.
The actions and tactics used will be organized to maintain a separation of time or space.
Any debates or criticisms will stay internal to the movement, avoiding any public or media denunciations of fellow activists and events.
We oppose any state repression of dissent, including surveillance, infiltration, disruption and violence. We agree not to assist law enforcement actions against activists and others.