Report Back from Twin Cities Solidarity March with Charlottesville
Filed under: Action, Anarchist Movement, Anti-fascist, Midwest
On Saturday night Minneapolis antifascists reacted to the deadly attack of white supremacist against antifascists in Charlottesville. We organized a vigil at Loring Park in the Uptown neighborhood of Minneapolis. After a short moment of silence to remember Heather Heyer, who was murdered by a white supremacist earlier that day, we climbed the pedestrian bridge over Lyndale Ave and held up banners in solidarity with our comrades in Charlottesville and antifascist struggle worldwide.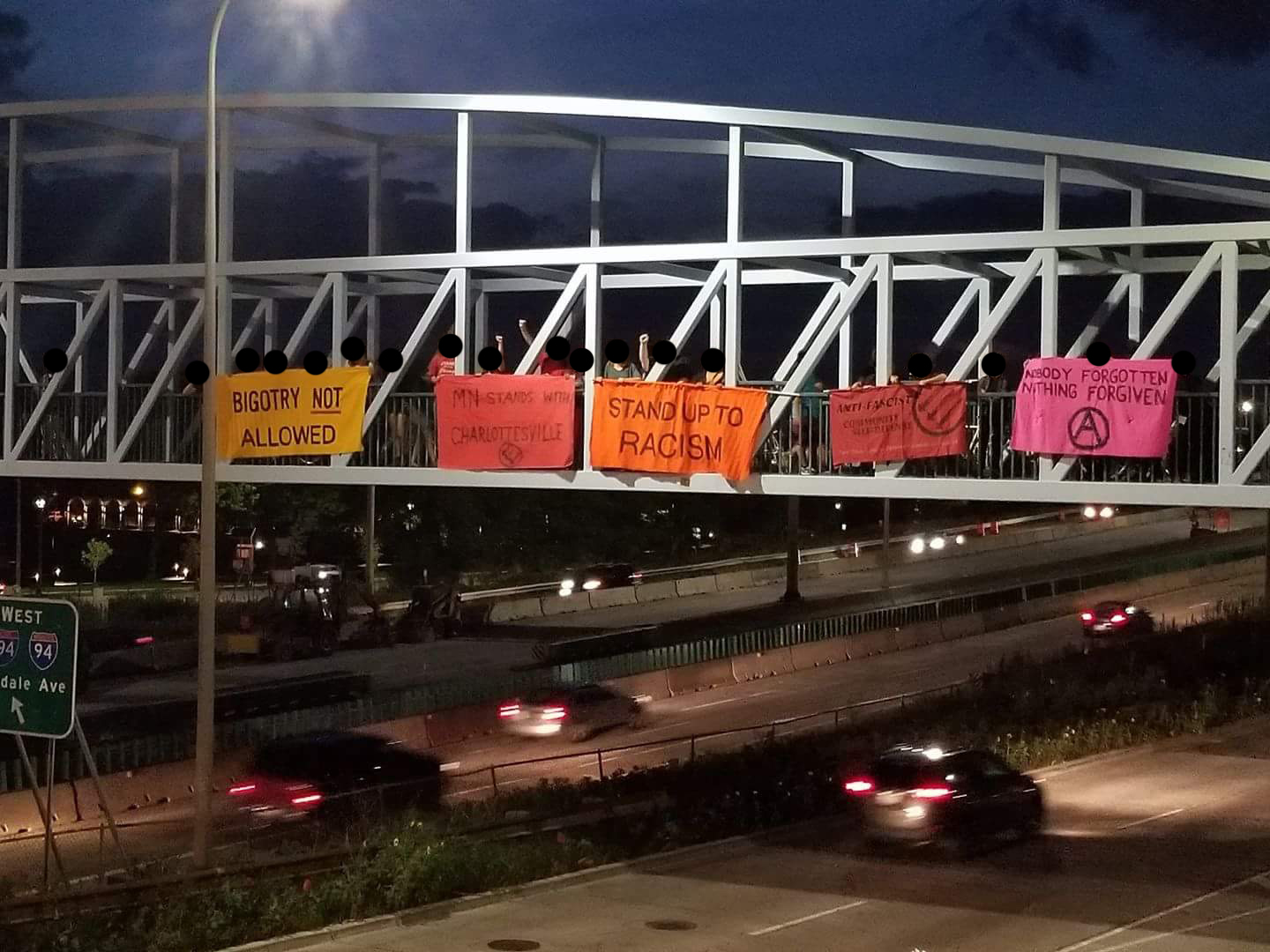 On Monday August 14th, a rally was called for in solidarity with Charlottesville and Heather Heyer. Antifascists called for a free flowing anti-fascist bloc, and utilized the mass rally as a way to weave in and out of the crowd to allow for actions to commence without the obstruction of peace police and the state. The street poles, walls and barricades along the route received hundreds of new anti-fascist stickers and several paint jobs—letting the fascists know they are not welcome in these communities or anywhere else!
When we reached the Hennepin County building we seized the moment, and played a game of capture the flag. We removed the Hennepin County flag, and replaced it with the Anti-Fascist Action flag, and placed a placard of Heather Heyer on the flag pole. The crowd cheered and helped shelter anti-fascists while removing and replacing the flags. Moments later an effigy of a neo-nazi went up in flames along the hedge of the Hennepin County building.
Those of us and other participants carried out our love and rage in response to the deadly attack on our fallen and fellow anti-fascist comrades. Their brave actions of confronting white supremacists will never go in vain.