Self-Identified Fascist Madison Hebert Working at First Community Credit Union
Filed under: Anti-fascist, Central, Editorials
Antifascists in Texas out a local neo-Nazis connected to the group, Patriot Front.
Madison Noelle Hebert is a self-identified fascist who currently works as a bank teller on the "float team" (workers who float between different bank branches) at the First Community Credit Union in Houston, Texas. We called the bank ourselves to confirm that she still works there as of October 2018.
Around social media Madison has not been shy about sharing her white supremacist beliefs and does not hide her friendships with large groups of active and dangerous neo nazis. Additionally, in past years she had been dating another fascist named Stephen Ramos, although it appears the two are no longer together at this time. Outside of work, Madison attends Lone Star Community College (CyFair Location) and frequents hip bars and venues around Houston, often with small cliques of other neo nazis and various bigots.
Details
Madison Hebert has been identifying openly online as a fascist since at least 2016, if not earlier. In real life, she continues to build strong relationships with other local white supremacist groups and individuals. She has pictured herself in casual settings next to members of Patriot Front, and frequently likes/shares their groups content on social media as well. As you will see, she has many friendships with deeply involved neo-Nazis across social media. She had formerly been dating another fascist named Stephen Ramos, but more recently we believe the two are no longer together. Regardless, both appear to have held on firmly to their white supremacist beliefs. Below we will include various forms of proof we have compiled, to corroborate these claims.
As you have probably noticed by now, Madison's social media has been so full of horrible racist and fascist content that we hardly have the space to include it all in this post. We encourage you to look her up on social media yourself as well, to see the posts first hand before she tries to delete them.
We cannot allow this person to continue working among every day people at First Community Credit Union, or anywhere in Houston for that matter. Please call her supervisor, Jamie, at (281) 856-5795, or the general bank number (281) 856-5300, or call Madison Herself at (281) 571-1098 and let them know what you think. Here is a sample script of what you could say if you call the bank:
"I am calling to let you know that your employee Madison Hebert has been exposed as a Neo-Nazi who has deep ties to a variety of local white supremacist groups. I am very uncomfortable with this person representing your company here in Houston. She is open about being a fascist online and clearly holds strong racist and anti-Semitic beliefs. With the growth of white supremacist groups in recent years and the violence they have committed nationwide, her presence at your company is unacceptable. I demand that you fire Madison Hebert immediately, and make a clear statement that she is no longer an employee."
Madison's info found on Screwston Antifascist Committee website.
The Flyer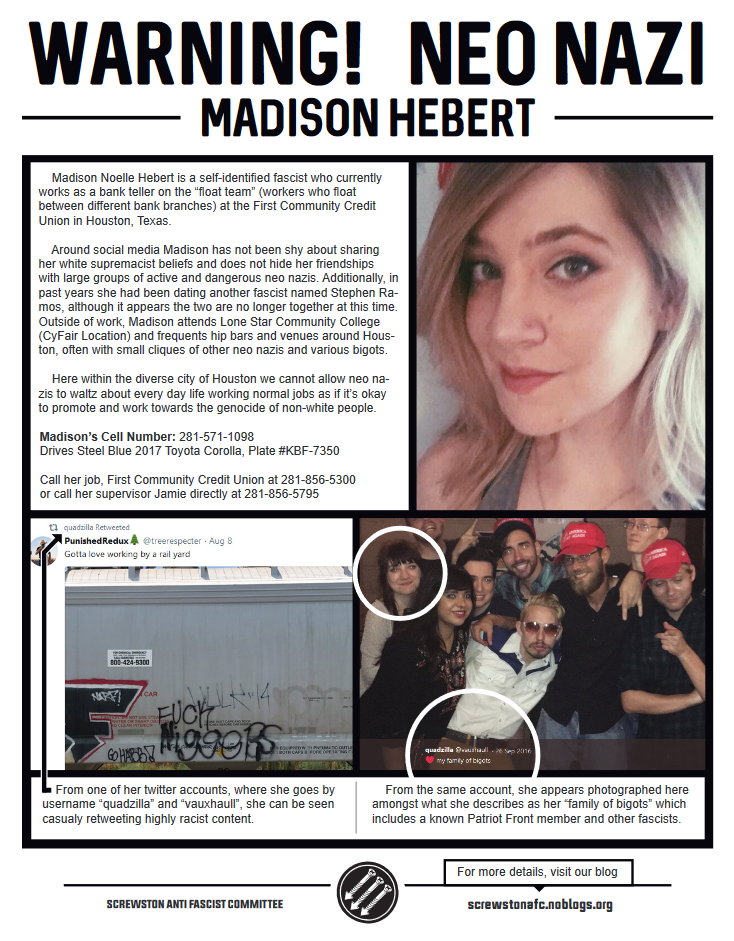 Printable PDF Available Here