VANDALISMS: Our Work is Never Done
Filed under: Featured, Graffiti, Vandalisms
VANDALISMS, our ongoing graffiti and street art column, returns to tear up the streets with anarchist, radical, and anti-political graffiti from around the world.
Somewhat of a dilemma we confront each time we start putting together a new Vandalisms column, is that on the face of it we are taking on an impossible challenge. There is no way to compile all acts of graffiti in one column, not even all political, nor specifically anarchist graffiti. We see graffiti every day of our lives, going to work or to a friend's house. Graffiti is being written constantly, from the smallest of towns to the biggest of cities. What makes the graffiti we've gathered here unique is only that someone took a photo of it, that they then uploaded publicly to the internet, we came across this photo on the internet, and we deemed the photo useful in conveying a practice of disorder. Yet sometimes we are struck by the urge to collect every photo of rebellious graffiti that exists and catalog it for the readers of this column. We must resist this urge for two reasons. The first is, as we said, this is an impossible task.
The other reason is because we feel that the attempt to claim completeness disarms some of the latent potential in these acts. This would, inadvertently or not, draw a line between graffiti we've deemed "rebellious" and not. It would also emphasize a quantitative understanding of graffiti. It's not about counting the two hundred and fifty three anti-fascist stickers you've put up in your town, (although, good for you!) but about the way that these little reminders of disorder interact with the world.
That is to say, a lot more dope vandalism has taken place besides what you see here. This is the microscopic tip of an immense, incomprehensible iceberg.
With each column you might notice (if you read them, anyway) that we probably repeat ourselves a lot. Primarily because there are mostly a few basic points that we want to hit over and over without making you dig all the way back to when we first said something. But if we're honest, it's a little bit because we don't often re-read the old columns either and forget what we said!
Anyway, we're going to stick with alphabetical cities this time because why not?
Ann Arbor
Atlanta
Atlanta streets covered in Anti-Amazon propaganda! The Robots are coming. Stop them before it's too late!#NoHQ2 pic.twitter.com/pAel60T3qQ

— Fuck Off Amazon (@NoNewHQ) February 20, 2018
People in Atlanta have begun a campaign against Amazon's plans to build a second headquarters (Atlanta being one of several cities they are considering). Check out their website here.
Anti-Amazon graffiti spotted in Atlanta!#NoHQ2 #AmazonHQ2 pic.twitter.com/CN7HShA3wz

— Fuck Off Amazon (@NoNewHQ) February 22, 2018
https://twitter.com/nadaytu/status/966349271720218625
Austin
https://twitter.com/ASN_Austin/status/964668609221062661
Berkeley
— Berkeley Antifa (@berkeleyantifa) February 1, 2018
Colorado Springs
Keep your campus clean. pic.twitter.com/y4wOcotYl4

— Colorado Springs Anti-Fascists (@COSAntifa) February 24, 2018
East Lansing
See on Grand River Ave in East Lansing #StopSpencer #StopSpencerMSU pic.twitter.com/YvaKlxkpKG

— Stop Richard Spencer at MSU (@StopSpencerMSU) February 22, 2018
Hey Patriot Front, you got the date wrong on all your fliers we just tore down lmaooooooo ? #nonazisinourhood pic.twitter.com/VAAbGAOyLw

— Stop Richard Spencer at MSU (@StopSpencerMSU) February 25, 2018
We'd like to think that in that last photo our comrades came back and put up a poster, sticker, or tag of their own, but we couldn't help but LOLing at the fact the master race can't even get the date for their shitty event right.
Maryland
Some folks in Maryland seem to have started an Instagram account for sharing photos of graffiti around their area—but it's private! You can check them out here, if they want to let you follow them.
Minneapolis
Vandalism promoting vandalism. We love it!
https://www.instagram.com/p/BecZ09aDVBk/?taken-by=just_some.guy
Montreal
As a comment above puts it: "No place for street art in the streets." But maybe we can make an exception for anarchist street artist Zola:
https://www.instagram.com/p/BfbH2Q5hD3p/?taken-by=zola_mtl
New Orleans
https://twitter.com/SamGood84860745/status/965342848412520448
New York
https://www.instagram.com/p/BeThBxqhf9z/?taken-by=zola_mtl
Oakland
Omaha
Philadelphia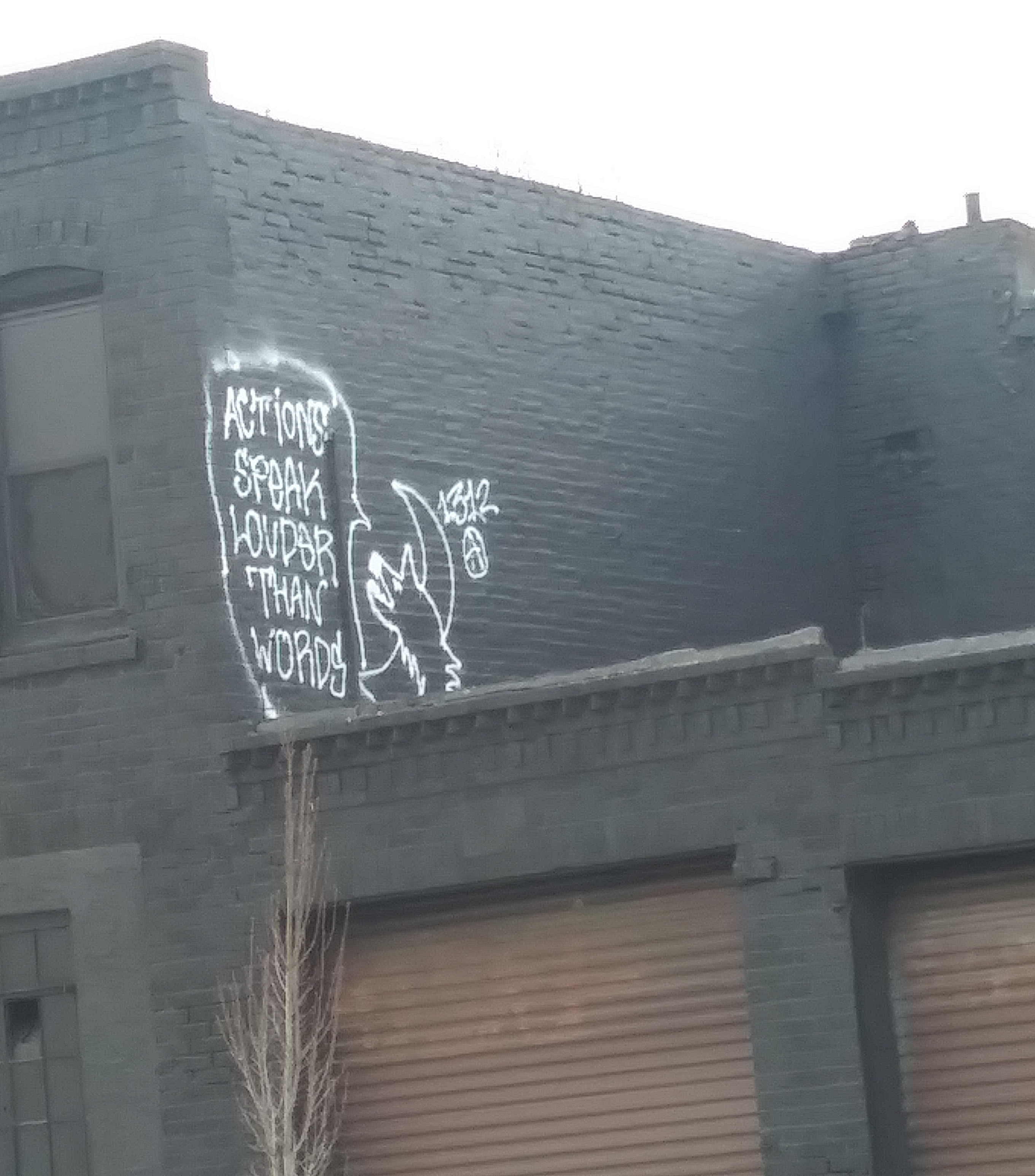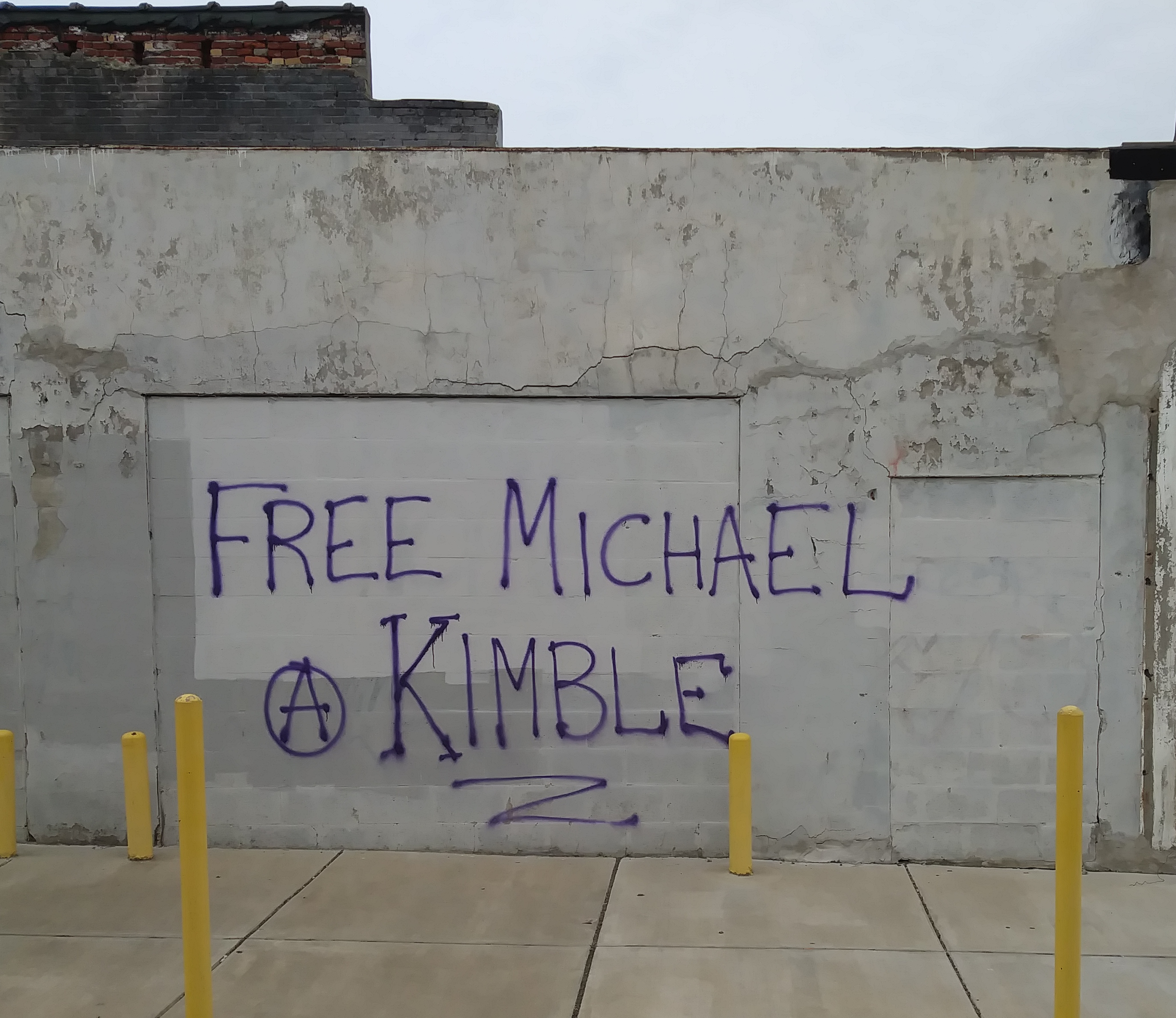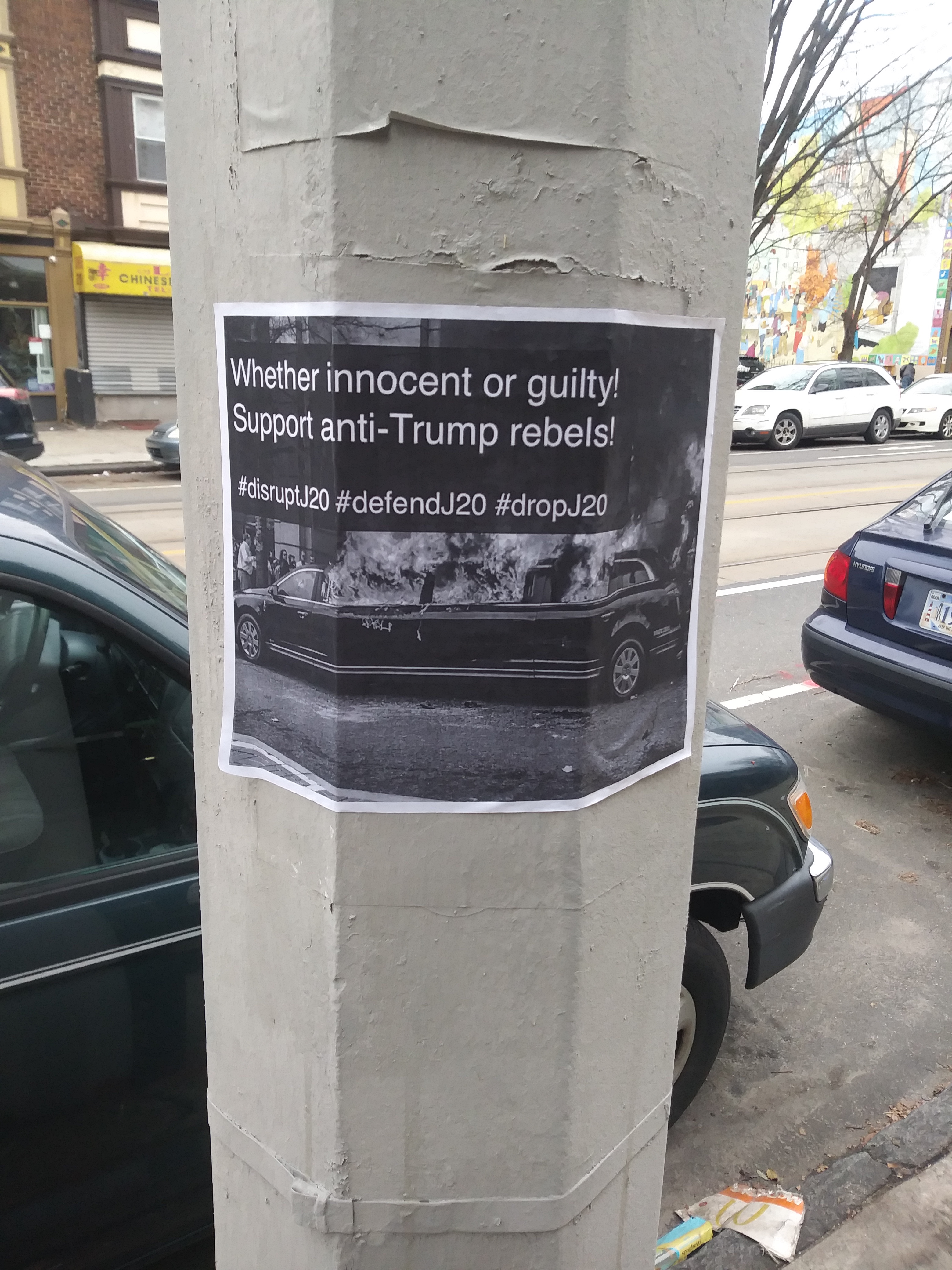 Philly Anti-Capitalist has once again published a collection of graffiti photos from around west Philly. The title of the collection refers to an article we cited in earlier columns called "Signals Of Disorder" that has to do with the insurrectionary horizon of graffiti:
"Because the goal of the State is total social control. Because the trajectory of capitalism is towards the total commercialization of public space. Every time we identify another invasion of State and capitalism into the minutiae of daily life, every time we confront that invasion, we are potentially fighting for revolution. As Authority increasingly manages us at the nano level, the can of spraypaint, the rock, the molotov, deserve the same significance as the AK-47.

Spreading signals of disorder accomplishes a number of things. It increases our tactical strength, as we hone a practice of vandalism, property destruction, public occupation, and rowdiness.

It interrupts the narrative of social peace, and creates the indisputable fact of people opposed to the present system and fighting against it."
https://www.instagram.com/p/BeyJXtzBYre/?taken-by=lovecityantifa
Pittsburgh
https://twitter.com/dolphinjail/status/957308077514117121
https://twitter.com/dolphinjail/status/957310340911521793
We want to date you too! <3
Portland
"Proud Boys not welcome" in Portland, apparently pic.twitter.com/uLmudZYyMs

— Mike Bivins (@itsmikebivins) February 21, 2018
Fixed it.#pdx@RoseCityAntifa pic.twitter.com/h4FSi9ianF

— Antifa International (@antifaintl) February 23, 2018
Sacramento
Can't argue with that!
Good to see graffiti has been popping up in #Sacramento exposing William Planer's lawyer Danny Brace for the Nazi lovin scum that he is! For more info on Danny Brace and William Planer, read Antifa Sacramento's article: https://t.co/xpEheGTnDv pic.twitter.com/0z8d9Nruiy

— Berkeley Antifa (@berkeleyantifa) February 7, 2018
San Francisco
https://www.instagram.com/p/BfgaoNtBTEE/?taken-by=gordon_gekkoh
In case you need some context:
While many people welcome the GoBikes as an environmentally friendly alternative to driving a car or taking mass transit in the city, others see the Ford bikes as a service for wealthy newcomers who displace lower-income residents and strip their neighborhoods of their ethnic and cultural heritage.

[…]

In recent months, the bikes have been:

– Drowned — thrown into Oakland's Lake Merritt

– Knifed — tires slashed at the dock at Telegraph Avenue and 58th Street in Oakland and at Dolores Park in San Francisco.

– Disfigured — slathered with paint in San Francisco's Mission District.

– Lynched — a bike was hanged in a tree in the Mission.

And now one has been set on fire, according to a Instagram video posted by the San Francisco Examiner's Joe Fitzgerald Rodriguez on YouTube.
https://www.instagram.com/p/Be7EvginsWA/?taken-by=soundbombing
Seattle
https://www.instagram.com/p/BfW6lINFMCj/?taken-by=nofiveohhh
https://www.instagram.com/p/BfB2JgMlQB5/?taken-by=nofiveohhh
St. Louis
Seen around StL,

We didn't do it, but we dig it ?✊❤ pic.twitter.com/ApNZgyayMa

— Black Rose Books StL (@BlackRose_Books) February 4, 2018
Seen around StL:

We didn't do it, but we dig it ✊ pic.twitter.com/eiIX6fAKBI

— Black Rose Books StL (@BlackRose_Books) February 1, 2018
Tampa Bay
We recently learned about a Tampa Bay graffiti page, too! Check it out:
Although we can think of a few better authors to suggest…
Il semblerait qu'il y ait quelqu'un-e qui soit très très énervé-e contre la police à Villejuif ❤️❤️❤️??? pic.twitter.com/zqY1J6EFgj

— Fémi-Totoï (@TotoiEnColloc) February 2, 2018