Video: Anti-Fascists Confront Neo-Nazi Outside His Home in Houston
Filed under: Action, Anti-fascist, Central, Video
Report from a recent antifascist action in Houston, Texas that includes a video and more. For background information on Paul Preston and neo-Nazi and Alt-Right activity in the area, check out Scewston Antifascist Committee.
On Saturday, June 8th, a large group Anti-Fascists rallied on Houston's Near Northside Neighborhood. They marched to the home of white nationalists Ariel Gherman and Paul Preston (the leader of the Houston Goylers) who were thoroughly doxxed the same day. Near Northside residents were alerted of Paul's presence in their neighborhood through outreach efforts the week before the action and during the action itself. The neighbors we spoke with were grateful to be informed about Paul and highly supportive of the rally itself, and many said they planned to join us at the action. A few neighbors we spoke to had already gotten a bad vibe about the house in the past, and one told us that Paul already had a confrontation with some black high school students who had seen him hanging a racist flag outside at one point.
Paul's house is across the street from Near Northside High School, so his presence there is a huge danger to black and brown students. Leading with a banner which said "Fuck Racists, Smash White Supremacy", the march was greeted with friendly honks, waves, and smiles from passersby. Neighbors were encouraged to join in and said they wanted to, but some were afraid that the Nazis could recognize them or retaliate. Once the march arrived at the front of Paul Preston's house, a few of the families looked on and filmed from the periphery.
At Paul and Ariel's house, the crowd made a ruckus with chants, horns, drumming and so on. We could see that Ariel Gherman was home, with her car parked out front, but couldn't tell who else might be inside. Ariel remained quietly inside with no visible movement despite some protesters taping up flyers to the window, knocking, and spamming the doorbell. After some time, a few cops rolled up at a distance, and shortly afterwards a crimson pickup truck with a trailer drove by. Multiple people spotted Paul in the passenger seat looking surprised, embarrassed, and afraid as the truck tried to sneak around the corner undetected. The crowd shifted onto the next street in pursuit of him.
Unfortunately for Paul, the street was a dead-end and the driver began awkwardly maneuvering to back up down the street with the trailer they were towing. At the corner, with a little distance from the crowd, Paul quickly hopped out of the truck and darted for his front door. He was dressed in a colorful tank top that had a number 1947 bib, and a goofy sweatband around his head. With a big crowd whooping and hollering at him he scurried inside, half skipping steps and avoiding eye contact. Even now, a few days after the ordeal, Paul continues to talk a big game online, but when confronted in real life it was a very different story.
More police eventually showed up and wedged themselves between the crowd and the fence around the house, met with chants of "Cops and Klan go Hand in Hand". The police made their way up to the front porch and began to take down the flyers, one of them remarked "thanks for the fingerprints", and they knocked on the door. Ariel sheepishly answered and they were invited inside. Two black cops went in first and shut the door behind them, then the other two white cops entered moments later. Exhausted of any more openings to confront the Nazis now that the cops had come to their rescue, the crowd decided to march back through the neighborhoods and call it a day. More outreach and flyering was done on the way back, with more warm welcomes from everyone we came across.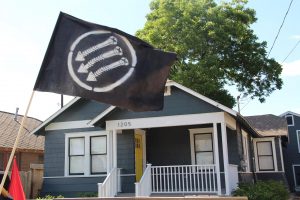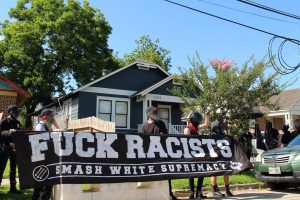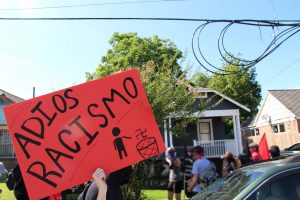 Trying New Things
After some reluctance, and weeks of rigorous organizing, this event turned out to be a huge success. Without the use of social media or relying on any of the more liberal left, Texans were able to turn out a sizeable bloc of militants to confront a Neo-Nazi at their doorstep without any arrests or injuries–all on a 95 degree day. The police typically have the convenience of seeing events weeks ahead of time on Facebook and making plans to shut things down before they even begin. In this case, cops were not given that luxury. The results of keeping the event offline seemed to pay off. We would have liked to have more neighbors with us in the crowd. Although we did a lot of on-the-ground outreach ahead of time, it's certainly worth reflecting on ways to bring out more neighbors to the event itself. Improvements could be made to help with turnout such as: scheduling an outdoor event at a time less sunny and hot, changing the meetup location to somewhere more comfortable and less open, and handing out/explaining the use of masks ahead of time to neighbors. This was a chance to experiment with a new tactic and see if home demonstrations can be a viable pressure point against the Alt-Right. When dealing with leadership figures, and people who are less vulnerable to doxxing due to their occupations, we think a home demo can be an effective alternative when enough precautions and preparations are made.