Wave of Anti-Confederate Vandalism and Protests Hits South as Racist Reaction Grows
Filed under: Editorials, Southeast, White Supremacy
Originally published on It's Going Down
On Sunday, June 21st, in Charleston, South Carolina, an estimated 20,000 people gathered in what organizers dubbed, the 'Bridge to Peace' march, called in memory of the 9 people who were savagely murdered by a white supremacist gunman at the Emanuel A.M.E. Church, on Wednesday, June 17th. While holding American flags, snapping pictures of celebrities such as Steven Colbert, marching shoulder to shoulder with the police chief, and singing "God Bless America," organizers hoped that the event would help keep a lid on a city that was already seething with anger at a white supremacist system and crippling poverty.
The alleged gunman, Dylann Roof, 21, reportedly told those congregated at the church before firing, "You rape our women and you're taking over our country, and you have to go." Roof picked the Emanuel A.M.E. Church due to its history of involvement in social movements, from civil rights to Black Lives Matter. Roof wanted to spread terror and fear across the Black community and online statements and pictures of Roof's demonstrate that he held an adherence to white supremacist ideas.
In various online articles, Roof can be seen in snapshots with weapons while surrounded by confederate flags, and sported patches of apartheid countries such as Rhodesia and South Africa. Racist documents written by Roof outline an ideology based on racial segregation and violence against non-whites. Roof was highly influenced by the group, Council of Conservative Citizens (CCC), also know as "suit and tie Nazis," or racist fascists who abandoned the white robes of the KKK or the shaved heads of Neo-Nazis, but still hold true to the ideas.
The response to the shooting in the mainstream media and by politicians has been predictable and in some cases, sickeningly hypocritical. Some have tried to simply shift the debate to that around gun control, while other politicians have a well documented link to white supremacist groupings in the area. As David Walsh wrote:
Various individuals associated with the South Carolina Republican Party have been exposed as members of the blatantly racist Council of Conservative Citizens (CCC), the descendant of the old White Citizens Council, the "respectable" version of the KKK 1950s and 1960s. South Carolina's Republican Governor Nikki Haley declared Thursday that the state's "heart and soul…was broken" by the mass killing. In 2014 she defended the flying of the Confederate flag at the statehouse on the grounds that "not a single CEO" had complained.
Mumia Abu-Jamal, famed African-American journalist and current political prisoner, had this to say about the shooting:
White supremacy is the mother's milk of Charleston, of South Carolina, of the South, of America. For surely as slavery funded and built America, the underlying principle was the devaluation, exploitation, and oppression of Black life…Dylan Roof, the 21 year old accused of this massacre, had no friends to speak of…Isolated, alienated, alone in the world, his sole remaining possession was his whiteness, the only thing that gave his existence meaning. That was the energy that fueled the massacre in Charleston, South Carolina…It now sits like an incubus in the American soul, seething hatred and fear, waiting for more Black lives to consume.
But the while the 'Bridge to Peace' march was taking place, bringing together tens of thousands in a patriotic showing of "healing" along with local police and civic leaders – anger boiled on the streets. Only several miles away, a small gathering of people burned US and confederate flags at Marion Park, as a rash of vandalism against Confederate memorials swept the South amid public calls to remove all Confederate flags and monuments, and protests broke out in response to the shooting across the United States.
While presented by some in the media as a senseless tragedy carried out by an insane gunman, the Charleston shooting did not take place in a vacuum. Already on the minds of many in the area as across the US, was the brutal killing and attempted police cover up of African-American Walter Scott, by white police officer, Michael Slager. Scott, a 50 year old father of four children, was shot and murdered in the back when he attempted to flee. Slager then cuffed the motionless Scott, and proceeded to place a taser near his body in an attempt to justify the shooting in his report. While the scene was being constructed, another police officer then arrived and witnessed the frame-up while no attempt was made to offer aid to Scott, who was later pronounced dead at the scene.
For three days police justified the shooting in the media by stating that Slager shot Scott in self-defense. The murder all seemed to be going according to plan, until a cell-phone video surfaced that showed the entire incident. Protests soon erupted, and this pressure eventually lead to Slager, who has a history of brutality, being fired. In a disgusting irony, Slager now sits in a cell directly next to Roof.
But the movement that sprang up in response to Scott's murder was also tightly controlled by the local leadership of Churches which has a strong connection to local city government. As Baynard Woods wrote in a recent piece:
It's going to be a very exciting next 10 or 11 days as we really confront the power structure that has existed here for a very long time in ways that are full frontal," [Muhiyidin] d'Baha [leader of Black Lives Matter Charleston] said to me, an Anonymous mask hanging over the dreadlocks on the back of his head. But this "full-frontal" organizing is precisely what's so difficult to actualize in gentile Charleston, as the relationship between the city's government, churches, and residents grows increasingly thorny and contentious. "Joe Riley [Mayor of Charleston] is pretty much at war with us," says d'Baha…"[The mayor's] dictating marches and vigils and where they are and what they are," d'Baha said of the mayor.

It's an unsettling problem when the expression of grief serves to solidify the very power structure that preserves the city's legacy of white supremacy, of which Roof's massacre is only the latest expression…[T]he scene of the mayor hosting a packed auditorium and garnering standing ovations…was surreal. If 2,000 people were in a room with Baltimore's black mayor right now, she would probably have to be surrounded by guards. But as Roof's choice to target Emanuel AME shows, religion is still extremely powerful in this city. And according to d'Baha, Mayor Riley has successfully enlisted the black churches in maintaining order.

Black Lives Matter Charleston has demanded widespread reform, especially regarding police interaction with citizens—including body cameras, a review of the department, and a diversity task force. "We're presenting the plans to City Hall," d'Baha says, "and we're going to be running a slate" for political office.
Many activists in Charleston are attempting to work through the political system – not against it: lobbying local politicians and trying to pass through police reforms such as body cameras. These efforts fit into a pattern of similar movements throughout US history emerging out of widespread rebellion, (such as in Ferguson, Baltimore, Oakland, etc), and then being channeled right back into the political system it previously sought to burn down. While often well-intentioned, these efforts will do nothing but further integrate young rebels back into the power structure and pass through piece meal reforms. We have seen this cycle many times before; revolt is caused by outrage, but then the rage dies-down, and cosmetic changes are made in an attempt to pacify the population.
Body cameras for instance, championed by everyone from police reform activists, police unions, to President Obama, have been shown to still not be an effective tool in stopping rampant police murders; and are often simply not worn or turned off when police encounter a "tricky" situation or political demonstration. Furthermore, video footage is not always a deterrent to outright police murder, just look at Eric Garner's case.
But while there is a decisive turn back into the political system by those involved with Black Lives Matter, at the same time, the Democratic Party is hoping to contain, manage, and smoother it's energy. As Glen Ford wrote on the Black Agenda Report:
The Democrats hope the Black Lives Matter movement, like the Occupy Wall Street movement, will disappear amid the hype of the coming election season…[T]he nascent Black-led movement picks up where a previous mass movement left off, two generations ago. The Sixties liberation movements were shut down through a combination of government repression and the rise of a class of Black office-holders and aspiring corporate collaborators whose interests lay in joining the existing order, not transforming it.

Their political vehicle was, and remains, the Democratic Party – the organization through which this "Black Misleadership Class" became embedded in local and national power structures. As a loyal and key component of the ruling political duopoly, these Black Democratic politicians and power brokers have facilitated the exponential growth of the Black Mass Incarceration State in all its genocidal aspects, and greased the wheels of gentrification that is dispersing Black populations to the four winds, limiting the geography of effective Black political self-determination.
Both Democrats and activists have attempted to move the movement into politics, but there is also growing fear from those who seek to manage social struggle that another Ferguson is brewing beneath the surface in Charleston. An article in the Washington Times writes
[N]erves were still raw from the fatal shooting two months ago of a black man, Walter Scott, by a white police officer in neighboring North Charleston, which ignited major protests. Black activist Michelle Felder, 58, said she feared the city's young people "aren't thinking" and might seek revenge, an emotional reaction that she said she understood but was mature enough to resist. "This is 2015 and we are still going through the same things we went through 50 years ago," she said. "This is so sickening. We are so tired." Religious and political leaders have repeatedly called for calm since the shooting Wednesday night.
But while activist and religious leaders push for serene streets, over the past weeks, protests broke out in LA, New York, and in Charleston. People marched, burned confederate and American flags, and in Harlem, faced violent arrests from the police as they held the streets. At the same time, across the American south, a series of highly publicized graffiti attacks have taken place against confederate statues and memorials. This vandalism has taken place against the backdrop of even more demonstrations demanding that symbols of the old Confederate regime be taken down.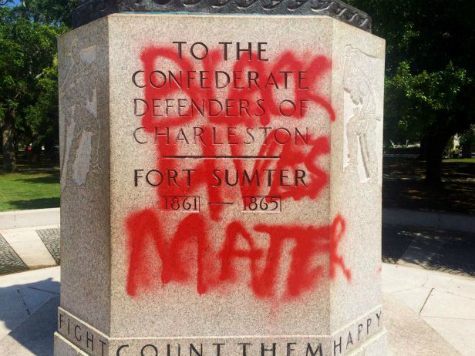 The vandalism was first reported in Charleston, North Carolina and occurred around the same time that local leaders were making calls to remove confederate flags at government buildings. One June 23rd, CBS News reported that:
In that case, a Confederate monument near the Emanuel A.M.E. Church was also spray-painted with the phrase "Black Lives Matter," as well as the message "This is the problem. #RACIST." CBS affiliate WCSC in Charleston reports that a second Confederate monument was discovered defaced on Tuesday.
Another Charleston graffiti attack took place again:
Another statue has been vandalized downtown Charleston in the wake of the Confederate Flag debate. The John C. Calhoun statue located in Marion Square was spray painted with the words "RACIST" under Calhoun and "And Slaves" under Constitution.
In Baltimore, Maryland:
"Black Lives Matter," the message read in yellow paint Monday, five days after the shootings at the Emanuel AME church in Charleston became the latest flashpoint in a growing national dialogue around race. The words covered an etched message on the statue in Bolton Hill that was erected by the Maryland Daughters of the Confederacy in February 1903 and reads, "To The Soldiers and Sailors of Maryland In The Service Of The Confederate States of America, 1861-1865."
In Austin, Texas a university campus, which was vandalized in the past, several statues were defaced:
Statues honoring three Confederate leaders, including Gen. Robert E. Lee and Confederate President Jefferson Davis, were vandalized on Monday night on the campus of the University of Texas. The memorials were spray-painted with slogans such as "Black Lives Matter" after a vigil on Monday night commemorating the massacre last week of nine black men and women in Charleston, South Carolina, according to the San Antonio Express-News.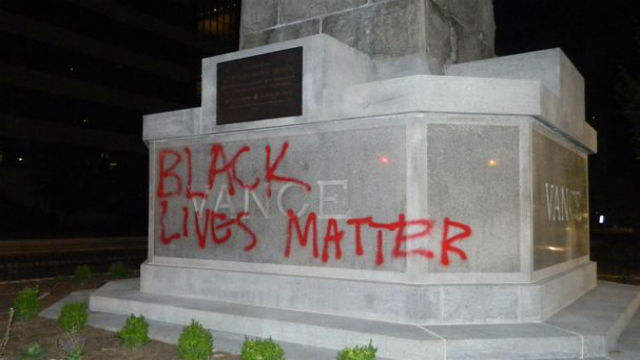 In Ashville, NC vandals struck in the downtown:
A monument in downtown Asheville named after a Civil War military leader who went on to become a North Carolina governor, U.S. Congressman and U.S. Senator was vandalized early Tuesday morning, according to police. Asheville police said the the phrase "black lives matter" was spray painted on the base of the Vance Monument in Pack Square.
St. Louis, Missouri, a confederate monument in a park was vandalized:
Vandals painted an expletive along with "black lives matter" on the front of the monument. The back of the monument appears to have spots of red paint.
Richmond, Virginia, vandalized statue of Jefferson Davis was found:
One day after Virginia Governor Terry McAuliffe said he did not support a petition to remove statues of Confederate figures from Richmond's Monument Avenue, someone vandalized the statue of Jefferson Davis, the president of the Confederacy. The phrase "Black Lives Matter" was seen painted on the statue Thursday morning. Richmond Police had no comment early Thursday morning about the vandalism.
In Lexington, Kentucky, a statue was vandalized:
A local reminder of the controversy surrounding Confederate symbols was evident Friday morning to those walking on Main Street in downtown Lexington. The John Hunt Morgan statue at the old courthouse on Main Street had "black lives matter" scrawled in black spray paint across the Confederate general's name.
In New Orleans, Louisiana:
The message "Black Lives Matter" has been spray painted on the P.G.T. Beauregard monument in City Park. The monument, located at the Esplanade and City Park avenues intersection, is dedicated to the Confederate general who served during the Civil War.
While the string of vandalism was taking place across the American south and mid-west, demonstrations began to be organized to call for the removal of Confederate flags, licence plates, and statues. Some states, like Alabama quickly capitulated while the protests spread. Groups such as Move.Org, a front for the Democratic Party, had a hand in organizing the demonstrations, while burning the Confederate flag on social media quickly went viral. In some protests, people have even moved to take down the flags all on their own.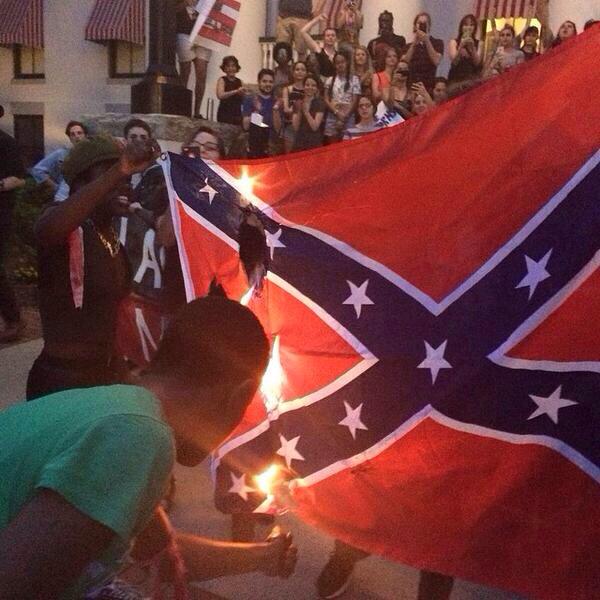 As we speak, Charleston, SC, as are many cities across the US, remains awash in horrible poverty. People of color, and black and brown people especially, face the brunt of this attack. Schools in Charleston, as they are across the US, are more segregated than they were before the Civil-Rights movement. Gentrification and displacement continues unabated, forcing out thousands through displacement. Police continue to kill without reprimand, and millions fill the jails, prisons, and courtrooms. In short, even if the symbols of the Confederate past are all taken down, the realities of structural, radicalized capitalism will continue until the system that perpetuates them is destroyed.
What the attacks on the Confederate past and the mobilizations in the street do offer us though is a chance to have these conversations and prepare for the battles that lay ahead. We have to push these struggles away from the symbolic into one of open antagonism with white supremacy and the State itself. Events in Olympia, Washington, show what may soon lay ahead across the US, as anarchists and Black Lives Matter protesters faced down groups of Neo-Nazis that came out to support the police. Arming themselves with bats and other weapons, they were able to drive the racists off the streets.
But while we engage in these struggles – we also have to be aware that throughout the US, lines are being drawn. As we speak now, racists are arming themselves and guarding Confederate memorials that have been vandalized. Just days after the Charleston shooting, members of the KKK distributed candy and flyers across several states that included a phone number and information on how to join up. "They [black people] have spilled our blood too long. It's about time someone spilled theirs," the phone message states. Since the Charleston shooting, 6 black churches have caught fire and arson is being suspected in at least three. Many of the states that the churches have been attacked are also some of the same states that groups like the KKK are organizing in.
What we face is a fight – not only against those in power, but also a fight against those that would seize the reigns of social control and install an openly fascist and racist government. Our side has to be ready to take on this battle. In our streets, in our neighborhoods and workplaces – everywhere. Because if we're not ready for them, in the end: they're still coming for us.