This is How We Welcome You: "Try Hamilton" tries fucking itself
Submitted to It's Going Down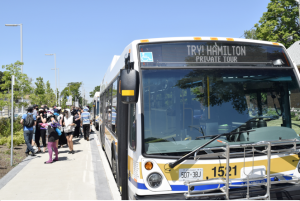 Yesterday, a group of scumbags affiliated with local real estate companies organized a tour of Hamilton for a group of investors, with the goal of drawing in capital from outside the city. This project is called Try Hamilton and they describe their goals as a chance for entrepreneurs and developers to envision 'city-changing' possibilities. Shamelessly pro-gentrification, they talk about our neighbourhoods as blank slates, gloat about the money to be made if an area can be successfully 'converted' to a different kind of resident. Of course, for most of us, their financial wet dreams appear in our lives as violence, hunger, or eviction – and so of course we have to fight back against them.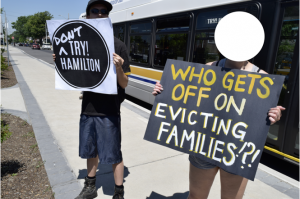 When the group of investors emerged from the Ti-Cats stadium, fresh off the inspiring words of the city's mayor, and tried to board buses, they were met by a crowd of forty angry people who encouraged them to, rather than try Hamilton, try fucking themselves. With signs reading, "Gentrification is disgusting, you rich fucks are disgusting", "who gets off on evicting families?" and "Fuck you for trying", we met them with a wall of rage that showed them what the class war their investments drive can mean.
Chanting "Vultures! Predators! We don't need investors!" and "Condos! No More! Development is class war", we decorated the buses and as many participants as we could with silly string and fist-fulls of greasy condoms. Two human-sized pigeons circled, shitting rancid milk on the real estate goofs from squirt guns. Try Hamilton organizer and local predator, Krysta Boyer of Ambitious Realty, determined to pretend that everything was fine, tried simply walking through us to board the bus. Unfortunately, the door was locked and we had a good time pelting her with insults and as much gross stuff as we could find. "We hate you and what you do! This is how we welcome you!"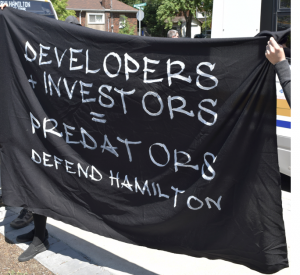 The conflict escalated quickly and the two cops who arrived on scene started trying to arrest people with the help of ten or so security guards. It was pretty hopeless for them though, as one person after another was de-arrested. One freed arrestee reviewed their performance: "That was the most pathetic, weak-wristed attempt at forcing me into handcuffs I've ever experienced". During the scuffle, one would-be investor got a cold McDonalds coffee poured down their back and many others got sprayed with rotten milk. Oh, and officer, we're going to enjoy using your hat as a dog toy.
After ten or fifteen minutes of confrontation, before more cops could arrive or the security guards could fully decide which side to be on, we escaped at a jog into the neighbourhood under the hot noon-day sun. No one was arrested or injured. As one final person escaped their clutches, the cops, looking around in dismay and too weak to meaningfully give chase, were overheard to say, "Fuck, they got away," and "They swarmed us, we got swarmed." The rest of the Try Hamilton event happened under heavy police protection, making obvious the fact that real estate investment is only possible with sufficient armed goons.
All of the areas Try Hamilton targeted with their tour were heavily postered the night before and the fancy cars in the parking lot apparently had soggy condoms left on their windshields while the tour was in progress. Try fucking yourselves, you scumbags.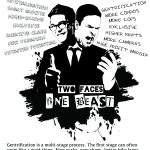 After so many of us have lost our homes and watched ourselves and our neighbours pushed out of the city, it was beautiful to be screaming some of our rage back in the faces of these creeps. Our goal wasn't to persuade them of anything or to outreach about the issue of gentrification – it was to ruin their day, to make them feel the hatred their self-interested city-making provokes in the huge majority of the people it touches.
Try Hamilton is a particularly gross example of the wave of parasitic development boosters who have poured into our city. Gentrification is a fight and we hope we made our intentions clear to engage with it as one. As one sign said, "If you think we're bluffing, Try us!"