Kingston: Actions Continue in Support of Wet'suwet'en Camps
Filed under: Action, Indigenous, Ontario
Roundup of #ShutDownCanada actions taking place in Kingston in solidarity with Wet'suwet'en people.
As #ShutDownCanada actions continue to happen across the country in support of the Wet'suwet'en camps attacked by the RCMP on Monday, anti-colonial networks in Katarokwi/Kingston are activated and trying to maintain pressure on the government and corporate interests behind the Coastal GasLink project. Here is a brief timeline of actions here over the past week.
Tuesday Jan 8th: International Day of Action
As previously reported, a small group blocked Royal Bank, slowed traffic on Princess Street, and flyered motorists as part of the International Call To Action put out by the Gidumt'en Access Point.
Friday Jan 11th: John A MacDonald's Birthday
January 11th holds a lot of significance here in Kingston, as it is the birthday of John A MacDonald, Canada's "father of Confederation" and first Prime Minister. As if that wasn't bad enough, John A was also directly involved in numerous genocidal campaigns carried out against indigenous people including starvation policies, the residential school system, the violent suppression of several indigenous rebellions, and the expansion of the colonial project west with construction of the Canadian Pacific Railway and the establishment of the Northwest Mounted Police (now the RCMP). The connection to ongoing colonial expansion to feed extractive capitalism and its violent backing by the Canadian State is a clear and direct continuation of John A's policies.
In recent years, his legacy has been increasingly attacked by indigenous groups, anti-colonial activists and anarchists. Kingston was John A's stomping grounds here in Turtle Island, and he is commemorated by local government, nationalists and the tourist industry. Their favourite holiday used to be January 11th where they would come together at the John A statue in City Park and "toast the old chieftain". But since 2013, an annual mix of rowdy protest and targeted vandalism has effectively ended the public birthday celebrations, and started to contest the more broadly popular Canada Day parade.
Two John A actions happened this year in Kingston. Members of Idle No More made a banner and took photos at several locations around town. Separately, someone vandalized the John A commemorative train at City Hall with graffiti reading "when justice fails, block the rails #shutdowncanada."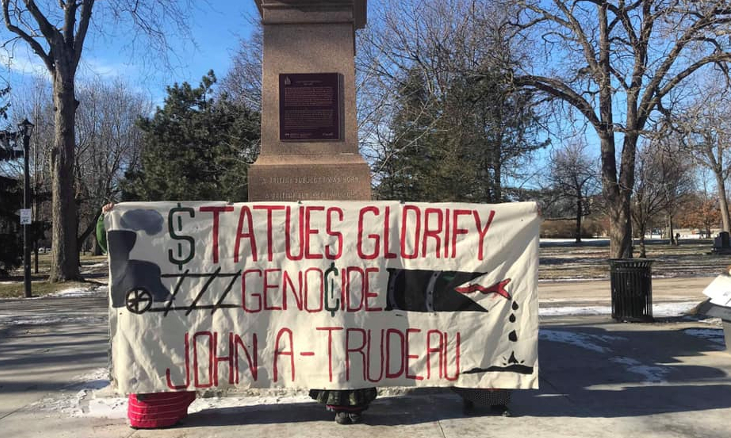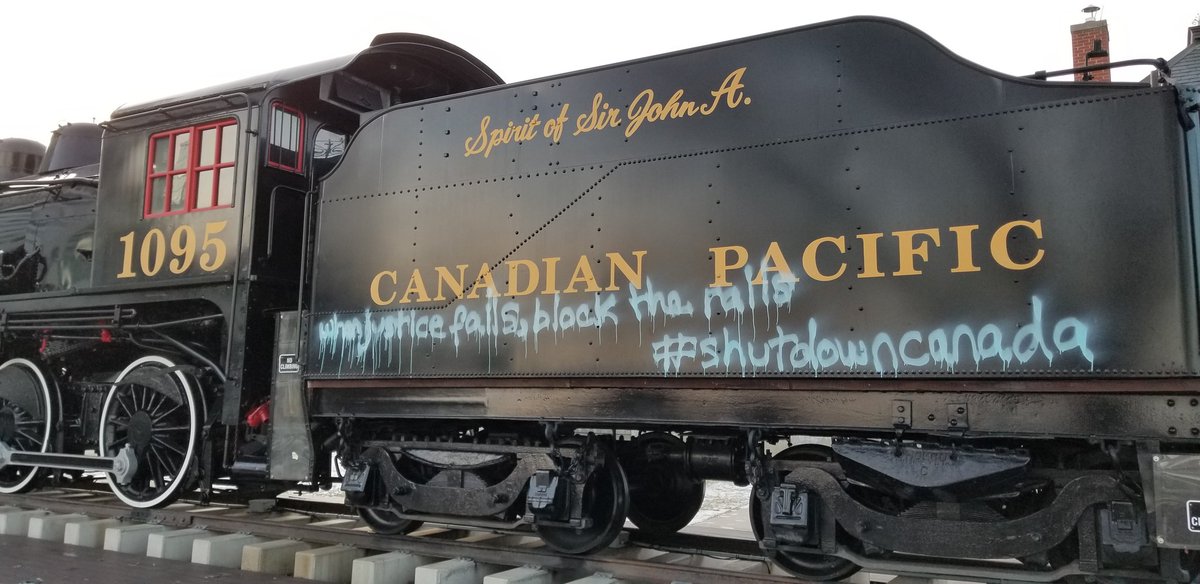 This year we were treated to a special birthday celebration, when we heard about multiple rolling roadblocks organized by Haudenosaunee communities along the province's busiest highways to "show solidarity with our brothers and sisters out west", including one convoy that took the 401 at ~50km/h from Akwesasne Mohawk Territory to Tyendinaga Mohawk Territory, passing by Kingston and causing massive disruptions. Our timing was a bit off, but some folks were able to rush to an overpass and drop a banner reading "CANADA IS LAND THEFT" to show support for the convoy as they passed by, which by all accounts was warmly received.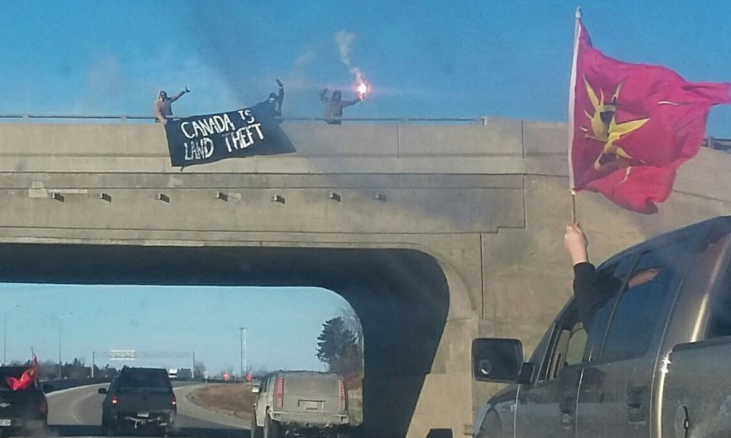 Saturday Jan 12th: "Stand With Unist'ot'en" Demonstration
Saturday's demo was the first action this week publicly called for in advance, and about 150 people showed up which for Kingston is a great turnout. People rallied in Confederation Basin and heard from Bob Lovelace, retired chief of the Ardoch Algonquins and land defender, about the importance of Unist'ot'en to our movement and why we must turn up the heat and defend it. The demo then took Ontario Street and marched around downtown, holding the intersections outside a Shell gas station and the Royal Bank of Canada while speakers from Idle No More addressed the crowd about the situation. Considering it was -20 degrees out and the cops were making half-assed attempts to persuade the crowd to leave the street, everyone did a great job of sticking together, stopping traffic and keeping each other safe. A short video of the event published on Idle No More's Facebook page can be viewed below.