June 11th: Resources & Actions for Anarchist Prisoners
Filed under: Anarchist Movement, Event, Featured, Repression, The State
The June 11th International Day of Solidarity with Marius Mason & All Long-Term Anarchist Prisoners is just around the corner!
We've uploaded a bunch of new zines, posters, and flyers to our site to help anyone looking to host informational events or cover their town with the names and faces of our imprisoned fighters.
Below is a list of June 11th solidarity events. If you would like to have your event listed here please contribute it to IGD, or get in touch with June 11th organizers at: june11th [at] riseup [dot] net
JUNE 11th EVENTS WORLDWIDE
ASHEVILLE, NORTH CAROLINA (USA)
June 11: Vegan cookout, presentations, and movie showing
3:30-6pm
Firestorm Books and Coffee
610 Haywood Rd
Presentations on prison realities for queer and trans folks, long term eco and anarchist prisoners cases and the history of the Green Scare. Alongside of this we'll be showing the documentary, "Better This World," about the frame up on terrorism charges of Bradley Crowder and David McKay, two young activists by the megalomaniacal former leftist turned right-wing crackpot Brandon Darby during the 2008 Republican National Convention in St. Paul, MN.
AUSTIN, TEXAS
June 11: Fundraiser, live music, silkscreening
6-9pm, Monkeywrench Books. Facebook event here.
BLOOMINGTON, INDIANA
June 6: Read & Revolt anarchist reading group
Reading The Sun Still Rises by Conspiracy of Cells of Fire
7pm
Boxcar Books
408 E. 6th St
June 9: Film screening & letter writing
Screening Sacco & Vanzetti (2006)
Followed by letter writing to anarchist prisoners
7pm
Boxcar Books
408 E. 6th St
June 11: Anarchist picnic
12-3pm
Ninth street park
Live renditions of songs of anarchism and rebellion @ 1pm
BRISBANE (AUSTRALIA)
June 11: Film Screening of Chasseur de Skins
7pm
Door proceeds go to the Free Jock Palfreeman Committee
Common House, 74b Wickham Street, Fortitude Valley
Facebook event
BROOKLYN, NEW YORK (USA)
June 6: Political Prisoner letter writing Dinner
7pm sharp, Tuesday, June 6, 2017
The Base – 1302 Myrtle Avenue Brooklyn, New York 11221
CHICAGO, ILLINOIS (USA)
June 11: Letter writing party
31st and Lock St.
5pm
Updates on Marius Mason, Jay Chase, Jeremy Hammond, and other long-term anarchist prisoners
+ letter writing to imprisoned comrades
Facebook event
CHICO, CALIFORNIA (USA)
June 11: Film screening benefit
351 East 6th Street
7pm
If a Tree Falls film screening with AK Press book sale, letter writing and info table.
Suggested donation $5-10, no one turned away for lack of funds.
Cosponsored by AK Press and the Pageant Theater
CINCINNATI, OHIO (USA)
June 11: GONX (goth/punx) party! in solidarity with Longterm Anarchist Prisoners!
@ The Mockbee 2260 Central Pkwy. Cincinnati, starts 8pm
dj Dez (of Chicago deathrock Cemetery)
ABRAXAS
Sour Ground
City Harvest Black
Robert Inhuman
+ letter writing to prisoners!
++ radical zine distro!
+++ more TBA!
Facebook event
Contact: realicide [ at] gmail [dot] com
COLUMBUS, OHIO (USA)
June 11: Listening party and potluck
7-10pm @ 'It Looks Like It's Open Gallery'
We will be gathering to listen to the AbolishColumbus compilation featuring all local central Ohio musicians of consciousness (via www.thuh.podomatic.com). We will also have prisoner postcard signing with correspondents of BlackDiamondPrisonerSupport.
DENTON, TEXAS (USA)
June 2-6: Fight Toxic Prisons 2017 Convergence
More info here
HELSINKI (FINLAND)
June 11: Vegan ice cream brunch to support anarchist prisoners
2pm-5pm
@ Kumma
Puustellinpolku 15, 00410 Helsinki
Helsinki ABC is organizing a vegan ice cream & crepes brunch.
There will be information about prisoners and how they are doing.
We will take enrollments at amr_hki [at] anarkismi [dot] net until 8th
June in order to estimate the amount of ice cream.
Part of Musta Kallio
HOUSTON, TEXAS
June 11: Film showing and dinner.
More info here. Social media event here.
HUNTINGTON, WEST VIRGINIA (USA)
June 11: Punk show for June 11th
6PM
@ The Cricket Cave
WINTERMUTE (dark rock / post punk on tour from Bloomington, Indiana)
QUILT MONSTERS (local 90s-esque pop punk rawk)
LILY (local guitar-looping, beat mixing master)
+ information on & letter writing for anarchist prisoners
Facebook event here.
LIVE OAK, FLORIDA (USA)
June 11: Solidarity rally at Suwannee Correctional
10AM-3PM
Suwannee Correctional Institution
5964 Us Hwy 90, Live Oak, Florida 32060
We are organizing a solidarity rally for Justin Curtis. He is an anarchist that was sent to solitary as a result of organizing around the Sept 9 prisoner work strike in response to our "in-reach". We are calling for Justin to be released from solitary, and all retribution from the Sept 9 actions throughout DOC be dropped… You can find out more about Justin, and others who organized around Sept 9 last year here. Facebook event here.
MELBOURNE (AUSTRALIA)
June 11: Rally and Info Distribution
2PM-4PM, Flinders St, Melbourne VIC 3000, Australia
Meet at Flinders street station sets at 2pm. Bring banners and info about June 11th to hand out on the day. For more info contact abcmelb [at] yahoo [dot] com [dot] au
MINNEAPOLIS, MINNESOTA (USA)
June 11: Letter writing, potluck, and move screening
Potluck and Letter Writing at 6pm
Screening of If A Tree Falls at 7pm
@ 2301 Portland Ave.
$5-10 Suggested Donation
Facebook Event
MONTREAL (CANADA)
June 11: Game Night
June 11, La Deferle, 7 pm – check here for more info.
OAKLAND, CALIFORNIA (USA)
June 11: Potluck & letter writing
11am-2pm
@ Lake Merritt within proximity of the fairyland sign which is nearest the Grand Ave & Harrison Street
intersection (Look for June 11th Banner hanging from nearby trees)
Family friendly potluck style brunch in the sunshine next to the
lake with a focus on letter writing
OMAHA, NEBRASKA (USA)
June 9: Fundraiser for anarchist prisoners
Omaha ABC presents live music, zines, postcards to prisoners
Truman / Relax, It's Science / Justified Aggression
9 PM
Milk Run
2578 Harney St
PHILADELPHIA, PENNSYLVANIA (USA)
June 11: All you can eat vegan cookout
At Grays Ferry Crescent Skatepark. Sliding scale $5-15. 4:00-6:00pm.
PORTLAND, OREGON (USA)
June 11: Call for Community Food Distribution at Tom McCall Waterfront Park
More info here.
PITTSBURGH, PENNSYLVANIA (USA)
June 11: March & picnic
Picnic in Arsenal Park
Tabling by Carnet B Distro, Prison Action News, and The Filler
Collective
+ tables with shirts, art, and zines for both Marius Mason and Eric
King.
RUTLAND, OHIO (USA)
June 11: Musical lunch-in with songs by Marius as interpreted by Andy Crabb and Cindy Crabb
YPSILANTI, MICHIGAN (USA)
June 11: Street party & benefit concert
5-7 pm: Sassy Abolitionists' Street Party
Meeting point to be announced soon; bring something to make noise with, and join in reaching out against prisons and for the benefit concert.
7-10 pm: Benefit Concert to Aid Marius Mason
Location to be announced soon
$5-10 (but no one turned away for lack of funds)
Featuring prisoner support and abolition zines, patches, posters, and
T-shirts, plus letter writing to prisoners, (brief) speakers, and three
rocking bands: Half Tongue, American Automobile, Platonic Boyfriends
Facebook event here.
JUNE 11, 2017 CALLOUT
2017 En Español [Leer][Imprimir]
2017 Português [Leitura][Impressão]
June 11th Interviews and Podcasts
Cleveland 4 and Nicole and Joseph
ANARCHIST PRISONER SUPPORT FLYERS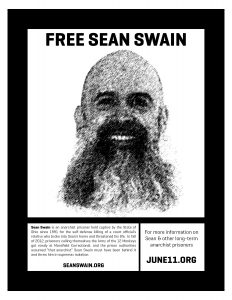 POSTERS
June 11th Leon Czolgosz poster
"Hello Family" Marius Mason support poster
Against Ecological Devastation June 11th poster
Freedom for the Anarchist Fighters poster